It's probably safe to say that Morgan Spurlock is busier than you are. His most recent feature just came out last month, while his next film opens today. He also has no less than three separate series airing through three different channels. And the reward for all this hard work: an open door for even more hard work.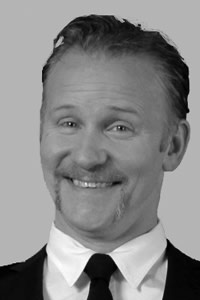 Spurlock wasn't always this prolific, though. His professional creative output started with the web series he sold to MTV in 2002, followed by the documentary that made his name two years later, the experiential McDonald's polemic Super Size Me. Next came a TV show on FX, and a few relatively quiet years until his second movie, Where In the World Is Osama Bin Laden? came out. But around 2010, there was an explosion. That's when the director turned into a whirling dervish of activity. He hasn't looked back since.
The sudden increase in productivity began after an unfortunate ending. "I was going through a separation with my wife, and pretty much poured myself into work, one hundred percent," Spurlock says of this new phase of his career. "It became the biggest outlet for me to deal with everything that was happening in my life."
At the same time he was going through personal trauma, a huge opportunity opened up. Spurlock was plotting out his third film, the product placement opus POM Wonderful Presents: The Greatest Movie Ever Sold, when he was asked to direct The Simpsons 20th anniversary special for Fox. It was a production that saw him traveling around the world to capture the impact of the influential show on the eve of its latest milestone. It was also a chance to reach a far greater audience than ever before. Over 13 million people tuned in to watch.
Getting a taste of such a huge audience ultimately led the director down a more commercial road than ever before. Inspired by the scenes he'd filmed at the fanboy mecca Comic Con for The Simpsons special, Spurlock went in a lighthearted direction for his next film, an ode to those fans. It was a slight tonal shift that reached full bloom with the director's next effort, the unambiguously user-friendly, Mansome.
"This is about as broad of a doc as I think you could make," he says. "Super Size Me was an incredibly broad doc, just in the way that it dealt with an issue but was still pretty accessible. In terms of just the commerciality of a doc, though, this is the most commercial film I've made."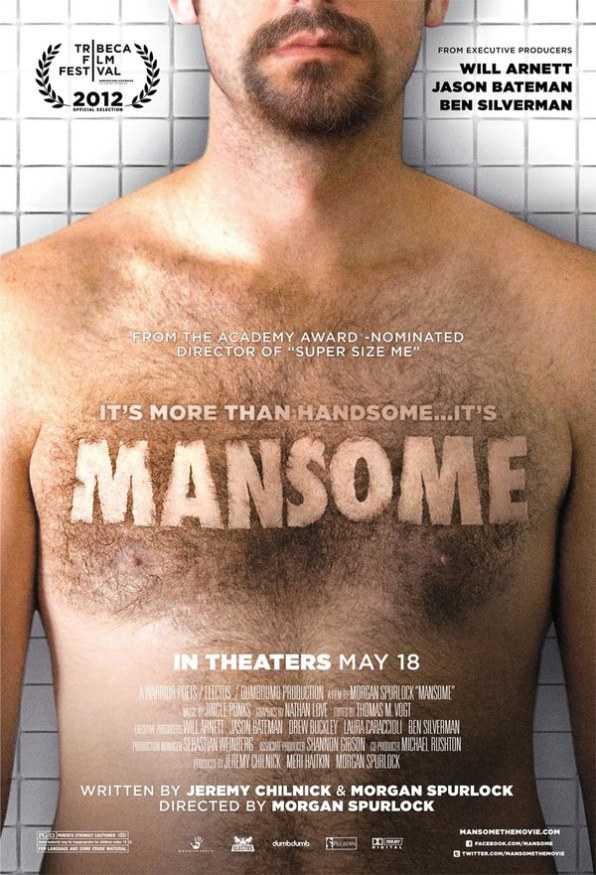 Working with executive producers Will Arnett and Jason Bateman, the Arrested Development stars who also appear throughout the new film, Mansome is a departure for Spurlock in nearly every way. Although it's not a scripted movie (the director hints he may take on fictional projects soon), it does indeed play like a comedy. And that's before you factor in cameos from Zach Galifianakis, Paul Rudd, and Judd Apatow. It's a documentary about male grooming, a/k/a manscaping, and it's a far cry from previous weighty topics: nutrition, advertising, and the search for Osama Bin Laden.
Another way that Mansome is a departure is that Spurlock was lured to the project through someone else, rather than championing it himself. Producer Ben Silverman had discussed the multi-billion dollar male grooming market with Arnett and Bateman at length, and the three decided to make a film about it. Silverman then brought in Spurlock to stand at the helm. It's practically a mercenary turn for the director, who decided to fit the film into an already-teeming production schedule.
One final difference in the new movie is that Spurlock has a reduced screen presence compared with his earlier work, which had him front and center nearly the entire runtime. "There are some movies it makes sense for me to be in and there are some that I just want to tell the story with other characters," he says. "I've been shaving around this ridiculous mustache for about the last 8 years, though, so I am a bit of an authority on silly facial hair." Spurlock appears in Mansome for about 10 minutes to discuss 'staches.
While some elements of the new productivity streak are fueled purely by ambition and energy, others are the result of attractive avenues that have opened up on the Internet, expanding the realm of programming possibilities. "I believe in the power of the Internet to be this new portal, this new opportunity for entertainment," Spurlock says. "I said back in 2000 [when he created the web show that eventually went to MTV, I Bet You Will] that there would be a time when there was no division between Internet and TV–it would be just one pipe. And that's the direction we're going in."
It's a direction Spurlock's been going in all along. His mutually beneficial relationship with Hulu began before the streaming service even officially launched, when he agreed to license Super Size Me to the company. Later Hulu contacted him about original programming, and A Day In the Life was born. The show, which follows around dynamic people like Sir Richard Branson, Questlove, and street artist Mr. Brainwash for a day in each episode, was a success
After proving himself with Hulu's first entry into original programming, Spurlock was approached by Yahoo, which was also interested in shows for the online space. "They said they were looking to do shows that network TV would never want to do," Spurlock says. "I just happened to have this show I'd been trying to get on network TV for about seven years that everybody thought was too risky."
This too-hot-for-TV property became The Failure Club. It's a show that follows a group of people around through 12 hour-long episodes, filmed over the course of a year, while they attempt to fulfill life-changing dreams. Morgan met with resistance at networks and studios because nobody liked the idea of shooting for 12 months without ultimately know what the end product would be. Debuting last winter on Yahoo, The Failure Club is the only nonfiction serial in the top 25 web series, according to comScore. It was also nominated for a Webby award.
Additionally (yes, there's even more), the director has been shooting Morgan Spurlock's New Britannia in the U.K., a show highlighting the differences between British and American culture, from fame to dating and beyond. Putting that show together while nurturing his stateside creative ventures has meant weekly transatlantic flights for Spurlock, which are too exhausting for me to even contemplate.
All this productivity has achieved undeniable results, though, including a way to bring his web series to traditional TV platforms around the world. "We just did an overall deal with FremantleMedia, so the opportunities we're getting are continuing to increase," Spurlock says. "Out of this deal, we're going to be able to hire a full-time development executive and have an outlet to sell our TV and web properties internationally. To suddenly have that marketplace be a possibility is a huge jump for our production company."
If the possibilities keep coming at the pace they have been, though, and Spurlock keeps pursuing them, his film about male grooming will become ironically prophetic: the director will be too busy making shows, movies, and deals for any mustache maintenance whatsoever.