In a dramatic bit of timing, GM announced it was pulling its $10 million in Facebook advertising mere days before the latter company's IPO.
The high-profile move drew a line under the already pronounced question mark around Facebook's real value as a paid advertising platform. While some, including Ford, rushed to make the point that proclaiming Facebook ineffective is simply admitting that you're doing it wrong, the fact is, there has been little to support the notion that paid advertising on Facebook is tied to real, bottom-line results.
What we do know though, is that Facebook has been a transformative creative force in advertising. And the creative story of Facebook hasn't been told by paid ads. The best campaigns have represented brand spending–but in talent and in development and production, not in Facebook as a media buy. But these projects have been valuable all the same–to the industry and to Facebook–in helping to reorient communications thinking around the consumer.
The most notable, and important, marketing efforts on Facebook have been those that have made the marketing industry understand the nature of social media, how to maximize its strengths, and the essential shift from broadcasting canned brand messages to inviting people to participate in a conversation.
Here (in no particular order), the all-time top five Facebook marketing campaigns.
A&E Parking Wars
Way back in 2007, the game wizards at Area|Code (now a part of Zynga) were given the brief to promote A&E's show about parking. So the company created a Facebook game about parking. And it killed. Area|Code had already made a name with its Sharkrunners game for the Discovery Channel's Shark Week. That game allowed players to control virtual research boats and crews and collect real-time data on real sharks that were tagged with GPS units and going about their business off the coast of California. Parking Wars players controlled a street and a handful of parking spaces and advanced in the game by parking on friends' streets and issuing tickets to their "unlawfully" parked cars. Both games were compelling examples of continuous engagement–games that kept players coming back throughout the day. And a remarkable number did– 400,000 players signed on to Parking Wars in two months, with total users growing to over 1.5 million. But Parking Wars was one of the earlier examples of a truly social game that actually involved players' Facebook friends.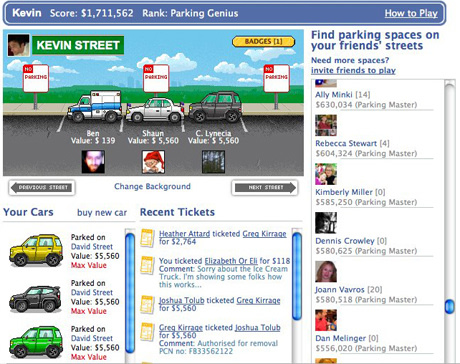 Intel Museum of Me
In 2011, Intel allowed Facebook users to create a shrine to themselves and then (virtually) walk through it. Intel and Japanese agency Projector, Inc., created Museum of Me, a "visual archive of your social life," to (subtly) promote the i5 processor. After users connected through Facebook, the app pulled images, words, location, and other info into a three-minute video walk-through of your own museum, complete with white walls, other patrons, and music. The effect is unnerving and oddly powerful as it makes literal the exhibit you've already made of your life.
Take This Lollipop
One of the most interesting Facebook campaigns (and the recipient of several big ad awards recently) is a cautionary tale about Facebook itself. If people thought Intel's Museum was a touch creepy, they were in for a deliciously upsetting treat with "Take This Lollipop," created by production company Tool and director Jason Zada as a Halloween project (so, not strictly an ad… or is it..?).
The app "dares" users to connect with Facebook and when they do, they're delivered into the world of a scary-looking loner played with sweaty, rage-filled aplomb by Bill Oberst Jr., who strokes his mouse and generally looks insane while poring over the personal details of your life and then, seemingly, sets off after you. If Intel's Museum of Me was an artful reinterpretation of your social life, "Lollipop" was the nightmare scenario of your nagging privacy concerns.
Burger King Whopper Sacrifice
Another Facebook classic that directly addressed the nature of Facebook and its meaning in our lives. The 2009 app, created by agency CP+B, allowed users to unceremoniously relieve themselves of "friends" in exchange for a coupon for a Whopper. As one of the creators, Joel Kaplan said of the campaign: "It was when everyone you knew was finally on it and you were becoming friends with all these people and we were talking about the frustrations of that–what does it even mean that I'm friends with someone online?" Which led to the campaign's merciless core calculus: burger beats buddy. Facebook shut the app down not long after it got rolling but not before 200,000 friends were disappeared.
Ikea Facebook Showroom
In 2009, to promote the opening of a new Ikea store in Malmo, Swedish agency Forsman & Bodenfors created a simple campaign based on one of Facebook's most crucial, and feared, features–photo tagging. The agency conjured a profile for the manager of the new store, Gordon Gustavsson, and, over a few weeks, proceeded to post 12 images of catalog-worthy showrooms. Facebook fans were able to tag furniture items with their names to win them, and in so doing, they created huge ripples across their social networks. Though critics complained that the effort felt too temporary–a one-off–it was an awards juggernaut and, more important, it was a low-cost, low-tech demonstration of the real power of social networks as a mechanism for participatory, consumer-driven advertising.