India is one of the biggest and most important emerging ad markets, one that every big agency network and marketer is looking to for business growth.
As to what the explosion of the ad sector means creatively, it's still an evolving story. While the country produces a number of notable campaigns each year (including the occasional blockbuster, like the hugely awarded integrated campaign "Lead India" for the Times of India) unlike, say, Brazil, India doesn't have an established creative ad legacy.
In one area though–print and outdoor–Indian advertising has recently taken on an identity all its own. Of course there are a wide array of visual styles given the size of the country, but overall India's print work has been marked by a distinctive, visually rich palette, one that mixes bold colors with a playfully gothic darkness.
"India is a diverse country with each and every region having its own distinct look and feel," says Abhijit Avasthi, national creative director of Ogilvy India. "What we have succeeded in doing is, that over the last few years we have tapped into these rich cultural nuances, whether it be choice of illustration, color or photography. And the result is quite evident for every one to see."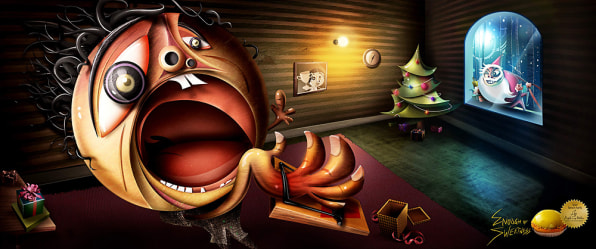 Some of the campaigns Avasthi and his team have worked on draw from India's diversity to tell a story. The campaign for Mentos Sour Marbles, for instance, features dark humor and cultural signifiers to represent the extreme sourness of the product. Bodies are shown coiled together in various states of extreme pain, forming an outline of a sour candy-eater's head. One of these tortured bodies appears to be the reverse of the traditional Indian bed of needles–with dozens stuck in his back, pin-side down.
"Creative evolution in advertising follows the maturity of the audiences and society in terms of consumerism and exposure to advertising," Avasthi says. "We are a developing country and advertising is still coming of age here. So each year we are able to push the boundaries of our work."
While the burgeoning style in India is pronounced in print and outdoor work, there are other ad areas that are also undergoing a renaissance right now. "Interactive is something that I feel is a major growth area in this country," Avasthi says. "Street corners have always been a place for people to meet, interact, and exchange information in our country. Today we are doing the same interactions differently."
An Ogilvy campaign for the Cancer Patient Association took advantage of this social change, aiming to spread word-of-mouth both on the actual street corner, and the digital one. The campaign was intended to persuade smokers to quit by outfitting the communal cigarette lighters kept at corner markets with a chanting function. Every time a smoker tried to light one, a solemn voice emerged, chanting, "Raam Naam Satya Hai," which is sung when corpses are carried to a funeral pyre. A video of the effort spread quickly.
And something the visually driven print and outdoor ads share with efforts like the anti-smoking campaign is the universal hallmark of all great advertising: the ability to tell stories. "We are a nation of storytellers. And today, our stories are being loved and appreciated, not just in this region, but across the world. In fact, even Hollywood is today highly inspired by us."
See more eye-grabbing print and outdoor ad work from India in the slide show above.