For a 50-year-old American dining institution, Denny's marketing efforts over the past few years have had a surprising bit of kick. In 2009, the company fronted a funny Super Bowl ad featuring mobsters trying to discuss a hit over pancakes and followed it up with an offer for a free Grand Slam for all of America. And last year Denny's gave the Super Bowl a pass entirely and instead sat some comedians in a booth for a talk-show style improv over a meal in its Denny's Always Open content initiative.
The original web show, which just premiered its latest episode with Maya Rudolph, is hosted by David Koechner, who engages a who's who of comic talent in amusing, sometimes salty banter. The show was conceived for Denny's by its ad agency Gotham in partnership with IPG's Ensemble Entertainment and Electus-owned DumbDumb, the production company overseen by TV stars Will Arnett and Jason Bateman.
Here, some of the players behind Always Open explain to Co.Create what it took to make the series happen and some lessons for making brand content work.
"It's a brand that doesn't take itself too seriously," says Denny's CMO Frances Allen, who asserts that though the Always Open campaign was a risk, and represented an edgier kind of humor, there was no resistance to the idea from the management team, the board, or the franchisee community. "It's a brand where everyone can live and let live and come and be who they are," says Allen. "And it's a brand that's very open."
That open quality came into play in the creation of the campaign and the end product. "Always Open" isn't just a literal description, it's also meant to apply to the way people act when they sit down in a booth and hang out with their friends. "Like the crotch cam," says Jerry Collins, president of DumbDumb, of the second season addition of an under-the-table camera. "We were trying to open it up a little bit."
Jokes like that have to be okay with the brand's guardians. And according to Allen, Denny's had no choice but to run with the loose humor, and to undertake a web series like this in the first place. "This is a critical audience," says Allen, describing the under-30 crowd that makes up 30% of Denny's customers. "As they age and have families themselves, they will be a critical part of our future."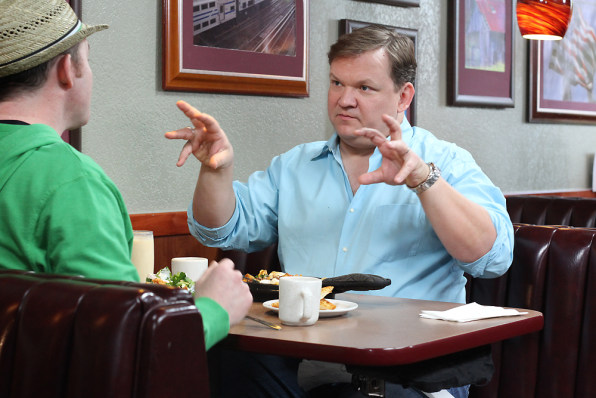 It all started with the notion of doing a campaign with Conan O'Brien or Jimmy Fallon. "But doing something with them would mean we'd be borrowing their equity rather than creating our own," says Scott Donaton, president and CEO of Ensemble Entertainment. "Plus, anything done with them would be a one-off."
The team was drawn instead to Arnett and Bateman, who had the right sensibility and have been creating brand work in the digital space. "There were a couple different ideas they threw at us," recalls Collins. "One was some sort of talk show in a booth, and the other was a therapist in a booth." The therapist idea seemed to suit the "always open" brand attribute but that was quickly deemed dicey. "You need to be open to your therapist. But it could have gotten really depressing and dark if we really would have let it go."
When the talk show idea was taking shape, Gotham and Ensemble used Zach Galifianakis' Between Two Ferns as a touchstone. "He's hilarious," says Collins, "but we decided to go sort of in the opposite direction. His style is more biting. We wanted to make this warmer, friendlier, more of a playful atmosphere for our guests."
Collins says they considered many potential hosts but settled quickly on Koechner, whose years in the comedy world and on Saturday Night Live (where Collins also used to write) means he has a great rapport with a lot of other comedians, and he's a master of improvisation. Guests have included Bateman and Arnett, Sarah Silverman, Kristen Bell, Will Forte, and Jessica Biel. Coming soon: Andy Richter, Dax Shepard, Christina Applegate and Chris Pratt.
It was always clear that this show would be improvised in order to capture the feeling you want customers to imagine having when they go to Denny's with their friends. "It feels less like marketing and more of just a fun conversation," says Collins.
Having identified a young audience as the target, the team decided to distribute the show in a space where that target lives. So you can see Always Open on College Humor and YouTube.
"People have approached us about turning it into a TV show," says Donaton. "You can never say where it might migrate [in the future], but we felt that this was exclusively for a digital format because of the young audience."
Allen says that the first season of videos got 6 million views. "And if you look at the YouGov Index, which measures how different audiences are feeling about your brand, she says, "We shifted from the day we posted our first video."
While the premise of the show builds Denny's right into the action, all involved recognized that actively pushing the brand and menu items would feel intrusive to the intimate conversations. "We were kind of adamant about not including [obvious product placement]," says Collins. "Minimizing signage and any sort of reference, I think, makes it better."
Donaton explains that the producers never specifically informed guests that they can order low-fat or vegetarian foods off the Denny's menu, they just let that happen naturally. So when Silverman, who is vegetarian, is sitting and eating a salad, viewers just see that with no particular comment. "We saw in a lot of the comments people saying, Oh, my god, what is that that Jason's eating? I have to get a plate of those right away."
Denny's continues to do traditional ad buys on TV and radio, which Allen says is "critical for driving our short-term sales." But targeted efforts are also critical to building long-term relationships. Another specific target for Denny's is the Hispanic market, and the brand has been running a campaign in which Dog Whisperer Cesar Millan becomes "The Skillet Whisperer."
The Denny's team didn't shoot a pilot, they just trusted that the idea would work. "I remember saying several times before we shot it last year, it's going to be good, I'm really excited, but we don't know what it is," says Collins. "To Denny's and Gotham and Ensemble's credit they didn't panic and they let us do that and have that."
The second season of Always Open is in full swing now. "You know, it's pretty straightforward," says Collins. "It's a fun little talk show in a booth."