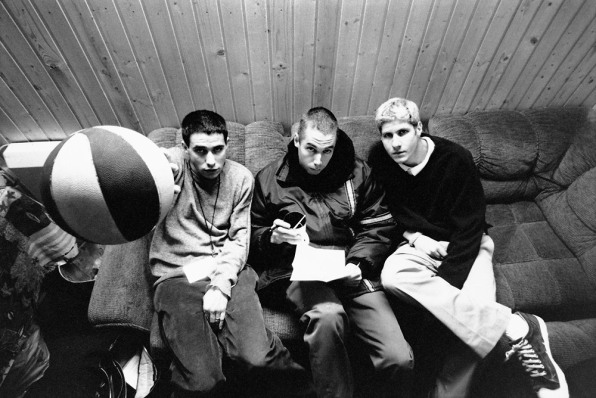 At Fast Company HQ, and, it seems, everywhere else, the news that Beastie Boy Adam Yauch, aka MCA, was dead at 47 was met with a striking level of genuine sadness. As more than one person said in response to the news: "Why is this so sad?" (Read: Of course it's sad when a beloved public figure passes, but this is, like, really sad.)
Yauch leaves behind the massive musical legacy of the Beastie Boys, of course, but he has had a profound creative influence across disciplines and industries.
In 1994, Yauch founded the Milarepa Fund, a non-profit dedicated to supporting Tibetans subjected to Chinese oppression; in 1996 the group produced the first Tibetan Freedom Concert in San Francisco, attended by 100,000 people.
Outside of making music, Yauch was most known as a creator and proponent of film and video. In 2008 he founded Oscilloscope Laboratories, which produced and distributed many acclaimed independent films (see below). He also directed films and videos (under his own name and the alias Nathaniel Hornblower) including the innovative concert film Awesome; I F*ckin' Shot That and basketball doc Gunnin' For That #1 Spot. His music video work included the classic "So Whatcha Want," and the recent, star-studded "Fight For Your Right Revisited." And, he was even, for a time, a magazine publisher–Yauch founded Grand Royal with Beastie Boys bandmates Adam Horowitz and Mike Diamond in 1993.
Here, a sampling of the beyond-music work that the pan-creative Yauch helped to bring to the world and some of the heartfelt Twitter reaction from Yauch's creative contemporaries.
Awesome; I Fuckin' Shot That!
In 2004, Yauch directed this concert film by instructing 50 camcorder-wielding audience members to document a sold-out Beastie Boys show. The film, which nixed cliché fadeouts and zoom-ins in favor of grainy, low-budget footage got nods for intimately recreating the concert experience.
Gunnin' For That #1 Spot
Yauch made his 2008 directorial film debut on Gunnin', the first film out of Oscilloscope. Yauch drew on his city-kid roots for the documentary, which chronicles eight high school basketball stars competing in Harlem.
Wendy And Lucy
Oscilloscope released Wendy And Lucy, starring Michelle Williams, and directed by Kelly Reichardt in 2008 to critical acclaim.
"Fight For Your Right (Revisited)"
Yauch directed this half-hour sequel to the Beastie Boys' hit video for "(You Gotta) Fight For Your Right (To Party!)," which premiered at Sundance in 2011. Young Ad-Rock, Mike D, and MCA (Elijah Wood, Seth Rogen, and Danny McBride, respectively) pick up where they left off and fight an epic dance battle with future selves John C. Reilly, Will Ferrell, and Jack Black.
We Need To Talk About Kevin
This intensely dark 2011 film was directed by Lynne Ramsay and earned star Tilda Swinton a Golden Globe nomination.
Grand Royal Magazine
The Beastie Boys' short lived magazine included era-defining art and features like an interview between Yauch and the Dalai Lama. But it was perhaps better known for "Mulling Over the Mullet," a contemplation of the hairstyle that lent the mullet name widespread fame.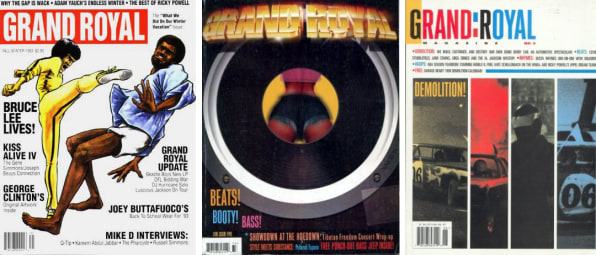 The reaction from Twitter:
RIP dear Adam Yauch. Words can't express the sadness and loss. Ur humor, talent & gentle soul are just irreplacable. Be at peace brother
Tom Morello
Lollapalooza94 talked to Yauch almost everyday He was full of wisdom & encouragement for a freaked out kid like I was. Thank you MCA. LoveBJ
Billie Joe Armstrong, Green Day
RIP MCA U are a Legend and a pioneer. #BeastieBoys4life
Snoop Dogg
I'm very very sad to hear of adam yauch's passing. He was a wonderful, generous, remarkable, and inspiring man and friend.
Moby, Musician
Born and Bred in Brooklyn, U.S.A., they call him Adam Yauch, but he's M.C.A. RIP Adam. #beastieboys #nosleeptillbrooklyn
Senator Chuck Schumer
Contributing: Christina Chaey