Last December, Louis C.K. shook up the comedy industry by eschewing the traditional network deal for a new business model in which he grossed a reported $1 million by streaming his self-produced stand-up comedy special, Louis C.K. – Live at the Beacon Theater, on his website for $5.
Buoyed by his success, other comics are following suit: last month, NBC's Parks and Recreation star Aziz Ansari, made his special, Dangerously Delicious, available for download. And on April 11, New York comic and actor Jim Gaffigan will do the same for one-hour comedy special, Jim Gaffigan: Mr. Universe, he taped at the Warner Theatre in Washington, D.C. in February.
The setup is the same. Like C.K., Gaffigan will charge $5 for a DRM-free download through his website, and donate a portion to charity. In Gaffigan's case, a dollar from each download will go to the Bob Woodruff Foundation, which provides resources and support to injured service members, veterans, and their families. He hopes it will also help promote his Comedy Central-sponsored theater shows, The America Tour, which run through August.
There's one significant difference. Gaffigan believes how well this model works for him will have implications for journeymen performers everywhere. Although Gaffigan–a clean, observational humorist–was a series regular on the 2006-2009 TBS series My Boys, and performed on Broadway last year in That Championship Season, he is not, by his own admission, a household name. "There's a difference between being an Emmy-winning comic with his own series, or a comic on a hot show versus a person who hasn't been on TV [as a series regular] in three years," says Gaffigan. "Can the Everyman do this? That's the question for me."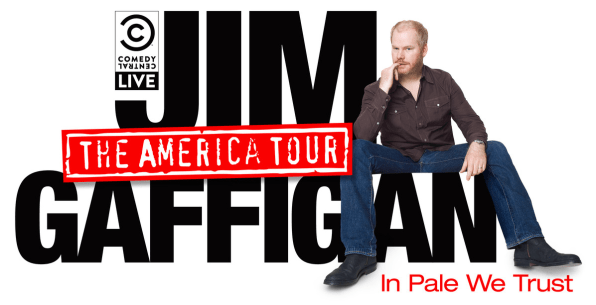 The Wrong Punchline
The impetus for the move began two years ago, when Gaffigan was appearing in a televised benefit alongside some racier colleagues. "I was the cleanest one on the show," he says. "Sarah Silverman did a bit where she's singing out of her crotch. I did a bit that was unflattering to McDonald's. But McDonald's was an advertiser for the network, so they had to edit out that joke. So the irony is the clean comedian was confronted with censorship. I thought, 'I need to find another home for my next special.'"
He began exploring different options, from exclusives with Netflix, Amazon, and eBay, to price points ranging from pay-what-you-want to 99 cents on iTunes.
"The idea of working with a corporation on something like this was inconsistent with my gut on how the Internet works," he says. "Any corporate fingerprints take the purity out of it." Not to mention a significant bite into his revenue. "Even iTunes. Why do they want 30 percent just for posting my special, when I did all the work? I wanted to cover costs and help some people in the process, but I didn't want to lose money on this."
In the midst of Gaffigan's research, Louis C.K. announced his plan. "What Louis did was make the product at a super low price and super easy to buy. It was a really simple, but really brilliant idea."
Moreover, it worked.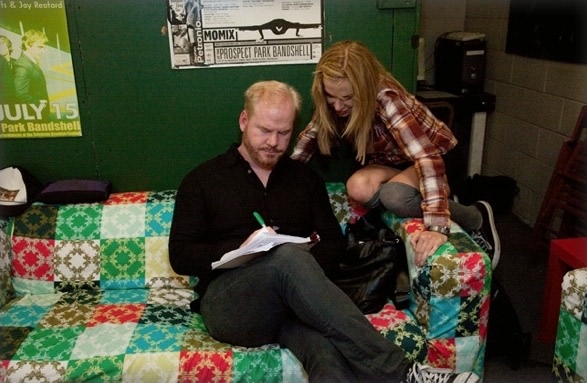 If It Ain't Broke…
Gaffigan didn't try to reinvent the wheel. "I'm not a tech-savvy person," he says. He got advice from C.K., who referred Gaffigan to his streaming service, Version Industries. Gaffigan spent in excess of $200,000 for a broadcast-quality production and editing of his special, and will spend more than $40,000 for streaming services, extra bandwidth, and website redesign. "It's a major financial investment," he says.
Beyond complete creative control, such a model enables a quicker turnaround–six weeks from shoot to air (or stream), compared to six months on a cable network–which can facilitate more topical comedy and has an aspect of instant gratification. It also utilizes the Internet's more egalitarian roots.
"Believe me, I've obsessed on this and, going back to the conversation about the unwritten rules of the Internet, being greedy is a big no-no, and I don't want to give that appearance," says Gaffigan. It's part of his reason for adopting Louis' DRM-free approach as well.
"When I buy a movie for my kids on iTunes, and they're charging me $19, I'm a little angry," he says. With a wife and four kids, the number of allowable downloads often exceeds the number of potential devices, "especially after one of the kids throws an iPod Touch into the toilet."
"Maybe I'm naïve," he adds. "Some people will steal it, and they're scumbags. But otherwise, if someone pays for it, they should own it and be able to burn it onto a DVD, and keep it in the back of their SUVs for their kids to watch. But really, you can't spend the five bucks? It's literally the price of a disgusting sandwich at Subway."
So much for that sponsorship…