Biomen, a European haircare brand, was aiming at a male audience with the tag line, "Real men use Biomen." Eye-rollingly unoriginal, but nothing out of the ordinary there. Perhaps that's why the company felt it necessary to spice things up a bit. So where do you go when you're looking to make a statement and get a male audience's attention? Gratuitous cheesecake? A sports celebrity? For Biomen, nothing did the trick quite like…Hitler.
As ad blog Adland reported today, Biomen released a spot on Turkish TV featuring archival footage of Hitler doing his thing in front of a crowd. Via a dubbed in voice-over, he says: "If you're not wearing women's clothes, you shouldn't be using women's shampoo either. Here it is. A real man's shampoo. Biomen." Needless to say, the ad has inspired outrage and, for many, incredulity. Because this sort of ad goes beyond purposeful shock value. There are advertisers whose button-pushing is transparent; they engineer controversy to their benefit (see Benetton on the sublime end of this scale and GoDaddy on the idiotic).
But some campaigns suggest that there were no such machinations involved. These are the ads that just seem impossibly ill-conceived, ads that suggest that the creators really just missed that class where they taught that certain things (racism, horrible tragedies and their victims, rape, etc.) just shouldn't be made light of for the sake of selling your product.
Be they just mind-bogglingly dopey or searingly offensive, here are some of advertising's great lapses in judgment.
The offending Biomen ad

Belvedere "Goes Down Smoothly"
Last week, Belvedere Vodka posted an ad to its Facebook page depicting a man grabbing a woman whose surprised expression and body language made it appear that she was not pleased and trying to get away from him. The accompanying text read: "Unlike Some People Belvedere Always Goes Down Smoothly." More than anything, the ad inspired confusion as to what exactly the image was meant to convey, but it seemed impossible to escape the conclusion that the spirits maker was making a gag about forcing a woman to perform oral sex. The ad was pulled and the company president apologized for it.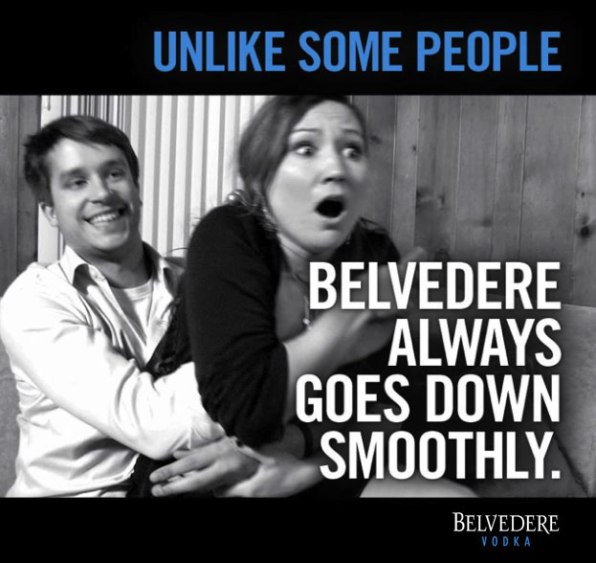 WWF "9/11"
This 2009 ad for the WWF from DDB Brazil evoked 9/11 in a mangled message about tsunamis and climate change.
Just For Feet "Kenya Mission"
In this 1999 Super Bowl ad for departed sneaker retailer Just For Feet, a group of white people in a jeep chase down a Kenyan runner and knock him out with tranquilizer-spiked water, fitting him with some Nike shoes while he's unconscious. Just For Feet later sued the agency, an arm of Saatchi & Saatchi, for $10 million.
Love's Baby Soft
One of the creepiest ads of all time, this 1970s-era mind-blower for Love's Baby Soft features a pre-pubescent girl dolled up Pretty Baby-style and the tag line "Because innocence is sexier than you think." The print ad, and an accompanying TV spot (warning: the sound is terrible) were created by agency Wells Rich Greene. One wishes to put this ad into the clueless, rather than the by-design category, because it's hard to imagine any advertiser so clearly courting pedophilia (the shape of the Love's Baby Soft bottle, on the other hand, leaves little room for equivocation).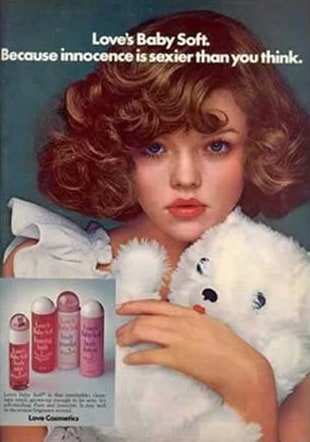 Dell "Della"
In 2009, Dell launched a website for women called Della. The whole endeavor was a monument to female stereotypes, as embodied by the main image that greeted visitors upon arriving to the site–a photo of three women laughing together while using their netbooks that matched their outfits. The site also featured "tech tips" that included "finding recipes" and "counting calories." Public reaction to the site was summed up by one Twitter commenter: "Della, new website 4 women who r 2 stupid 2 go 2 dell.com."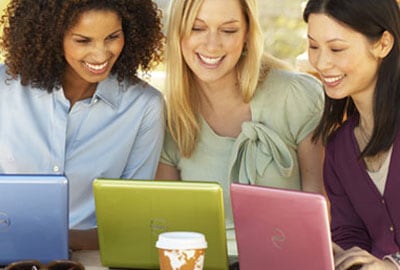 SalesGenie "Pandas"
This 2008 Super Bowl (that's right) spot features a pair of pandas, Ching Ching and Ling Ling, and a whole lot of stereotyping. The ad was written by Vinod Gupta, the head of SalesGenie parent, InfoUSA.