If you're lucky, maybe you went to a college on a campus with fancy, new college dorms. If you're not, you may have lived in a tiny box-like room in an uninspired building. Regardless of your dorm living situation (or lack thereof), it's hard not to be envious of the students who get to live in Copenhagen's Tietgen Student Hall (Tietgenkollegiet), a 288,000-square-foot, seven-story building designed as a communal space for residence. Among the building's features: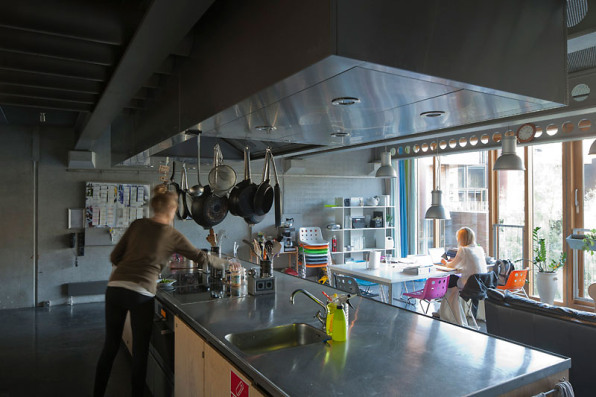 All rooms face outwards, thanks to the building's circular space (a symbol of its equality and communal nature). That means everyone gets ample natural light.

The rooms all have energy-efficient floor heating and their own showers and toilets (a big bonus for anyone who has shared a bathroom with their entire dorm hall).

Every room has either a French window or a balcony.

30 kitchens in the building, each of which has four fridges and two stoves.

A ground floor given over almost entirely to common facilities, including a bike room, two music rooms, a gym, a computer room, a study room, an assembly hall, and an outdoor area for basketball and other sports.

Three workshops: a sewing workshop, a bike workshop, and a wood workshop.
In the U.S., universities are quickly figuring out that they must add amenities to attract students–they're featuring everything from climbing walls to sustainable improvements–but Tietgenkollegiet offers an impressive combination of energy efficiency and community building.
Check out pictures of Tietgenkollegiet (designed by architects Lundgaard & Tranberg) in the slide show above.