Think your organization is productive? We'd like to direct your attention to D-Rev, a nonprofit technology design firm that aims to improve the health of people around the world living on under $4 per day. It's a big mission, but the organization is already in the process of pushing out two innovations to the developing world, with a handful of others on the back burner. Oh, and D-Rev is currently operating out of a house (a temporary situation).
All of this productivity has happened fairly recently: In 2009, when current CEO Krista Donaldson joined the organization, D-Rev had a lot of good ideas that weren't going anywhere. Now the organization is working hard to bridge the "valley of death"–that place between prototyping and bringing products to market. Here's how they're doing it.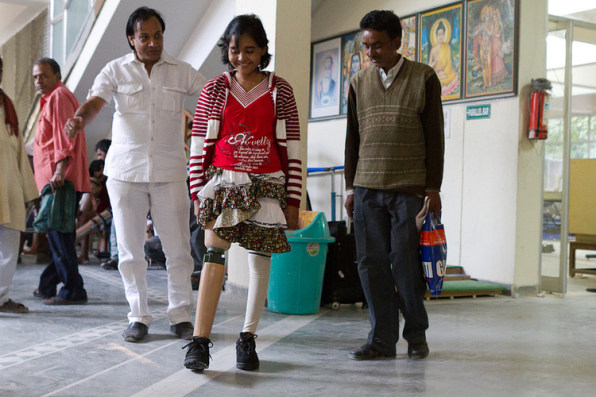 D-Rev's innovations are all driven by people on the ground in the countries where they work, instead of by people in other countries who think they know what the developing world needs. For example, Brilliance (an inexpensive phototherapy device for treating infant jaundice) came about when a doctor approached a D-Rev staff member. The ReMotion Knee, an affordable prosthetic leg system, sprung out of a Stanford University class–but the Jaipur Foot Clinic in India (an organization that provides limbs, crutches, and other devices to the disabled for free) had first approached the class and said "We need a better knee."
"We have these other criteria that I put into place when I came onboard where we evaluate [projects]. It would be things like, does it meet our mission [to help people living on less than $4 per day]?" says Donaldson. "So if it's going to help someone who is more in the $10 to $15 range, it doesn't really meet our criteria. And then it also has to be something that will hit a million people, so not a localized problem in one community."
Once D-Rev knows that a project meets its criteria, it performs a due diligence phase–finding out about the price point for the market, whether the product will be economically sustainable, whether distribution channels exist and if D-Rev can work with partners on the project, etc. At the same time, D-Rev works on the technical design process. Next comes the planning phase for manufacturing and distribution.
D-Rev is just getting started with the launch phase–its first commercial product, the ReMotion JaipurKnee, is being used in two clinics in India, where about 3,600 knees have already been fitted. That has all happened through a no-cost license with the Jaipur Foot Clinic. Now D-Rev has modified the design and is looking to go into mass production next year.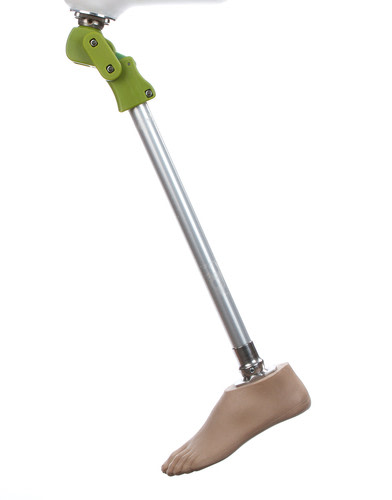 It's easy to see why the ReMotion knee is superior to what's currently available. During my visit to D-Rev's temporary headquarters, I had the chance to check out both the ReMotion knee and a knee distributed by the Red Cross. The Red Cross knee moved along a single axis, like a door hinge. The ReMotion knee, in comparison, has a 165-degree range of motion. The problem, of course, is that the Red Cross is a giant organization with a global distribution network.
Next up for D-Rev is Brilliance, a phototherapy device for neonatal jaundice that costs about $400, compared to the average price of $3,000 for devices used in the U.S. (not to mention the cost of regularly replacing CFL bulbs). D-Rev's solution: using LED bulbs and a more efficient design. Donaldson has high hopes that Brilliance will scale quickly–D-Rev hasn't done a big publicity push for the device, but already the organization is receiving plenty of inquiries.
It's also constantly working on improvements, since LED technology is changing by the month. When I visited D-Rev, a pair of employees were working in the prototyping room to optimize lighting on the Brilliance device.
D-Rev's latest challenge is figuring out distribution models–a surprisingly difficult task. The organization has two interns in Kenya, for example, who are focused on understanding distribution channels for medical devices in East Africa. "It's stuff like, do we have to pay tariffs, who do our distributors need to be, how well do things work? "Is corruption an issue, and how much will the price point get changed? Is there a market for it?" explains Donaldson. "One of the things I told our interns was, if there's no need for the product, don't give me a plan for distribution."
Ultimately, Donaldson hopes that D-Rev can launch a new product every year to a year and a half. It's an ambitious goal, but the developing world could certainly use the innovation coming out of D-Rev sooner rather than later.