Your personal remote operated submersible is ready. OpenROV, a tiny battery-powered sub, is a bringing ocean exploration into your home.
Powered by a small Linux computer, C-batteries, crowdsourced technology, and two guys with a thing for marine exploration, OpenROV promises to transform small remote vehicles–once the provenance of well-funded government agencies–into affordable crowdsourced machines that anyone can send on missions into the world's oceans, lakes, and bays.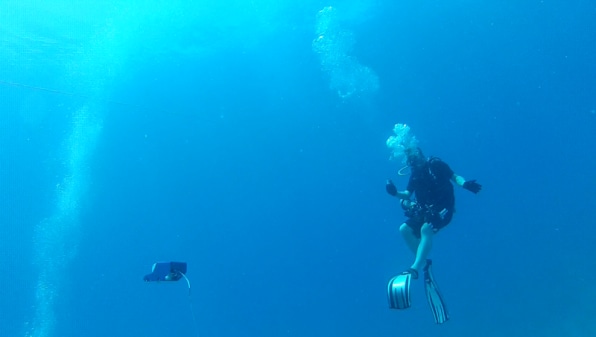 Designed by Eric Stackpole, and developed with David Lang, OpenROV is an open-source research and development project for the public to explore the seas (or caverns, lakes, and almost anywhere underwater where the ROV's tether will reach). Applications range from scouting dive locations to search and rescue, as well as education.
"Our main focus right now is getting as many OpenROVs out in the wild as possible," says Lang. "We think there's a lot of opportunity to accelerate development if everyone is working on the same problem set. 
OpenRov is being sold for $775 through its launch. Its blue body is laser cut from acrylic panels housing three thrusters (two horizontal, one vertical), an HD webcam, LED lights, and eight onboard batteries. The tiny package can dive about 300 feet (tested to 65 feet so far) and hits a top speed of about 2.2 mph during its 1.5 hour running time.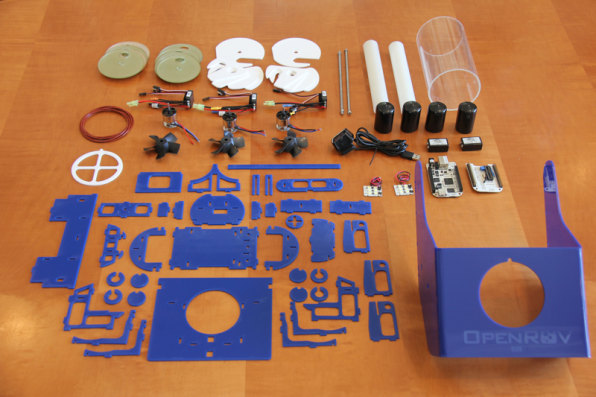 We spoke with David Lang this week by email to find out what's next for OpenROV.
CO.EXIST: Where have you taken it for test drives so far?
DAVID LANG: Our usual testing ground is a reservoir in Cupertino (near Eric Stackpole's garage) and TechShop, which is where we've done all the development. We've gone on two expeditions with the prototype, the first to an underwater cave in the Trinity Alps to explore a mystery of sunken treasure and the latest to Aquarius Reef Base as part of NASA's NEEMO Mission. Each trip was a huge learning experience, and we're excited to speed up the learning and improvement by having more people with OpenROVs.
What is the biggest limitation you're working on right now?
The biggest limitation right now is time. We're just a few people on the core team and, as hard as we're working, we're still racing to keep up with the growing community of co-developers. We're constantly weighing the option of doing more development or focusing on documentation. We need more of both, but it's a never-ending time management juggle.
Any early institutional customers? Or mostly individuals?
It's been mostly individuals so far, and that's great. We've been so lucky to participate in a few Maker Faires and get to know a lot of folks in the maker community. They're really the best people at this point, because they're not afraid to take it apart, tinker with it, and figure out new tricks to optimize performance.
I think as soon as people see the potential of the robot, a lot of academic and research institutions will want to get involved with the project, especially when we start seeing more modifications and payload add-ons. There's so much upside for the relatively low cost (compared to other observation-class ROV options, anyways, which cost anywhere between $8,000 and $50,000).
What would be the most ambitious exploration application for OpenROV?
We hear about so many great exploration ideas, from identifying whale sharks to biodiversity sampling in Antarctica. Personally, I have a dream to go down to the Sea of Cortez and recreate John Steinbeck's journey (Sea of Cortez: A Leisurely Journal of Travel and Research, a book cataloging a marine-specimen collecting trip Steinbeck went on with a marine biologist friend) with some of the new DIY technology that's available. … That would be a perfect trip to prove the increasing potential of citizen scientists.