You begin your dream project alone with an idea in your head that's hard to explain to others. Maybe you begin working at a small house in rural South Carolina developing an independent game with only the support of a creative partner on the opposite coast.
You don't realize it at the time, but there are others like you working in isolation, far away in a wintry city few people think of and even fewer visit: icy Winnipeg, Manitoba, Canada.
A while back, Winnipeg-based couple James Swirsky and Lisanne Pajot cancelled all the commercial work they took eight years to cultivate at their two-person production company, BlinkWorks and started work on their debut documentary Indie Game: The Movie. The film was an up-close look at the frantic world of independent game developers including Jonathan Blow, Super Meat Boy designer Edmund McMillen and his partner/programmer Tommy Refenes, as well as developer Phil Fish, racing to complete his game Fez in time for the PAX video game expo.
Swirsky, a former tester for Electronic Arts, and Pajot, a self-declared non-gamer, are still buzzing about their recent trip to the Sundance Film Festival where Indie Game: The Movie had its world premier. It was, by all measures, a successful trip–audiences loved the movie as did trade reviewers. Mission: Impossible 4 – Ghost Protocol director Brad Bird tweeted his appreciation and HBO and The Social Network producer Scott Rudin purchased remake rights, with plans for a half-hour comedy series based on the movie. For the first time in their professional lives, Swirsky and Pajot scheduled 30-minute meetings back-to-back-to-back, trying to fit in all the distributors, agents, and producers who want to meet. It's beyond their wildest fantasies.
"Our lives resembled a fever dream," says Swirsky, a boyish 34-year-old with hipster eyeglasses and barely-there chin stubble. "If I were to tell someone I was at the Yarrow Hotel talking to a reporter about a Scott Rudin deal and Kevin Smith was blogging about us, they'd say you're sick or on drugs. But we were [at the Yarrow Hotel that is] and it was weird and surreal and true."
The recent Sundance "fever dream" is just one chapter of the Indie Game story. Far removed from the Park City snowstorms; the kind that flatten everyone but two sturdy filmmakers from Winnipeg, and various highlights like a filmmakers brunch with Robert Redford and the crowds of festival attendees crowding into their screenings, is the massive digital fan base for the movie. It's the digital community that took Swirsky and Pajot to South Carolina, cameras in hand, to film McMillen at his home and it's that community that provided the support that enabled them to get to Park City.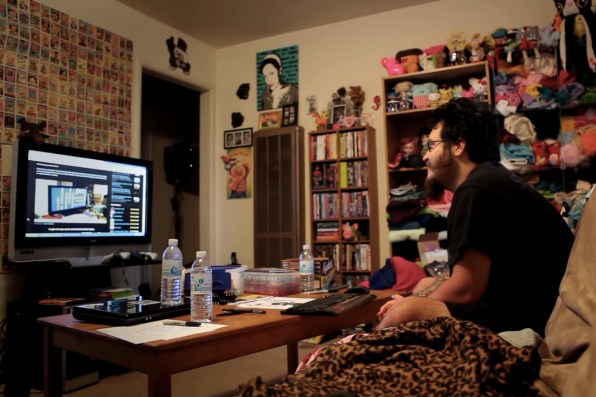 Going back close to two years, to their streamed documentary short about a struggling, indie game developer and the first round of pledges via the online funding platform Kickstarter, Swirsky and Pajot steadily build a digital base of supporters that makes Sundance look small by comparison.
They freeze all commercial work at BlinkWorks, empty their personal bank accounts and begin shooting their first documentary feature starting with 25 indie game developers before steadily reducing their subjects to four. Months go by and their Kickstarter funding reaches close to $94K with an additional $56K raised on their website and their footage creeps up to 300 hours. Through it all, the two take time away from shooting and editing to create up to 88 minutes worth of online shorts to promote the film, give the gaming community a constant taste of what they're doing and a chance to weigh in on existing footage.
It's not cloud editing per se, the 20-something Pajot says, emphasizing that she and Swirsky alone made editing decisions on the movie. For these filmmakers, Indie Game: The Movie is a documentary truly made in the digital world, transparent and interconnected to the gaming fan base responsible for the film's production. It's an indie doc about indie game developers made in the manner indie game developers work using pre-orders to help finance and open beta testing to gather feedback.
"Even before day one, people knew we were making this film and we would give constant updates and put out a lot of footage," Swirsky adds. "We were building a fan base that gets not only a financial investment but also an experiential and emotional investment in the film. They watched this film grow and watched us make it all the way through and it's really special now that we're showing it. You go to a screening and you recognize someone's Twitter handle from day 12 when they emailed you and said it's a really good idea and gave you $30 and now you meet them in person."
Unpacked from their Cinderella trip to Sundance and back in Winnipeg celebrating their first new hire to help manage their social networks, James and Lisanne, prepare for their next trip, a 15-city North American tour of Indie Game: The Movie screenings and gaming events beginning March 2nd in Santa Cruz, California, and sponsored by Adobe before eventually heading out for a year-long screening tour around the world.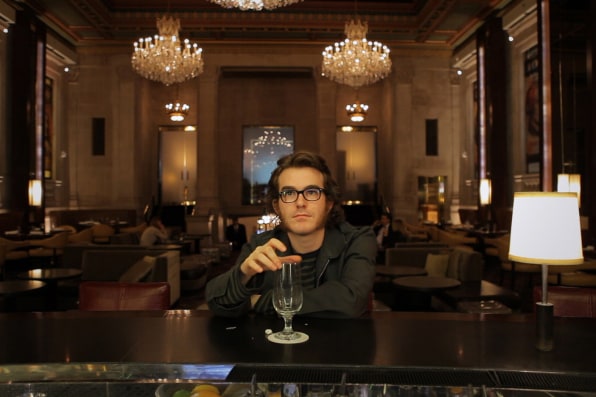 This time, they leave Winnipeg as more than just first-time feature filmmakers. They're now Hollywood consulting producers, working alongside HBO and Scott Rudin on Indie Game: The Comedy Series; the first in what they believe will be many stories pulled from the world of indie game developers. They're winners of Sundance's World Cinema Documentary Editing award. They also hit the road as ambassadors of a new model of digital moviemaking just as the game developer Double Fine hits over $2 million in Kickstarter funding and announces plans for a documentary crew to film their development work.
Looking forward, the Indie Game: The Movie method of content sharing and digital community building; something so unique just two weeks ago in Park City, appears to be the favorite way to make an independent movie.
"I think it's a great way to make movies and I think it's a great way to make anything creative because at its very base level it's audience engagement," says James, back in his Winnipeg office. "It's starting that conversation really, really early and kind of maintaining that relationship. We haven't even fully released the film yet. We've done Sundance and two other screenings but we have already hit the ground running with 8K fans that know about our film. They know about our film in a way like beyond it simply exists. They know the story behind it. They know who's in it and to have that at your disposal as soon as you release the film and when you hit the ground running is very, very powerful."
Indie Game: The Movie, The Tour starts March 2nd in Santa Cruz, California, before traveling to other cities including Chicago, Portland, Seattle. and Cambridge, Massachusetts.
[Images: Indie Game: The Movie]