The idea that Apple has some issues with its Chinese factories mistreating workers is nothing new. When Tim Cook first took over the company, Co.Exist published a story about China's Institute of Public and Environmental Affairs, an organization that has thoroughly investigated working conditions at Apple factories. More recently, the company is in the news again, because the Fair Labor Association has released a detailed investigation of what's really happening at Foxconn. Apple has already pledged to improve working conditions and increase wages, and so the issue might be swept under the rug. But the FLA report actually paints an interesting and nuanced picture of the conditions at the Chinese factories. Here's what it says:
Employees are overworked. At some point in the past 12 months, all three investigated factories went over the FLA Code Standard of 60 hours per week in total and the Chinese legal limit of 40 hours per week. As you might expect, employees are especially overworked during peak production periods, like when a new iPhone is coming out. Almost half of employees reported that there were times when they worked 11 days straight without any time off. On average, employees worked 56 hours a week, and up to 61 hours during peak production.

Despite the long hours, most employees aren't unhappy about their work schedules–48% of respondents in an FLA survey believed that their working hours were reasonable, and 33.8% said that they would actually like to work more hours to make more cash. Just 18% thought they worked too much.

Foxconn workers make above minimum wage, with a starting salary of RMB1800 (minimum wage in Shenzhen is RMB1500). Sick leave payments are also higher than what is required by the Chinese government. Still, 64% of workers thought that their salary was not enough to cover even basic needs, and 72% of workers don't think they make enough to buy basic food supplies.

As in many work environments around the world, it's debatable whether Foxconn takes advantage of interns, who make up 3% of the Foxconn Group's workforce in 2011. The interns get work-related injury and health insurance, but aren't protected under labor laws and don't receive social security benefits.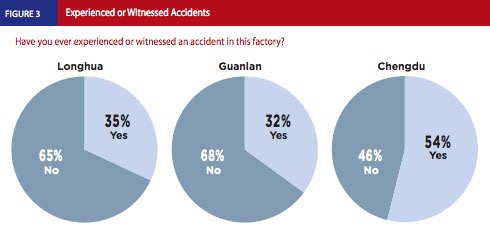 FLA went into Foxconn expecting to find problems with aluminum dust, which caused a deadly explosion last year at the Chengdu plant (fine particles of all sorts can cause explosions if there is enough oxygen and an ignition source), but discovered that the situation was already getting better. The FLA now says: "The standard operating procedures … have been strengthened and the concentration of dust particles in the air regularly measured." Still, a majority of workers have low levels of confidence in management's ability to deal with safety and health issues.

At the Chengdu factory, young workers (16 to 17 years old) were found working in areas that could put them at risk for chemical exposure or injure them in some other way. Some young workers, for example, are exposed to aluminum dust and excessive heat.

At the Guanlan factory, many workers who deal with chemicals (i.e. cleaning solvent and adhesives) use finger gloves or half gloves that don't protect against skin absorption.

There are a number of fire hazards at the factories, including a lack of protective barriers around fuel pumps, sparse emergency exits, and flammable materials in unsafe places.

In 2011, the Longhua factory didn't test the indoor air quality for chemical exposure to potentially dangerous substances like toluene, methyl methacrylate, and diethylenetriamine.

Nobody bothered to tell many of the workers at Longhua that there are serious risks in working at the factory.

At Longhua, there is no procedure for managing environmental impact outside the factory walls–a major problem for surrounding communities.
At two of the factories, the FLA found that management was publicly shaming workers by posting every disciplinary action taken along with names of the workers punished on the factory's website and notice board.

Almost 20% of the workers interviewed at Guanlan don't know how to formally lodge a complaint with management.

There is a scary lack of toilets at the factories–20 toilets for up to 2,000 workers at Guanlan and 20 for up to 3,915 people at Longhua. Not that anyone is spending so much time in the bathroom; employees on some assembly lines at Longhua are only allowed to take 10-minute bathroom breaks three times a day. At Chengdu, management goes so far as to log worker names and times of bathroom breaks.
To its credit, Apple has already started working with Foxconn to improve conditions. The first order of business: cutting the workweek to 49 hours while maintaining current compensation and hiring thousands of new workers to adjust for the shorter week. Foxconn already has decent conditions compared to many Chinese factories; the majority of workers surveyed by the FLA said that they haven't found other factories with better conditions, treatment, and working hours.