There are film geeks, and then there are film visual effects geeks.
For the latter, the Oscar race officially starts at the annual VFX Bake-Off, which showcases the 10 films (up from 7 last year) and their VFX supervising teams shortlisted for Academy Awards for Best Visual Effects. The Academy of Motion Picture Arts and Sciences' Visual Effects Branch puts on the three-hour event for its roughly 260 members and the public. The event provided an opportunity to hear from the VFX innovators themselves what was involved in bringing to life the Oscar contenders.
"There's no greater synergy between arts and sciences than visual effects," said moderator and VFX Branch chairman Bill Taylor. "This year, we have five formats, including two 3-D formats, and one that's actually on film!" (Which elicited notable applause.)
The VFX Branch's 40-member steering committee, which votes on the nominees, winnowed this year's 265 eligible films to the 10 that presented Jan. 20 at the Academy headquarters in Beverly Hills, CA. The resulting five nominees will be announced January 24, and the winner named during the 84th Annual Academy Awards broadcast Feb. 26 on ABC. The VFX teams each had five minutes to introduce their 10-minute clips, explain the challenges of their projects, and answer three minutes of questions from the steering committee. A red light bulb atop a stand onstage glowed when time was up.
"The red light bulb has been epoxied in place in honor of a famous director I shall not name," Taylor quipped, in reference to James Cameron once unscrewing the bulb so he could exceed his time allotment. (Even bigger applause.)
The 10 films–representing $5.5 billion in revenues so far–were: Paramount Pictures' Hugo, Transformers: Dark of the Moon, Mission: Impossible – Ghost Protocol, and (with Marvel Studios) Captain America: First Avenger; 20th Century Fox's Rise of the Planet of the Apes and X-Men: First Class; Fox Searchlight Pictures' The Tree of Life; Walt Disney Studios' Pirates of the Caribbean: On Stranger Tides; Touchstone Pictures' Real Steel; and Warner Bros.' Harry Potter and the Deathly Hallows Part 2.
The VFX teams explained how they created specific effects, composited shots together, created whole scenes and creatures from CGI, and infused emotion into non-human characters.
"It's a big giant train picture, and there was no train," deadpanned Hugo VFX supervisor Rob Legato. "Actually, we had a train for two days, but it didn't move– the set did. It was shot in England, so Nigel and Malcolm were moving everything. That's all I know."
Transformers, Reel Steel, and Rise of the Planet of the Apes effects artists were tasked with giving human expression and emotion to robots and primates. Apes effects house Weta Digital devised a system that analyzed the facial muscle group movements of human actors and transferred them to CGI chimp faces, while some Transformers shots took as many as 120 hours per frame to render. "There were many little metal parts in the robots that needed to be animated," said Transformers' Industrial Light and Magic (ILM) VFX supervisor Scott Farrar.
Tree of Life's variety of VFX shots required fresh approaches to each one. Senior VFX supervisor Dan Glass grew concerned confronting a film with "no script, with no release date–and a subject matter that concerned eternity," he teased. "Four years after our first meeting, we delivered. A year later, we finally delivered, and, after that, I'd still get calls from the director [Terrence Malick] with, 'Do you think you could try this idea I just had…?'"
The Pirates team found integrating CGI into live action in scenes shot in stereoscopic 3-D (two cameras representing each eye) particularly unforgiving. "In stereo, visual effects tricks tend to reveal themselves, so the compositing has to be more detailed," said VFX supervisor Charles Gibson.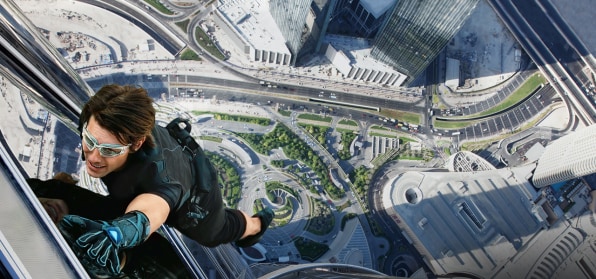 X-Men's team cited morphing superhero characters and a mirrored room as particular challenges, while Mission Impossible's ILM VFX supervisor John Knoll noted a CGI nuclear missile likely landed its effects designer "on a watch list somewhere in an attempt to look up reference." His crew also had to digitally erase the myriad safety harnesses when Tom Cruise climbed the 2716-foot Burj Dubai Tower. "I overheard a stunt coordinator saying, 'Anything above 70 feet and he's dead, so it doesn't matter how high he is.'"
Many of Captain America's 1600 FX shots went into creating a shorter, skinnier CGI version of actor Chris Evans, before he transforms into the superhero. The shots not only required adding in background that had been blocked by Evans' pumped-up physique, but the other actors to deliver their lines to his throat, so when Evans' "before" picture was inserted, they would meet his gaze.
It was tedious work, said VFX supervisor Christopher Townsend. "Stanley Tucci would finish a spectacular monologue, and say, 'Did I get it?' And we'd have to say, 'No, you looked at his eyes. Go again.'"
The Harry Potter VFX team–which studied original footage of the 1937 Hindenburg disaster in designing the attempted destruction of the Hogwarts School of Witchcraft and Wizardry–brought its own bit of cinematic drama to the evening. Its members accidentally showed the wrong reel, which could have cost them the competition. At the last minute, they found and rolled the second reel with the correct effects, and both Hogwarts and the Warner Bros. entry were saved.