The town of Pawnee, Indiana is famous for many things: its annual Harvest Festival, legendary jazz saxophonist Duke Silver, holding the title of fourth most obese city in America, and the miniature horse, Lil' Sebastian (RIP). The fictional burg from NBC's municipal comedy, Parks and Recreation, which resumes its fourth season on Thursday, has also attracted a lot of attention for its hilarious artwork, which, on many episodes, emerges from the background to steal the spotlight. Often the show has a way of turning its painted portraits into punchlines.
They're hung with pride in the council chambers and looming lasciviously in the bedroom of ditzy morning show host, Joan Callamezzo. And each image tells a funny story. Ian Phillips is Parks and Rec's production designer, and he's the one in charge of overseeing these visual tales.
Among his challenges is making images described hilariously on writers' pages actually look funny on viewers' TV sets.
"It's really essential to support the visual storytelling, whether it be comedy or drama," Phillips says. "And of course, with comedy, the driving force is to get people to really see how funny the joke can be, because it's only on screen for a short period of time." He adds: "The paintings are just a really fast and easy way to get a joke across. In comedy that's really what you want–to be able to tell as many jokes as possible in as little time and have people respond to those jokes."
The murals that adorn Pawnee's town hall look deceptively innocent from a distance, adorned with the kind of pioneer-glorifying imagery you might find in any government building in Middle America, painted by an artist paid out of the meager civic budget. The idea behind them is that a painter came to the nascent town of Pawnee during the late-1930s and was hired to recreate these stories about its origins. In order to make them seem more period-legitimate, the paintings are created in a popular style of the time: social realism. But then you look closer, and the events depicted turn out to be horribly violent, misogynstic, and xenophobic. "If you grew up in the town of Pawnee you'd think nothing of them," Phillips says. "And if you grew up anywhere else, you'd think they were just absolutely crazy.
"When the writers created the world of Pawnee, they came up with various funny ideas about what happened in the town–the backwardness of it throughout history," Phillips says. "Now it's my job to make those ideas look funny. Of course, we also don't want to give away the joke, so the murals and artwork really have to be painted and conceptualized in such a way that they're actually revealing the joke."
In the second season episode, "94 Meetings," for instance, Amy Poehler's endlessly competent bureaucrat, Leslie Knope, tries to save a historic gazebo by explaining that 150 years ago it hosted a wedding between a white woman and a Wamapoke Indian chief. While standing in front of a mural depicting the event, Leslie describes the "beautiful" and "romantic" ceremony, and the camera remains tightly framed on a calm, peaceful wedding. Sure enough, though, Leslie eventually admits that "word got out and the reception turned into a bloodbath," at which point we zoom out to show warring factions on either side (and also on top of) the gazebo, about to kill each other.
The ideas for the paintings originate from staff writers, at which point Phillips creates sketches in order to figure out what the writer is actually looking for. "Sometimes I make suggestions on how we can make it better," he says, "even though the ideas the writers came up with are great on their own." Next, the sketches go to an illustrator, usually either Robin Richesson or Benton Jew, who take a pass at the concept. These illustrations get parsed over by Phillips, who gives notes on style and clothing. Once that phase is finished, it falls to artists Bridget Duffy and Stan Olexiewicz to paint the actual painting.
Typically, the Parks and Rec artists don't paint with oils. It's a practical decision, not an aesthetic one–oils just take too long to dry. Instead, the team uses acrylic paint on new raw canvas. (If you look really closely, you can see the canvas weave.) The construction team stretches the canvas for either Duffy or Olexiewicz, and then the illustrated image is projected right on the canvas. This all happens very quickly. The longest length of time production ever had to create a mural was two weeks from copy to finish product, and it's often much less than that.
"Sometimes we'll create a painting and shoot a scene with it, and then the storyline will change," Phillips says. "We always try to get them in later, though. Almost all of them have at some point or another been on the show." Tantalizingly, the production designer reveals that one painting had to be cut from an episode altogether, but he's been sworn to secrecy regarding details, since it will probably be making an appearance somewhere down the line.
While the style of the murals has intentionally not evolved at all since the beginning of the show, demand for them has. The increased attention the paintings have generated has spurred Phillips and his crew to create more of them. In addition to the town hall murals, paintings also factor into the show in other ways. Egomaniacal side character Joan Callamezzo (Mo Collins) apparently hired a painter to create seminude portraits of herself, which she proudly displays in her home. Also, last Christmas, Leslie Knope gave post-emo assistant April Ludgate (Aubrey Plaza) a surreal painting of warrior April "finally" vanquishing the Black Eyed Peas.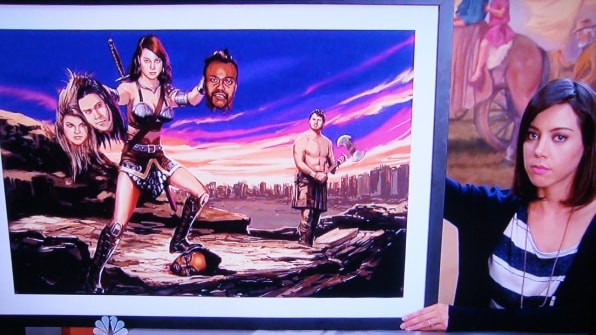 The most prominently featured piece of art on the series so far, though, is office pariah Jerry's unaccountably brilliant Renaissance-style painting of a topless Leslie Knope as the top half of a centaur. This painting was the gravitational center of an entire episode last year, naturally titled "Jerry's Painting."
Before he was harvesting jokes in Pawnee, Phillips was drumming up drama in a vastly different town: Forks, Washington. For the uninitiated, that's where Stephanie Meyers set her Twilight books. It's also a place Phillips helped bring to (after)life in the first movie of the series. Although art direction on a project like Twilight still requires the same Parks-like embracing of characters and fleshing out of their world, there's a huge difference between hunky vampire country and a little town in Indiana.
"Twilight was shot in Portland, Oregon, so of course we wanted it to feel very drab and gray–unlike Pawnee, which is cheerful and which we shoot in Los Angeles," Phillips says. Like the face of a sparkly vampire, Twilight is almost entirely devoid of bright colors. Still, working with a limited palette presented Phillips with the challenge of bringing out characters' personalities through what's on their walls–something that would later come in handy on Parks and Rec. "The Cullen house was very stark and modern," he says. "It's cold compared to Bella's house, which was sort of warm and inviting, even though the colors were still fairly dull."
The production designer ended up only sticking around for the first film before ditching Forks for Pawnee. This move allowed Phillips to expand his scope, though, since on Parks and Rec, the town itself serves as a major character–rendered hilariously in earthy shades on canvas.
Click on the thumbnails above for a gallery of Pawnee paintings.