Can the complexity of cities really be reduced to a single set of equations, as the physicist Geoffrey West claims, or even 3,000 of them? Is it really true, as West's numbers would indicate, that Corvallis, Oregon–a city of 55,000 two hours' drive south of Portland–is the most innovative city in America? Perhaps there's something in the water, or it may have more to do with the fact that West's model loves patents and Hewlett Packard's Advanced Products Division is based there, along with its patent portfolio, one developed by thousands of researchers worldwide.
West's conclusions are only as good as the data and the models (patents equal innovation) he has to work with. This problem–if you can't measure it, you can't manage it–combined with the impulse to improve cities by models, is driving both IBM's "smarter city" strategy and the nascent "urban systems" movement, which seek to apply complexity science to cities. IBM sponsored the first Urban Systems Symposium in May (where West co-starred in a show-stopping discussion with Paul Romer and Stewart Brand) and today announced the latest plank in its smarter city platform: an "app" containing 3,000 equations which collectively seek to model cities' emergent behavior. IBM also revealed its first customer, the City of Portland, Oregon.
Systems Dynamics for Smarter Cities, as the app is called, tries to quantify the cause-and-effect relationships between seemingly uncorrelated urban phenomena. What's the connection, for example, between public transit fares and high school graduation rates? Or obesity rates and carbon emissions? To find out, simply round up experts to hash out the linkages, translate them into algorithms, and upload enough historical data to populate the model. Then turn the knobs to see what happens when you nudge the city in one direction.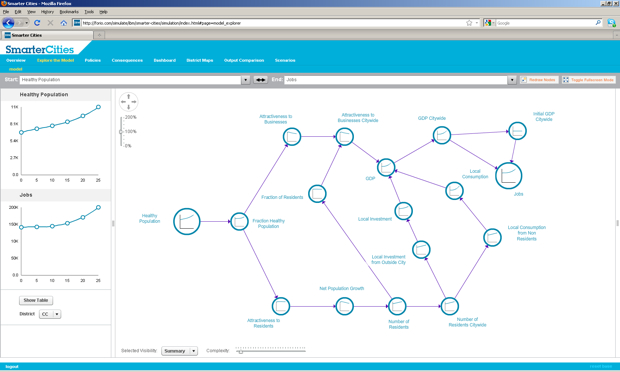 "While other analytical approaches rely on breaking a problem down into smaller and smaller pieces, the model we've created recognizes that the behavior of a system as a whole can be different from what might be anticipated by looking at its parts," Michael Littlejohn, vice president of strategy for Smarter Cities at IBM, said in this morning's press release.
IBM pitched Portland in 2009 to assist in the creation of the "Portland Plan," a 25-year road map for the city and its related government agencies, the first draft of which will be released later this month. The city's goal was more modest than IBM's, less a model of everything than a chance to "shine a light on the biggest drivers of change," according to Joe Zehnder, the city's chief planner. One of those drivers is the city's commitment to a 40 percent decrease in carbon emissions by 2030, which necessitates less driving and more walking and biking. Running the model, Zehnder and his fellow planners found that obesity rates fell as the number of cyclists rose, which led to a further increase in biking. This knowledge proved useful both in formulating policy (more bicycle lanes, anyone?) and in creating metrics to measure their success down the road.
But Zehnder is also quick to point out the limitations of such software, both in terms of their ability to sway the public and to simulate reality. "As we sat down with the modelers, we had to make the point to them that we will not be able to convince our constituents to trust anything coming out of a black box," he says, adding "the whole act of choosing variables is a political one, a value-laden one," underscoring the fact that choosing what to measure and what not to measure not only compromises the integrity of any model's ability to reflect reality, but also the prerogatives of the ones building the model.
As the field of urban systems gathers steam, it's important to remember that IBM and its fellow technology companies aren't the first to offer a quantitative toolkit to cities. In 1968, New York City mayor John Lindsay (no relation) announced the creation of the New York City-RAND Institute, an effort to apply the "RAND method" of game theory and "systems analysis" to city management, and as Lindsay put, complete "the introduction into city agencies of the kind of streamlined, modern management that Robert McNamara applied in the Pentagon with such success in the past seven years."
As Joe Flood described in his book The Fires, it turned out the Vietnam-era Pentagon was not the best role model. RAND promptly began building models they thought could predict fire patterns in New York, and then used them to justify closing fire stations in the poorest sections of the Bronx, Brooklyn and Harlem in the name of efficiency, a decision that would ultimately displace 600,000 people as their neighborhoods burned.
New York was hardly alone. Across the country, mayors appealed to the best and brightest of RAND, Lockheed, and McDonnell to apply themselves to the "urban crisis" of the 1960s, leading urban planners to co-opt their rationalist mindset and many of their technologies, most notably GIS and satellite imagery. And what was in it for RAND? An opportunity to diversify beyond their Air Force contracts.
None of this is to say Portland will burn because of its decision to let IBM help it create a few metrics. But with mayor Sam Adams earnestly declaring that its software "can help us become a Smarter City" (as per the press release) it's important to keep in the mind the limitations of modeling cities, and the dangers of forgetting.
[Images: Top, Flickr user jcestnik; bottom: IBM]