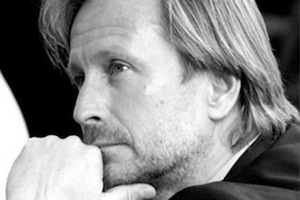 As the Chinese curse goes, we live in interesting times. Climate change is disrupting our core belief in progress and unending
bounty. It suddenly seems every purchase comes with guilt as an added
feature.
That said, we still need and want stuff. No matter what Clay Shirky says about our transformation from a consumer to creative society, consuming is core to what we do.
It may be critical that government legislate cleaner
production of consumer goods. But equally important is the duty of
brands to provide consumers with a roadmap to better consumption. It's
either that, or we will continue to simply consume the brands we feel
most comfortable with–and green brands will have missed out on their
golden opportunity.
The Vision Of Brand America

I had an interesting conversation with Marc Mathieu recently. Mathieu is Unilever's new senior VP of marketing. Prior to Unilever, he revitalized the Coke Happiness platform. He's a man who knows brand transformation.
Mathieu believes one of his big jobs at Unilever is to connect the
company's impressive sustainability credentials to its well-loved
brands. And he needs to start consumers on the path to conscious
consumption. As he says, "We need to infuse brands and marketing with
enough sustainability to create a behavioral shift."
Is it a big job? Sure. But he's convinced it will be far easier if brands provide a clear vision to a better future. To illustrate this point, he refers to the vision of brand America:
"When we first came to America from Europe, it was a dangerous,
frightening place. But the early settlers had a vision of liberty and
the pursuit of happiness. This vision became a powerful brand that drove
the direction of America's progress." Once the vision was understood
and embraced, it became a self-fulfilling prophecy.
Can Big Brands Do It?
Mathieu acknowledges that it's easier for startup brands with sustainability in their DNA to create this vision.
"Often it's easier for new brands to embed an idea like this. They can completely embrace it as part of their agenda."
He also points to ubiquitous concepts like farmer's markets as
examples of brands that have been created on the grass roots level by
people who yearn for a vision of a simpler life. "These are not
manufactured brands, they're brands people have invented to reassure
themselves in times of complexity."
Still, there are big brands that can lead. "The Sunlight brand stands
for everyday cleaning, certainly. But it has also improved the lives of
countless people by bringing them health and hygiene. It has made a
real difference in situations where unsanitary conditions could have
terrible circumstances".
As Mathieu points out, big brands can push the change and education
agenda very effectively. "It's easier to teach people through marketing
to brush their teeth twice a day than it is to get their mom to teach
them."
Now, those brands need to become an engine for enabling sustainability. In Unilever's case, that means blending the company's Sustainable Living Plan into the DNA of its brands.
The Vision Unfolds
Mathieu is raising the curtain on his plan for Unilever this week at the Sustainable Brands conference.
However, my conversation with him illuminated several key learnings that any brand manager could take to heart:
People don't separate brand from company anymore: Gone are the days where big companies could exist at arm's length from
their stable of brands. Thanks to the power of citizen journalism and
digital media, companies are their brands.
Brands can change behavior and cultural mores: One word. Apple.
A brand vision can be created by a brand, but can also come from the people: Companies need to drive the vision of their brands, especially if
they want those brands to reflect their corporate sustainability
initiatives. Otherwise, citizens will fill the void and create the
grassroots vision for themselves.