Happy Earth Day, everyone. If you're running an extension cord to your laptop and working outside, this may be hard to accept, but some hardcore environmentalists think Earth Day is pretty silly–if not damaging–because it lets people get off with dropping a brick in their toilet tank for a few days and flushing away guilt about their wasteful ways for the rest of the year. Figuratively speaking. 
And if you're judging by the slew of companies trying to grab Earth Day cred with absurd press releases about how re-using toner cartridges and watching golf-themed TV shows is somehow going to save us from steering our SUVs off the cliffs of oblivion, then Earth Day is the silliest time of the year. If we could somehow harness the energy spent by marketers and publicists pitching everything from lingerie to household cleaners, all with a forced Earth Day angle, we could probably power up enough plug-in EVs for every family in sub-Saharan Africa.
More on why this is genuinely undermines what Earth Day is about in a second. First let's take a look at some of the most outlandish pitches on Earth: 
Is your office not using reusable cartridges? For shame!
Earth Day is of course the time when everybody thinks about how they can save the planet. But there's a simple way that offices can make a positive impact on the environment year round.

Cartridge World is using Earth Day to let consumers know they can help reduce waste in landfills AND save money by switching to remanufactured and refilled ink and toner cartridges.
And natural gas. Use more of that so you can get your sapling. Just ignore all that fracking stuff.
For the second year in a row, the first 200 visitors to Georgia Natural Gas' (GNG's) venue at Atlantic Station's Earth Day Celebration will receive a free sapling (one per household) to celebrate the event … GNG representatives will be available on Earth Day to discuss weatherization tips with the public and to share It's a Natural–the company's guide to free or low-cost energy efficiency solutions for the home.
What about lingerie? Does the Earth not need to feel sexy, you know, underneath? 
Kink Junkie is set to host the first annual Eco-Kink Designer Showcase
on Earth Day 2011. Featuring designers from across the globe and
lingerie made from sustainable fabrics, saving the planet has never been
so much fun.

"Being green" has officially made a beeline straight for your bedroom
door. Kink Junkie (kinkjunkie.com), purveyor of luxury eco-erotica, is
hosting the first annual Eco-Kink Designer Showcase, aptly named "Lush."
On April 22, 2011, the crème de la crème of sustainable lingerie
designers from across the globe will honor Earth Day with a visual
smorgasbord of eco-friendly kink, everything from the sweet and modest
to the naughty and nasty.
What about e-cigarettes. "Vaping" nicotine is way better than smoking cigarettes, right? You don't even have to live in a hemp yurt to hotbox your way to to a cleaner tomorrow … starting today? 
It's Earth Day and in this spirit,
Green Nicotine has once again found a way to lead the electronic
cigarette industry while also reducing its environmental impact. Green
Nicotine has announced that it will join the ranks of other
"eco-conscious" companies around the world in an effort to reduce its
carbon footprint by implementing its latest ground breaking program: "Live Green, Give Green," a comprehensive recycling program.  

Such
innovative improvements are nothing new to Green Nicotine, as the
company constantly seeks to elevate an industry that has been riddled by
failure and questionable business practices. Not only has Green
Nicotine set a new industry standard with its Age Verification Program, but now the company is working harder to live up to its namesake, and not just by creating a smoke-free environment.  
It's important that eco-conscious gets quotation marks, as its not a real thing, just a made-up phrase. How about deals I can get just for Earth Day? Maybe on something lovely like a bamboo cutting board?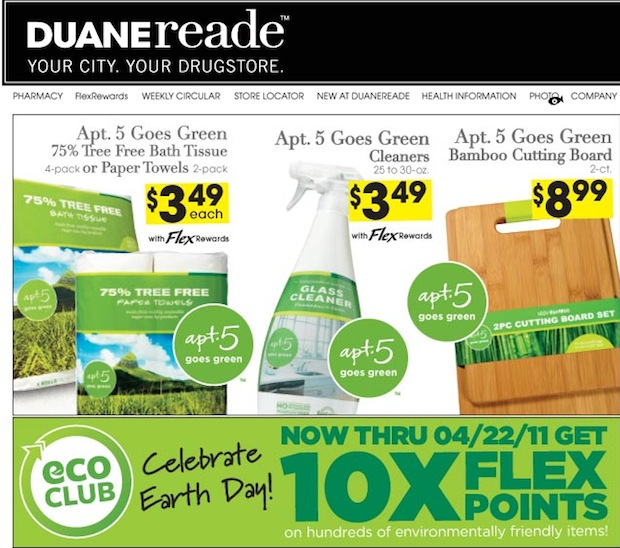 Not only is it Earth Day, it's also about to be Direct Deposit Month (no joke). How can we combine those into one, compelling pitch about saving energy and money?
Green is the new red, white and blue every month of the year– including Earth Month (April) and Direct Deposit Month (May). Would you be interested in discussing the compelling data regarding how
anyone can save green and be green by making simple changes to their
finances?
That does sound intriguing! NBC. Do you have any compelling programming we might want to watch?
Golf Channel: Morning Drive and Golf Central will cover environmental trends in the industry through interviews with eco-minded golf course leaders that will run daily, both on air and online.
Not too interesting. But we would really love to learn more about how to buy lots of clothes without feeling guilty. Got anything else?
iVillage will offer recommendations on all things green, including "Stuff We Love: Green Finds," "25 Stores That Will Keep You Eco-Friendly and Stylish" and "Easy Eco-Friendly Changes That Can Make You Happier."
Ah, yes. That sounds lovely. We're open-armed and ready to embrace said changes. Seriously speaking, these are probably all good products that could make a
difference, but the grotesque PR speak and desperate attempts to find an
Earth Day angle are what's not only frustrating but potentially damaging. Pitch your products on their
merits, not because they happen to work well one day a year. If they don't work well every day of the year, then eco-friendly products will never catch on.
What can we do better? Ben Jervey, author of The Big Green Apple and an editor at Good and the NRDC's On Earth has written eloquently on his problems with Earth Day:
Earth Day, with its "save the planet" rhetoric and high-handed
prescription of pithy, low-impact lifestyle solutions, has come to
represent the worst of the environmental movement — its marginalization
and materialization.
See also: Joe Romm and Elizabeth Kolbert. Grist even had a Screw Earth Day Campaign ("One day is for amateurs"). A day for the Earth is incredibly important, but not if it the prevailing message is that you can buy a year's worth of environmental indulgences for the price of a bamboo cutting board.
[Truly awesome Earth Day image from Flickr user alphazeta]
Follow Fast Company on Twitter. Morgan Clendaniel can be reached by email or on Twitter.