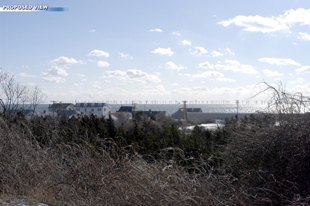 After a decade of dealing with environmental and regulatory red tape, the first offshore wind farm in the U.S. received final approval this week to start construction. The $1 billion-plus, 130-turbine, 468-megawatt Cape Wind project now has all the federal permits required to begin building in Massachusetts's Nantucket Sound this coming fall. For anyone wondering why it took a decade for this seemingly innocent project to wriggle through regulatory hell, we've provided a handy condensed timeline below. Hint: it's not so innocent.
December 2001: Cape Wind Associates stage a public hearing with the Cape Cod Commission and public officials to present its project. During the next month, the Cape Cod Chamber of Commerce and the local Barnstable Town Council announce opposition to the wind farm, which could destroy views of Nantucket Sound and disturb wildlife.
December 2002: : Massachusetts representative William Delahunt calls for Nantucket Sound to be declared a national marine sanctuary. The next month, Clean Water Action, Greenpeace U.S, the Union of Concerned
Scientists, and the Natural Resources Defense Council declare support for Cape
Wind. Battle lines are being drawn.
November 2004: The Army Corps of Engineers release a report in favor of the
wind farm, triggering a 60-day debate and four public hearings. 
February 2005: The Alliance to Protect Nantucket Sound unleashes an 800-page report criticizing the U.S. Army Corps of Engineers's environmental review. The EPA calls for more research on how Cape Wind will affect wildlife. In March, the U.S. Interior Department joins the EPA in ganging up on Cape Wind. The never-ending debate continues.
August 2005: New laws turn over the jurisdiction of offshore renewables from the Army Corps of Engineers to the Minerals Management Service. The agency says it will do its own environmental review (we all know how "environmental reviews" went at that meth-filled, porny agency).
April 2006: Nantucket voters nix Cape Wind in a non-binding referendum.
October 2007: The Cape Cod Commission, the local land-use planning and regulatory agency, reject the Cape Wind proposal on "procedural grounds." More red tape.
January 2009: The Minerals Management Service environmental report finds almost no problems with Cape Wind. In February, the FAA releases a finding that Cape Wind could be hazardous to U.S. air travel because of radar interference.
October 2009: The Cape Cod Commission denies Cape Wind permission to build buried transmission lines. The Commission is soon overruled by the state. This same month, two Native American tribes push for the Nantucket Sound to be on the National Register of Historic Places.
August 2009: Senator Ted Kennedy, a powerful opponent of the project, dies. While never stated as a reason for his opposition, Cape Wind would have affected the views from the Kennedy compound in Hyannis Port.
April 2010: The U.S. government ultimately rejects the Native American claims (surprise!), and Ken Salazar approves Cape Wind. In October 2010, Salazar signs a 28-year lease for the wind farm.
November 2010: Massachusetts regulators approve an agreement to buy half of all electricity produced by Cape Wind. The wind farm still doesn't have a buyer today for the other half of its power.
This brings us to today. Cape Wind has all of the federal permits it needs, but opponents are still making threats ("They are attempting to declare victory in a war that is far from
over," said an irate Audra Parker of the Alliance to Protect Nantucket Sound in an interview with the Boston Globe). There are still 11 pending lawsuits against the project, so Cape Wind Associates had better get started before some other regulatory hurdle appears.
Cape Wind's plight does not bode well for future offshore wind developments, which could, according to the DOE, provide 20% of the country's electricity needs. That percentage doesn't take into account the environmental and technical issues, which are considerable. If Cape Wind has taught us anything, it is to not underestimate the power of people who don't want their pristine landscapes soiled by turbines. America provides a lot of recourse for people who are angry (especially when some of the angry people are elected officials). Ultimately, wind energy will probably have more success on land in remote areas of the country, rather than off the coast of incredibly popular beaches. That 20% projection is unlikely, to say the least.
Image, via Cape Wind. Those are the tiny turbines, six miles off the coast.