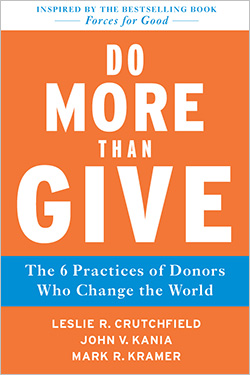 Using business skills and resources to help solve social problems isn't always philanthropically motivated. Much has been written about doing well by doing good, but companies large and small
are increasingly awakening to the idea of creating shared value for society while they create economic value for themselves.
Companies that create shared value adopt operating practices and pursue policies that enhance the competitiveness of the company while simultaneously advancing the economic and social conditions in the communities in which it operates. Shared value creation is different from corporate philanthropy and social responsibility programs, which are often tangential to a company's core operations. A shared value approach, instead, entails reconceiving a company's product and markets, reinventing its value chain, and strengthening the productivity of the communities in which it operates.
For example, when senior GE executives directly engaged with the health problems of the world's poor through GE's new approach to philanthropy, they saw the tremendous range of
opportunities for their business. The company couldn't sell the same products it sold in developed markets, but it could design new products that would meet the needs of the developing world.
Innovations based on GE's core technologies, like an inexpensive ultrasound scanner that transmits its pictures over the Internet without a computer, are already changing the lives of women in
rural villages across the developing world.
In fact GE executives realized that the challenges of global health represented one of their company's greatest opportunities for growth in the coming years. The company is investing $6 billion
to develop new, inexpensive products and treatments that meet the health needs of low-income populations around the world, with a goal of reaching 100 million new patients every year. It is
also partnering with Grameen Bank, the microfinance institution founded by Muhammad Yunus that was mentioned earlier, to create a sustainable rural health model that can reduce maternal
and infant mortality by over 20 percent–not as charity but to make money by finding the profits hidden under social issues. In short, GE has found a way to create shared value through products
and services that advance its business by meeting social needs.
Other examples abound. Hindustan Unilever employs more than 300,000 women in deeply rural villages throughout India to sell soap and other hygiene products where normal distribution
channels cannot reach. Unilever makes money from this, to be sure, but washing hands with soap is the single greatest factor in reducing the spread of diarrheal disease, one of the leading causes of death among children in developing regions. ICICI, a major Asian bank, has created a crop insurance product that is
affordable by smallholder farmers earning as little as a dollar a day. It is a profitable division for the bank, but it also enables farmers to survive a drought or flood that might otherwise leave their families starving.
There's no doubt that the primary goal of these companies is making money, but an ever-growing set of social entrepreneurs are choosing for-profit business models as the best way to make
a social impact. Not all social problems can be solved in ways that turn a profit, but for those that can, the classic nonprofit dilemmas of growth and sustainability melt away. Access to commercial
sources of capital enable these social enterprises to grow far more rapidly than most nonprofits, and the steady stream of earned income enables them to survive without charitable or government
support. Catalytic philanthropists therefore sometimes find themselves funding start-up companies instead of making charitable grants.
Collecting garbage is a government concern in most countries, but in the slums of Bangladesh, the government leaves most garbage to rot on the streets, creating serious health hazards
through the spread of disease and generating greenhouse gases that contribute to global warming.
Two enterprising local engineers, Iftekhar Enayetullah and Maqsood Sinha, decided there might be a business solution to this problem, and they launched a hybrid company called Waste Concern–one part
nonprofit and one part for-profit. Lions Clubs International and the United Nations Development Programme made small initial contributions to cover the cost of buying some land and equipment, and the engineers set about hiring some of the unskilled and unemployed women who lived in the slums to
collect garbage and bring it to the Waste Concern facility.
There the recyclables were separated out, and the rest was composted to make organic fertilizer and methane gas, which Waste Concern sold to local farmers. Fertilizer and gas sales didn't quite cover
their costs, but they discovered that they could sell carbon credits through the UN in return for the greenhouse gases they eliminated. Soon they had a business model that worked: collecting the
garbage cost $30 per ton and the combined sales of fertilizer, gas,
and carbon credits generated $60 per ton in revenues.
With that healthy profit margin, Waste Concern was able to grow rapidly. In less than a decade, the company has expanded to collect garbage in the five largest slums of Dhaka and from
slums in fourteen other cities–even franchising its operations in Sri Lanka and Vietnam. In partnership with a major Dutch corporation, Waste Concern now has the capacity to serve 3.6 million
people and to handle 700 tons of garbage per day. The company employs more than a thousand women, reduces health risks from festering garbage, recycles countless tons of trash, reduces greenhouse
gases by 90,000 tons per year, and increases crop yields for small farmers through the sale of its fertilizer. Had its founders designed it only as a nonprofit, concentrating on social impact but not trying to create a profitable business model, it's hard to imagine that it could have raised enough money to expand its
impact so rapidly.
Social enterprises like these have spawned a new type of venture philanthropy fund, the nonprofit Acumen Fund, that offers charitable donors an array of investments in profitable, scalable, and sustainable business models. Launched in 2001 by the energetic and charismatic Jacqueline Novogratz, with seed funding from The Rockefeller Foundation, Acumen has raised more than $20 million in charitable contributions and invested the money in more than thirty enterprises throughout Africa and
India and across industries ranging from housing and health care to energy and water purification. In fact Waste Concern is one of Acumen's lead investments.
The enterprises like Waste Concern in which Acumen invests are motivated primarily by their social impact, yet they have found that they can scale up and sustain their operations more effectively
by relying on a profitable business model rather than by raising charitable or government funds. Companies like GE and Unilever are motivated primarily by profit, yet they have found that they can
serve rapidly growing markets in developing countries, earning attractive returns by delivering products and services that create important social benefits for millions of people.
Ventures like these sidestep the age-old debate about whether business is good or evil. They don't redeem the harms that many businesses cause, nor do they imply that all social problems can be solved by
capitalist solutions. Catalytic philanthropists aren't trying to pass judgment on either the corporate or the social sector. They just want to solve social problems in the most effective way they know how, and engaging business know-how, resources, and the profit motive turns out to be an important part of many solutions.

Reprinted by permission of the publisher, John Wiley & Sons, Inc., from Do More Than Give: The Six Practices of Donors Who Change the World by Leslie R. Crutchfield, John V. Kania, and Mark R. Kramer. Copyright (c) 2011 by John Wiley & Sons, Inc. All rights reserved.