Soundings: A Contemporary Score is the Museum of Modern Art (MoMA) in New York's first major exhibition devoted exclusively to sound art. On a design level, curating a show like this requires a kind of synesthetic thinking: How do you visually represent audio? And in a gallery space, a venue purpose-built for the sense of sight?
The 16 featured artists cover an intriguing range of conceptual solutions to this problem. Curator Barbara London tells Co.Design that, in a year and a half of planning the exhibition, "We really thought a lot about the design of the space. People tend to go through museums lickety split, so we wanted to inhabit it in a way that would make visitors slow down." They had to take a moment to stop and listen. Then there's the challenge of containing the nature of sound within the borders of a space that was created without the architectural and acoustic considerations of a concert hall. "Sound is fugitive and loves to travel," says London. "A gallery is limited by space."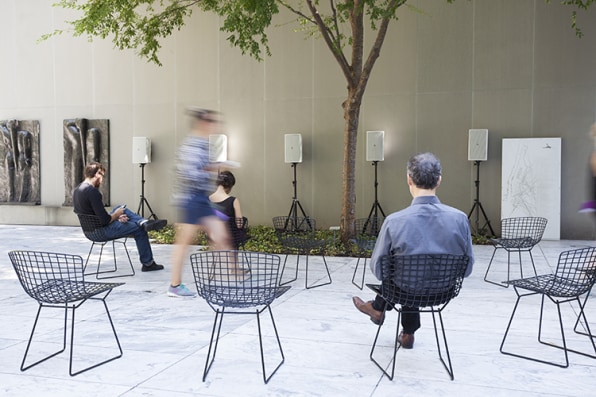 At the exhibition's entrance is Tristan Perich's Microtonal Wall, in which 1,500 one-bit speakers are installed in rows, each individually tuned to a distinct pitch. Black rubber circles against silver aluminum create "a beautiful design, very minimalist," says London. "It's reminiscent of Sol LeWitt or Jackie Windsor. It has a design element along with this aural quality that changes as you walk along."
It's the most interactive piece in Soundings, and visitors do more than take pause when they encounter it. They tend to scurry back and forth along the 25-foot wall, ears pressed against the speakers as if expecting to divine secrets from the buzzes and hums. Wiggling around next to the piece produces noises like a launching rocket ship or malfunctioning washing machine.
This sets the tone for the rest of the exhibit, as Soundings tends to shun musicality in favor of abstraction. Showcased here are industrial grindings, insect calls, atonal hums, bleeps, and squelches. Although many of the artists shown are formally trained as composers or musicians, there's not a single verse or chorus to be heard.
The most obvious visual representation of sound has always been sheet music, and included here are drawings by Marco Fusinato, created from the notation of Iannis Xenakis's "Shaar." Black web-like lines connect every note on the score to one central vanishing point, imagined as a deafening blast.
Carsten Nicolai's Wellenwanne Ifo resembles an elaborate sci-fi movie contraption, involving a large tank of water equipped with a mirror, stroboscope, and lit-up display screen. Inaudible, low-frequency sound waves create rippling concentric circles on the water's surface, intended to visualize the impossibility of silence. As Nicolai puts it, "Even if we enter spaces which claim to provide absolute silence, our human presence negates it. Our body produces sound, our body is sound." The beautiful, ghostly patterns hint at the limits of sensory perception.
The show is laid out to isolate individual pieces, preventing noise bleed. Haroon Mirza's Frame for a Painting, a rhythmic electronic soundtrack and LED light display that literally frames Piet Mondrian's Composition in Yellow, Blue, and White, I, is housed in a mid-gallery alleyway that's soundproofed with a pattern of foam spikes and wedges that could almost be mistaken for art in its own right.
London says Soundings aims to deliver "a communal exploration of how and what we hear" at a time when earbuds and noise-reducing headphones make listening an increasingly solitary experience. When visitors sit down on the beat-up New York subway bench outside the gallery space, "transistors underneath send music through their bodies," London explains. "The hope is that people will stay a while and talk about the experience."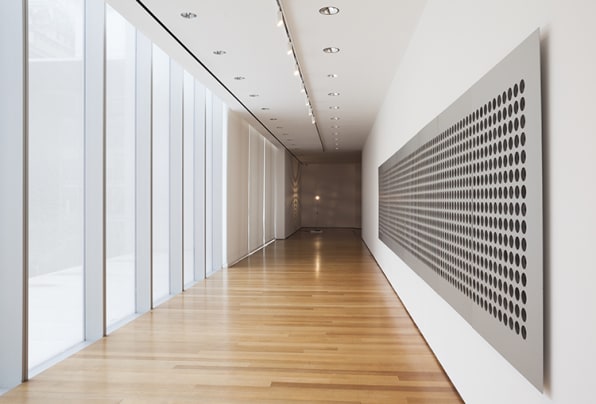 Also designed to encourage a sense of community is the "cozy" seating for Susan Philipsz's Study for Strings, an interpretation of the eponymous work originally composed in by Pavel Haas in 1943, when he was imprisoned in a concentration camp. In Jana Winderen's Ultrafield, visitors lounging on soft banquettes can finally hear codfish speaking to one another, along with other swamp-trek noises (bats, fish, sea-bugs), recorded by ultrasound-sensitive underwater microphones and slowed to a level perceptible by humans.
Other cleverly haunting elements of the exhibition include a shadow-casting microphone that suggests spirits of singers past and a dissonant recording of an abandoned room near the Chernobyl power plant. The exhibition occupies a strange limbo between the visual and the aural–never quite overwhelming either sense, but instead offering ghostly impressions and evocatively interrupted silences.
Soundings: A Contemporary Score is on view until November 3.