Nowhere are cars hotter than in Hollywood. True star vehicles, automobiles in movies are transportive, transforming, transfixing–never just transportation. In some cases, they add sexiness to the scenery or drive characters into action (see American Graffiti); in others, they're avatars that distill the cool qualities of protagonists (any James Bond entry). Some cars are characters in their own right (Cars, The Green Hornet).
Thinking of a 1964 Aston Martin conjures up Cold War visions of German-accented villains and gold-painted ladies. And who doesn't somewhere believe they can cruise space and time in a 1982 DeLorean DMC-12?
Both superstar cars–and many more–feature in graphic designer Jesús Prudencio's minimalist poster set "Cars and Films."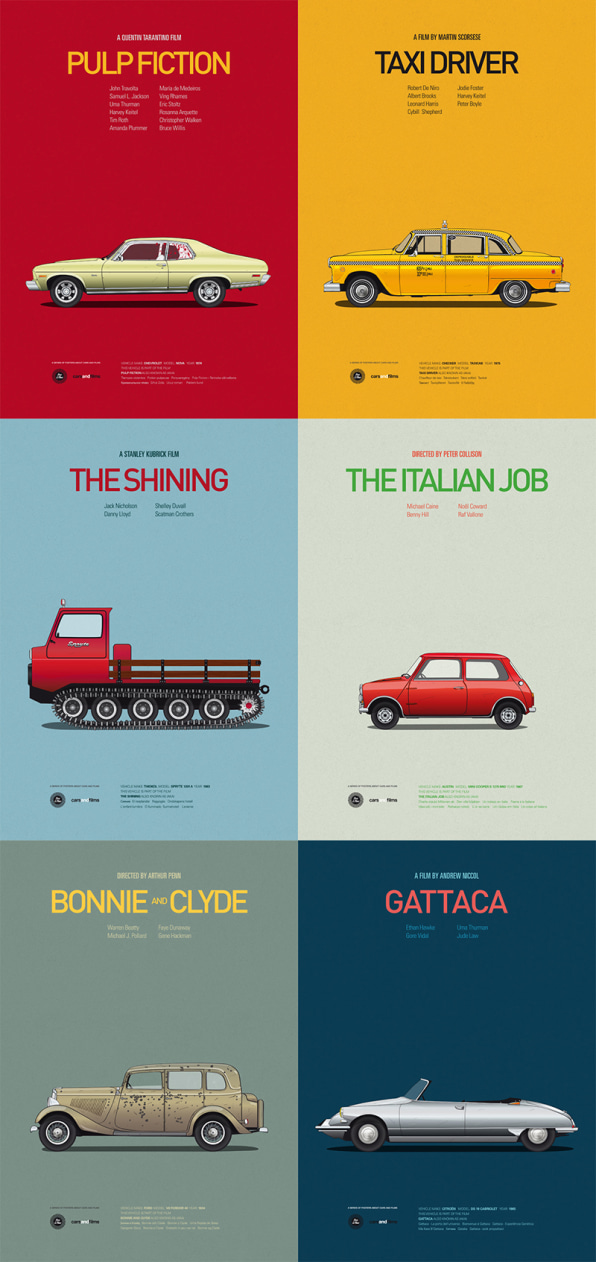 With a series of 15 slick, enticingly pared-down posters, Prudencio reimagines the marketing behind classic films such as Pulp Fiction to more recent action movies like Death Proof and Drive. Gone are the anguished movie star mugs and the non-sequitur studio taglines. In their place is the part of the picture we really care about: a sole sports car or sedan against a background of solid colors, its year and make a dramatic credit.
"One of my passions is movies," Prudencio tells Co.Design. "I saw that there were many people making alternative movie posters, but I tried to go with another approach." It started with the 1974 yellow Chevy Nova from Pulp Fiction, in which Jules (Samuel L. Jackson) schools Vincent (John Travolta) on the cultural disparities in fast food dining. (The Nova, Prudencio says, still remains his favorite of the series.) From there, he began to expand the buildings. He combed films, blogs, and YouTube clips for subjects.
The cars change–and occasionally, as in the case of Roman Holiday (scooter) and the Little Miss Sunshine mini-bus, the cars aren't technically cars–but the template stays the same. Prudencio sketches every vehicle by hand and finishes them digitally on a Wacom tablet, for as smooth a ride (and finish) as Bonnie and Clyde ever had.
Prints of all "Cars and Film" posters are available on Etsy.