It's a common misconception that the limits of Architecture lie within the realm of buildings and inhabitable space, mostly of the institutional or monumental type. Working with such a stringent definition, a museum or the U.S. Capitol is a work of architecture, but a neo-Georgian single-family home or the International Space Station isn't.
For work like that of designer/illustrator Toby Melville-Brown, there's the not-so-condescending term paper architecture. It's a catch-all label for drawings and speculations of impossible-to-build structures.
And that's what the three megastructural projects that make up Melville-Brown's "Tower" illustration series are: unbuildable. Delightfully unbuildable.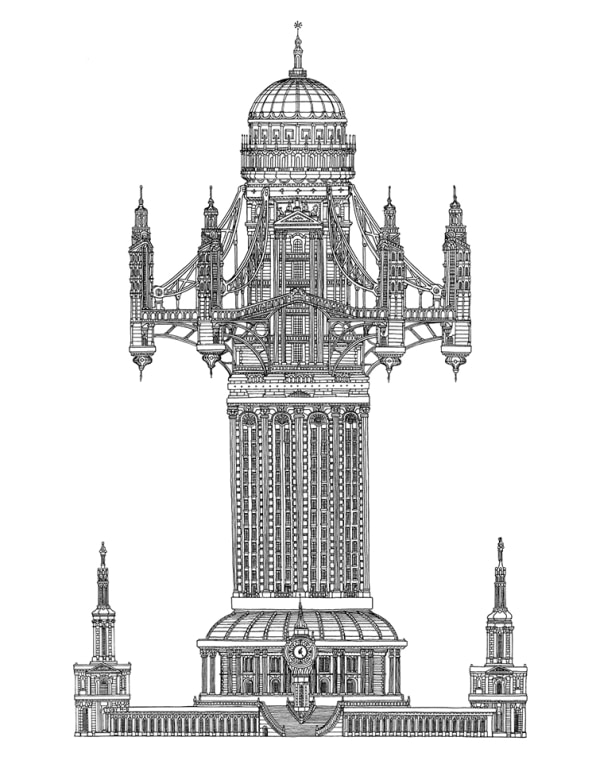 The whimsical towers are actually large clusters of buildings coaxed into skyscraper-like forms–and drawing freely from the far historic reaches of architecture, from the Enlightenment right on through the growing-at-lightspeed Asian cities of the 21st century. Melville-Brown tells Co.Design that "each subject demanded a different muse" or design theme: The Favela Arch, for one, explores issues of land utilization, taking visual inspiration from the knotty favelas of Rio de Janeiro. The Regency Tower is a monument of self-congratulatory proportions, borrowing stately, romantic forms from British Gothic Revival architecture like Westminster Palace.
Melville-Brown, who studied as an industrial designer, calls his borrow-from-every-aesthetic works "architectural Frankensteins," exuberant, imagined worlds where the baroque co-exists with streamlined retro-futurism.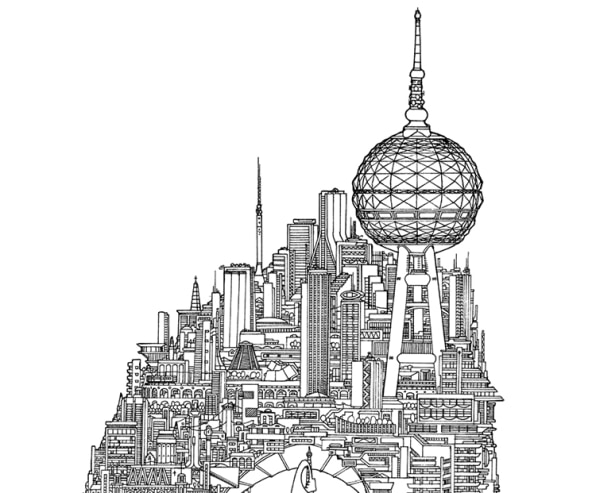 But why towers? For Melville-Brown, they lend themselves to anthropomorphic gestures–sometimes delicate, other times commandeering. "Like a character, they stand isolated, clearly communicating their qualities," he tells Co. Design.
The Favela Arch clearly looks to emerging economies and urbanism of the BRIC nations. In it, Melville-Brown has integrated Shanghai's Oriental Pearl Tower and other neo-oriental monuments in a thick city-like arrangement where "space is so constricted that the dwellings seem to compete for their plot, like barnacles clinging to a rock." The Power Station is an atrophic altarpiece to industry. The illustrator says he derived its "humorless" architecture from the Futurist Antonio Sant'Elia's infamous graphite drawings. Then he added a splash of Victorian wrought-iron detailing, just because.
Melville-Brown says he centered his work on towers because they "frame a subject"–that subject being various facets of civilization. "They're also very blatant artifacts of their time and culture," he adds, literal monuments to what cultures care about, be they real or imagined.