Some people treat their new gadgets with the utmost care, handling them like they would a newborn chick. Others can't wait to get home and tear the things open to see what's inside. Star Simpson and Scott Torborg are in the latter camp, and when they finally got their hands on Google's new $2,000 face computer, their first thought was to thoroughly spill its guts.
The duo's well-documented teardown details all the parts that make up Glass, including a custom-made touch module by Synaptics, a CPU board with 16GB of flash memory, and a behind-ear, 2.1 WH Lithium Polymer battery, which they note "is not user-replaceable, not even a little bit."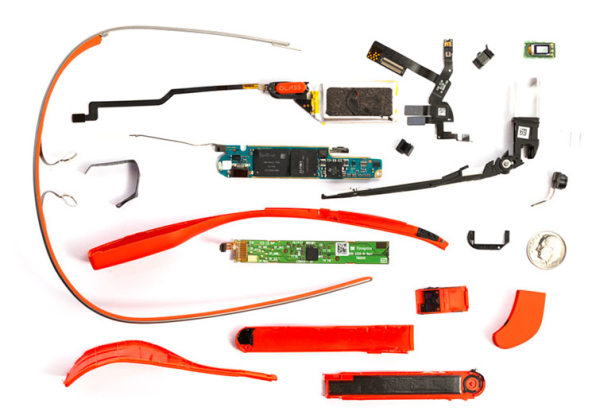 The most complex component, unsurprisingly, is the display, which uses a prism to throw a tiny picture-in-picture screen in the top-right corner of the user's field of vision. Simpson and Torborg detached the display itself–a tiny thing, no bigger than a dime–with the help of a dental pick, and found that it had a resolution of 640×360, with pixels "roughly 1/8th the physical width of those on the iPhone 5's retina display." Those are incredibly small pixels, but when they're millimeters away from your eyeball, they need to be.
The most striking thing about the teardown, though, may have been just how painless it was. "We were prepared to have to dissolve away potting compound or precisely mill off plastic, but it only actually required household tools," says Torborg, who co-founded the crowdsourcing platform Crowd Supply. A Torx T5 screwdriver was all it took to remove the "pod," basically all the good gizmo stuff, from the device's titanium frame. "That said," Simpson notes, "it's clear a lot of thought has gone into all aspects of Glass and that it's a very well-integrated device."
The project did give Torborg and Simpson a chance to try to fit the Glass pod onto a pair of prescription glasses, something that Google has put off for the time being. The jerry-rigged combination was "functional," they say, though they found that the eyeglass lenses interfered with the device's head-proximity sensor, making for a largely sub-optimal experience. Hopefully, Warby Parker has something in the works.
[All images courtesy Scott Torborg]