There's a secret to 3+, a new furniture collection by Polish designer Oskar Zieta. It seems counterintuitive, but the strength of the series lies not where the material is–but instead, where it isn't. "Each hole is a stabilizing point," Zieta tells Co.Design. "And they allow for many different configurations and design possibilities. We call these holes the new unit of creativity."
3+'s signature style is actually a "sandwich" of powder-coated or galvanized steel sheets. Zieta–who proved his research and production prowess with the inflated metal Plopp–explains that manufacturers who use a similar type join the sheets first, then pierce them as one; his studio, however, punctures each piece, then connects them together, which he says makes the process more flexible and efficient.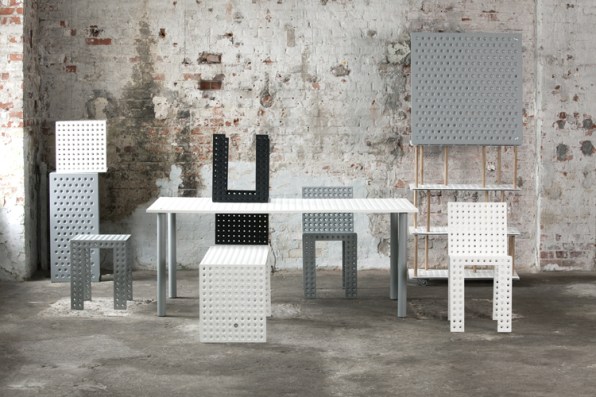 The result is a series of simple, lightweight component parts that come both bent and flat, as part of a set or sold separately, along with metal connectors and wooden dowel legs and bars. "Users can take the furniture apart and make their own combination," Zieta says. In fact, he encourages experimentation beyond the chairs, tables, and shelving presented; versatility is manufactured into the collection's DNA. Suggested potential uses include pieces for the kitchen and dining room, but it seems wayward crumbs could potentially be a problem. It's particularly interesting to think of using a 3+ desk in the office where you could drop all those clumsy cords straight through to a plug down below without having them clutter up the surface space. But wait–there's more. "3+ technology allows us to create facades for modern buildings," he says. "In this way, we can create coherent interiors and exteriors."
Based on the look and function of the series, Zieta says that many folks have pointed out the similarities to old-timey Erector (Meccano) sets; and though referencing the popular toys wasn't his intention, the open-ended, DIY spirit seems to lend itself to imaginative adults craving a bit of hands-on time to make and create.