Context, a new app created by a designer for designers, is poised to make it vastly easier and faster to realize and present visual concepts. With abbreviated deadlines and budgets becoming industry norms, the app could be a godsend, allowing designers to mock up various iterations of their ideas in record speed.
In its current desktop application for Mac, Context profoundly expedites artwork surface application while delivering photographic results. In seconds, designers can generate and view their work in real-looking, real-world contexts–e.g., test the brand's name in a couple of fresh typefaces and colors in various locations on a flyposter, a wine label, or a hanger tag. That means no photographing or trolling for flat images to Photoshop, no switching between programs and windows, and fewer physical models. The designer can guess and prototype less while imagining and experimenting more.
Context is the brain child of Joshua Distler, a former lead packaging designer at Apple who has consulted for the likes of Ideo, Metadesign, and Wolff Olins. He also founded LiveSurface, a library of Photoshop image templates ranging from billboards to business cards, clothes, and bottles that was the first of its kind and destined to become an industry standard. For the past two years, though, Distler has been working covertly on Context.
Distler drew from his experience as an award-winning designer. At Ideo, a creative agency known for the "regimented openness" of employees' idea-sharing, Distler learned by "touching" everything from print and packaging to interactive and product design while observing the efficacy of a prototype-test-prototype-repeat culture. At Apple, he practiced the brand's "reductive perfectionism": To find the most elegant solution "we'd iterate, iterate, iterate," he recalls. "Both companies were wholly committed to the idea of 'process makes perfect' and to the belief that you can't find the best idea until you've tried a lot of ideas." Context tightens this feedback loop, not to eliminate iteration and experimentation but to make them fluid and fast.
LiveSurface went live with only 25 images when it launched in 2006; the release version of Context, which just went into beta invite mode, will have more than 300 surfaces. One post-launch priority for Distler will be adding more soon, using a set of proprietary authoring tools. He's already secured four patents involving file structures, how to simulate inks and foils convincingly, and how to deliver imagery with embedded 3-D data.
"Flat is history," as the Context website declares: These may be "surfaces," but they're deep surfaces. The structure of each contains a 3-D surface and multiple layers that control lighting, masking, shadows, and reflections. One specification dedicated to surface "softness" controls how deep a foil stamp will be imprinted. "We get obsessive," Distler says.
Here, the designer gets into finer points of how Context solves five major workflow issues: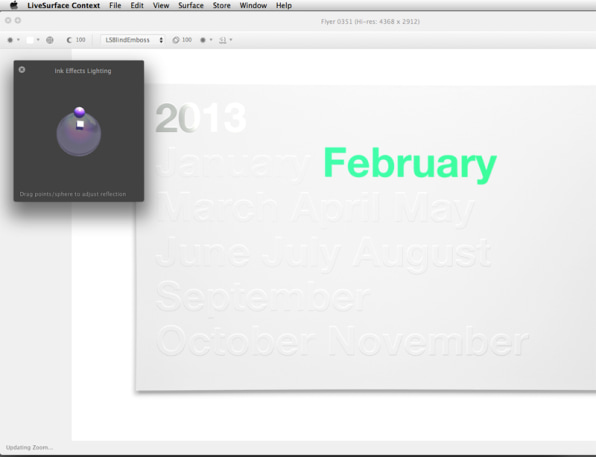 "Unfortunately, until now, designers have worked in a void," Distler says, Working on-screen, designers lack references to the real-world environments, textures, and materials in which their creation will eventually live. Compositions get attention first; only later are physical details like papers or metallic foils "added on." "As designers we're good at imagining what will be," Distler suggests. "But there's no substitute for actually seeing it." Context provides that perspective while the designer is designing.
Also, although it's often the best design, simple design is a tough sell without that context. A black box with a single piece of type in holographic foil may seem dull and incomplete when viewed as 2-D art, and without training, clients often don't know what they want until they see it. The more accurately a designer can render their proposal, the faster the client can appreciate, sign off on, and allocate a budget to it.
Proving an idea against real-world constraints is too often done after the concept is developed and may mean wasted time rebuilding or rethinking it. Can the type be placed at the top of the bag, or will its contents obscure it? Side-by-side visualization in Context helps put ideas to the test from the start.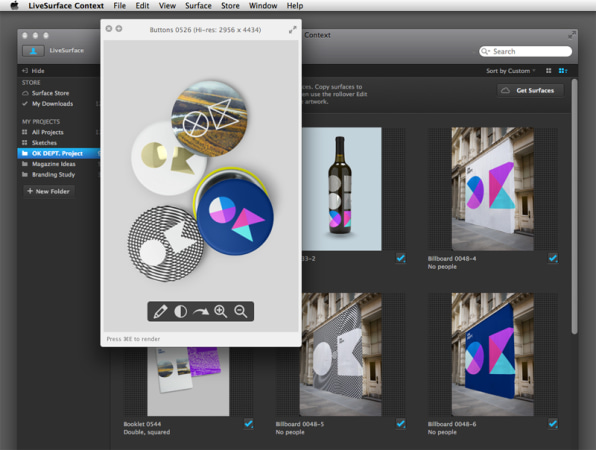 Preparing final plans often bottlenecks at the single team member tasked with building images for the presentation, and if design changes come in after an image is built, it must be rebuilt. Context lets any designer on the team export high-quality images at any point, re-edit surfaces up until the last minute, and batch-export for presentation with a click.
Keeping track of imagery can make a strong man weep. We've all fallen off the merry-go-round of version control: Just when you need the original unworked file, it's nowhere to be found. Context users can drag a blank surface from the built-in Surface Store into a project folder for "smart" download, or copy it if it's already downloaded. To share an editable surface with artwork applied, the designer need only drag it into Mail or onto the desktop.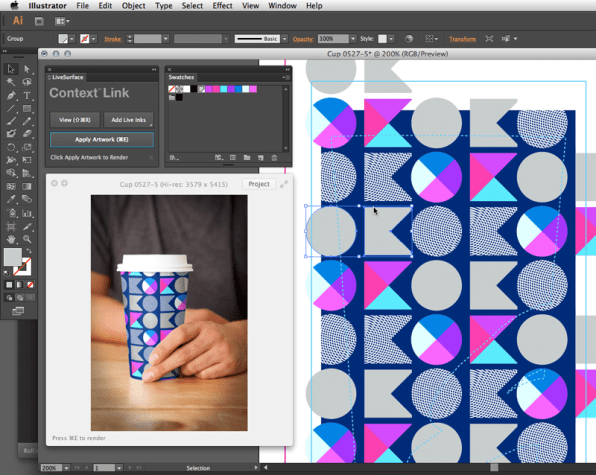 Prototyping ideas typically involves making physical mockups. "This usually means printing, or worse, plotting," Distler says. "Printing and plotting use paper and ink." Context won't replace physical maquettes, but it will make reliance on them less dire and the process faster and focused and less expensive and wasteful. Images that once took 30 minutes to build can be done in a few seconds. Artwork can be applied and ink and lighting effects rendered with a click inside Illustrator. "This time savings," Distler says, "is what makes Context a game-changer."
****
Reactions to Context have thus far been glowing, including endorsements from graphics heavyweight Erik Spiekermann and designers at branding giants like Mother. "Nobody missed having to judge their artwork in black-and-white once they began to be able to work with it in color," one early beta tester said. "Once that became possible, there was no going back. This software is like that."
Beta invite requests are being taken here.