If dozens of armchair cultural critics and bloggers are to be believed, we're living in an era of overwhelming niceness–of online "likes," insipidly positive reviews, and feel-good folksy aesthetics. It's not a cultural climate that lends itself to the work of Bruce Nauman, who is known as much for harshness as for his sincerity. Yet that's what makes Mindfuck, a new exhibition of Nauman's work in London, so incredibly refreshing. In other words, fuck your niceness. It's boring.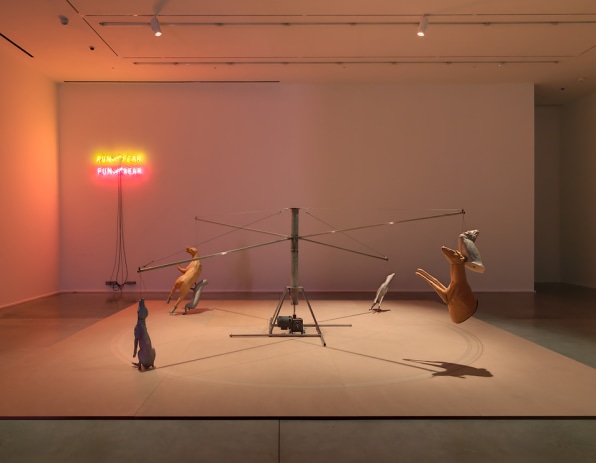 At Hauser & Wirth, curator Philip Larratt-Smith has pulled a smattering of pieces from nearly every era of Nauman's career, characterized by an amazing diversity of mediums and messages. There are plenty of neon signs (probably his most recognizable works), including Sex and Death/Double 69 (1985) and Run From Fear/Fun From Rear (1972), one of Nauman's biting word plays. There are also jolting large-scale works like the disturbing Carousel from 1988, in which dismembered animal carcasses are dragged around a rotating motor (Nauman orders the polyurethane molds, usually used by taxidermists as a base for an animal's skin, online). Larratt-Smith describes the show as examining the "mind-body" divide and Nauman's ability to "tap into the deep structure of the human unconscious." Viewing these pieces, he says, "approximates a state of trauma, equivalent to the conversion symptoms of the hysteric, to the utterances of the psychotic, to the repetition compulsion tied to the death drive, to the reprimands of the superego, to good and bad internal objects, and to the logic of dreams."
Of course, describing Nauman as some post-Freudian cartoon badass ("assault," "trauma," and "scatological" are words that pop up frequently in reviews) is unfair, and a little lazy. In fact, Nauman is an incredibly complex and varied character. He and his partner, Susan Rothenberg, live outside of Santa Fe, where he breeds and trains horses and makes knives. In a 2009 New Yorker profile, Calvin Tompkins described Nauman's struggles with the art world and his own art-making process, comparing it to training a shy horse. "In his mind the two activities are related," observed Tompkins. "I don't know if there's a connection, but I started to give up control when I was learning about horses," Nauman told him. "I think the work got richer."
Mindfuck is the perfect name for a show like this, which pairs enormously sensitive observations about the body, sex, and language with the semiotics of advertising and consumerism. It'll surely offend some–but on the other hand, it's a lot more interesting than watching that photo of your dog rack up Facebook likes.
Check out Mindfuck at Hauser & Wirth until March 9.