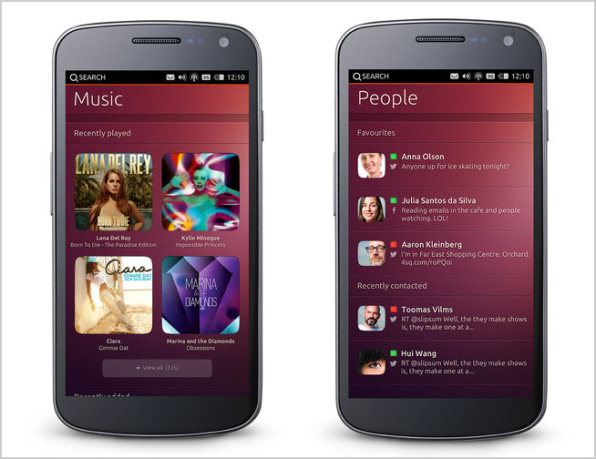 Gestural interfaces–which eschew visual "chrome"-like buttons and tiles in favor of swiping, pressing, or tapping directly on content areas–are just starting to go mainstream. But the Ubuntu phone is going all-in on these new interactions. They're as baked-in to Ubuntu's mobile design language as skeuomorphism is to iOS's. I got in touch with Canonical's head of design, Ivo Weevers, and Lead Phone UX Designer Mika Meskanen to ask them about jumping into the deep end of gestural interface design. (They responded jointly via email.)
Co.Design: Why did you choose this approach? Was it simply to distinguish from iOS and Android? Or is an "all-gestural" phone OS the future of phones in general?
Canonical: Traditional Japanese architecture teaches us some important design principles about the balance between space and objects. Things that are not needed are not in the way, to allow complete immersion into an activity. Objects are placed around the periphery of the room and so are easily accessible when needed. By studying design cultures like this and how people use their phones, we could design an experience that takes a leap from where mobile user interfaces were until today.
These principles can be seen in Ubuntu's gesture-based interface, which gives the content or task at hand undivided attention on the screen. Everything else is peripheral, but is easily evoked from the screen's edges. It means that it's really easy to switch between favourite and previous applications, and access controls, notifications and settings without ever interrupting the natural flow of activity. Gestures are also very intuitive and give a natural feeling to engaging with your personal content and applications.
Typical phones insist on navigation via hard or soft buttons to go back to a home screen, and eventually to the desired destination. The edges of the screen give immediate access to the features that a user needs the most frequently on a phone.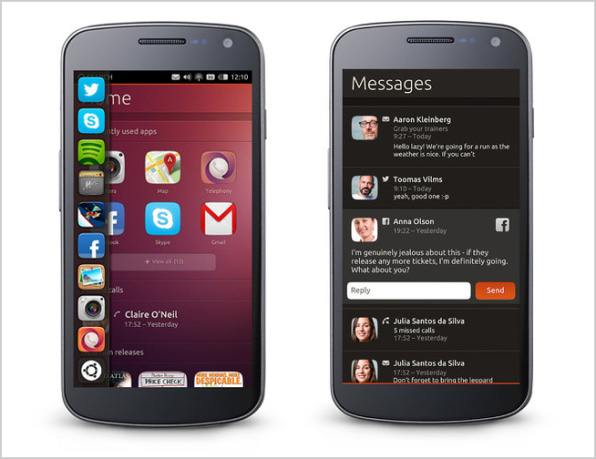 Co.Design: Exactly what functions can be invoked by swiping from each screen edge, and why?

Canonical: During research, we found that most people use up to ten apps most frequently, so in Ubuntu a left edge swipe quickly reveals a list of these most used apps without ever leaving the current, open app. Swiping right flips between currently open apps. Most of the time, people want to use two or three apps only, and this swipe makes that very easy.
The top edge gives the user access to peripheral but key system tasks, such as accessing and responding to messages, as well as settings such as connecting to wifi, adjusting screen brightness, time, date, and battery life. For these settings, often users just want to take a quick peek or make a swift alteration without having to leave their application, going to a home screen and scrolling through settings, and therefore losing the 'flow' of the activity in hand.
The bottom edge of the Ubuntu screen reveals controls for that app only when they are needed, so users are immersed much more into the things that matter more of the time. Most of the time people want to simply engage with content. For example, it is the photos that matter when looking at photos in a hardbound album, not the scissors and tape used to stick them there. Intrusive control buttons or controls constantly available in the interface take away precious real estate, even though they are used only in a minority of situations.
Co.Design: Gestural interfaces have their advantages, but they're very new and unfamiliar to most people. How do you make these features intuitive and discoverable to new users, when there's no obvious visual cues or skeuomorphic affordances?
Canonical: Touch interfaces have had the tendency to become very explicit. By consistently using edges instead of physical or software buttons that people have to poke at or aim for, we can leverage a range of human motor skills previously untapped–like muscle memory and finger dexterity.
User research found that gestural interfaces require a short learning curve. However, once learned they are very easy and become natural interactions quickly. There are already clear examples in existing products how the user can be informed effectively about the interactions, and by doing that the user gets access to a whole new world of interactions.
Co.Design: Aren't design and open-source fundamentally at odds? How can Ubuntu's design team ensure the best possible user experience when they can't control what users will do with the software–including modifying, hacking, and forking it?
Canonical: Ubuntu design is led from our exceptional design team based in London, but also through engagement and collaboration at the right levels with other designers and community contributors around the world. There are great examples of co-creation projects that resulted in great products. For example, we have developed our own distinctive Ubuntu font,
which is a great example of a major new design led by our team and developed with the community across the world.
Developers have already shown that the open-source approach can result in great code, so we don't see why designers can't achieve the same.