It's hard to know what's worse: being a business traveler subjected to other passengers' messy, wailing kids, or being a parent of same, enduring the hostilities and indignities of traveling with young children.
In September, AirAsia joined Malaysian Airlines in creating kid-free zones on its flights, prompting an international flame war on the web debating whether the practice was overly indulgent to self-centered adults, or the best thing in travel since wheels on luggage.
RKS, a strategic design consultancy in Thousand Oaks, California, saw the problem as a design opportunity: What if there was a new airline, or a separate brand within an existing airline, that focused on the needs of family travelers from the ground up? This week, the firm unveiled cAir, a new concept in air travel for stressed-out families and their labor-intensive offspring.
"We are constantly on the alert for pain points in people's lives," says Ravi Sawhney, RKS founder and CEO. "We have looked deeper and deeper into the human condition and it has opened our eyes into things we have never seen before. In the case of cAir, it became apparent to us that we need to do something about it."
The concept was born at an interaction design conference in Savannah, Georgia, where RKS led several groups focused on identifying needs and opportunities.
"When we started brainstorming the venture, we had seven team members do a think-aloud narration of the flying experience to Savannah (which was fresh in our memories) from our home cities," says Harnish Jani, RKS's director of design strategy and research.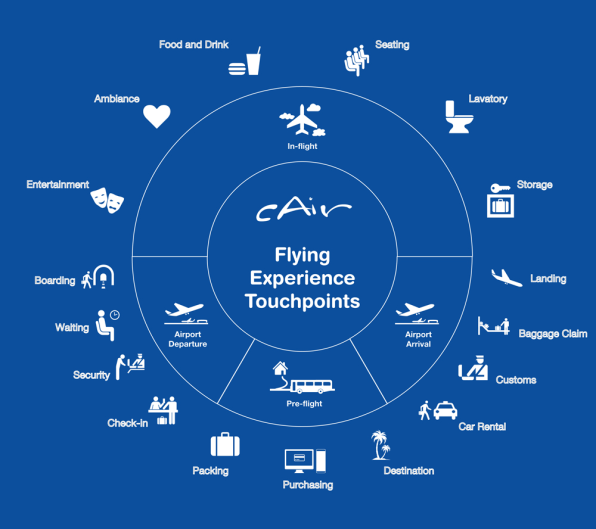 One of the team members said, "I am here with my husband and lucky him–he's probably sleeping right now after the long travel, connecting flights, and time zone shift from the West Coast. I can't imagine bringing my kids with me though, since the long travel we experienced would be grueling," Jani reported.
Another immediately chimed in: "We have stopped even considering flying with kids anymore for vacation. As a frequent business flier, I am usually tuned to my own set rituals, but traveling with my two- and four-year-old is what I fear–staring eyes from other passengers, and fear of embarrassment. I wish it wasn't a 'get on fast, get off fast' feeling, especially when I'm paying for one of the most expensive square footage areas."
Those confessions triggered a chorus of other pain points and demonstrated a clear need for cAir, Jani says. Keeping in mind three main principles–relax, nurture, and entertain–every experience of the as-yet-non-existent airline was reconsidered, from check-in to luggage pick-up.
In the airport itself, easy-to-read signage directs families to services like express check-in, stroller rentals, and play lounges. Kids would be invited to a kiosk where they could rent a toy to take along (and, presumably, have mom or dad purchase when the tyke refuses to part with it after the flight).
The plane would be configured with family-facing seats, so the little darlings can kick their parents' knees instead of the seatback in front of them. Lavatories would be spacious enough for diaper changing, and personal sound curtains would keep bellowing babies calm and quiet. Menus would be designed around kid-friendly food, and storage around the space-intensive needs of strollers, car seats, toys, and gear.
All good. But could this concept actually be profitable in the financially beleaguered airline industry, where cost-cutting, not service-enhancement, is the order of the day? Sawhney points to the success of Southwest as a possible model. "Families are an overlooked minority of travelers and no airline provider has made a move to address their special needs," he says. "The population traveling with children is large, but the key is that by making it a pleasure instead of a terror, the market size will grow. A large carrier could start by developing a sub-brand for major travel routes."
Are you listening, American Airlines? Might launching American Kids Air stem your losses and be more fun than a merger with US Airways? Just think of luring all those tykes flying to Orlando with diaper-changing tables and Rent-an-Elmo. Ka-ching!