You can tell a lot about a place by its bike culture. Take Denmark, where ruddy-cheeked cyclists peddling to work in rain, sleet or snow reveal the heartier instincts of a highly evolved social democracy or San Francisco, where sullen Mission 20-somethings hurtle down hills on fixed gears–a window onto the defiant (some might say idiotic) individualism embedded in the city's DNA. South Africa's bike enthusiasts tell a more complicated story, in many ways because there are so few of them, especially in the big cities.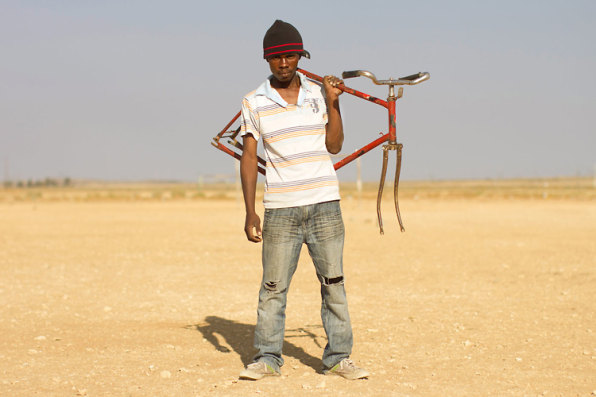 Eager to change that, bike evangelists Stan Engelbrecht and Nic Grobler set out on a Herculean, Kickstarter-funded bike tour to document South African life on two wheels. Two years and thousands of miles later, they compiled assorted interviews and photographs into Bicycle Portraits, a three-volume study of the motley characters for whom bicycles are a primary means of transportation in a country drunk on cars.
"Taking numerous trips across South Africa over the two years, we cycled more than 4,000 miles and met people mostly from our bicycles, often riding alongside them and spending from 15 minutes to two days with each of them," Grobler tells Co.Design in an email. "We interviewed over 500 people in total." Just 162 portraits made into the books. That includes Stephanie Baker, a white, English-born retired nurse, who at 83 still putters around on her bike in Sunnyside, Pretoria, a neighborhood typically dismissed as too dangerous for cyclists. That also includes Amos Mphuti, a middle-aged black man from South Africa's Free State province, who owns a rickety 1967 bicycle and has "rode all over" with it. "I hope my children will also get into cycling in the future so that they can go to new places," he told Grobler and Engelbrecht.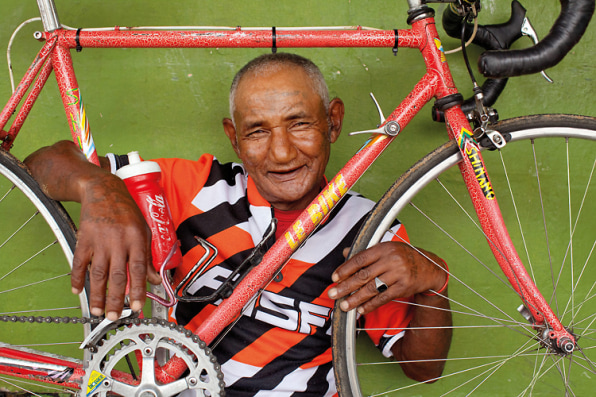 "This is ironic in a way," Grobler says. "Much of the generation following him look down on the use of the bicycle and attach progress and wealth to owning a car rather than a bicycle. The bicycle is often thought of as a transport mode for the poor, and this stigma is often what keeps people from using the bicycle in the first place."
Grobler and Engelbrecht raised more than $41,000 for Bicycle Portraits through three Kickstarter campaigns. "Pledges were mostly taken in the form of pre-orders for the books," Grobler says. "The funds partially funded the production and printing of the book. The most valuable aspect of Kickstarter for us has been the community and following it has created around the project."
Take a look at our slideshow to learn more about the cyclists Grobler and Engelbrecht encountered on their journey. To order the books, one of which includes an essay by JM Coetzee, go here. A set of three costs $100.