Every year Wallpaper* commissions roughly fifty designers to rethink ubiquitous, everyday objects. Published in their yearly Handmade issue and exhibited in Milan, the products have ranged from a reimagining of the lazy susan, to new gelato flavors (cardamom and pineapple basil), to a perfume that smells like a freshly opened book. It's an annual celebration of making, regardless of the end product. This year, the magazine's editors commissioned two French companies to redesign the making itself: meet Toolbox, a portable workshop that unfolds from the back of a truck.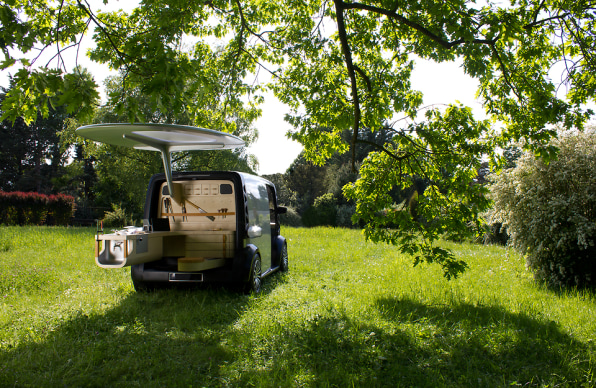 "It's a tool for students and creatives to get back to making and seeing," explains Sanjit Manku, Kenyan-born half of Jouin Manku, the Parisian office that designed Toolbox. "To go to a site and design and make things rather than sitting behind a computer all day." Working with French fabrication specialists D3 Groupe, Jouin Manku have managed to squeeze a remarkable number of tools into a space no larger than a New York bathroom.
Open the door to Toolbox's neatly painted U-Box (U-Haul's one-size-fits-all moving container), and you'll find several appendages tucked snugly into its 5′ x 8′ confines. First of all, an arching canopy swings up to light and protect the area below it. Then, a hinged wooden tray swings out to form an L-shaped work stage with a built-in table saw. At one end of the hand-fabricated arm, there's a spigot for washing tools. At the hinge, a small stool pulls out below the makeshift desk. Adjacent to the stage, there's a cadre of beautifully sculpted little drawers and storage areas, as well as a laptop stand.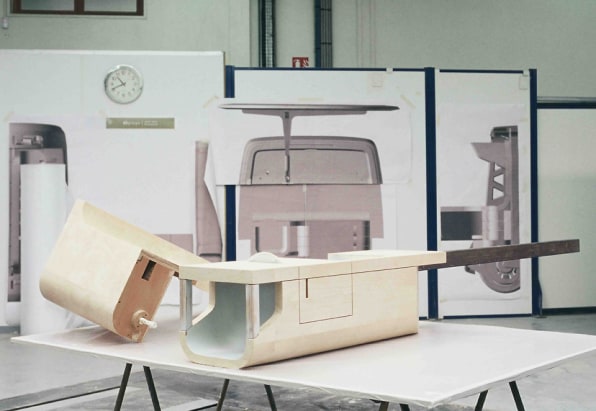 Jouin Manku often build projects far afield from France, so Toolbox is a kind of wish-list for the frequently hotel-bound designer. Unfortunately, for now it's a one-off prototype, though Manku hints that there may someday be a buyable version. "We'll eventually use it for the studio," he adds.