Each year, the Metropolitan Museum of Art's Costume Institute puts on an exhibit about a significant designer or fashion house. The shows are always popular (see: 2011's Alexander McQueen retrospective), and they're always accompanied by a big, beautiful exhibit catalogue, which often become collector's items.
This year's show, Schiaparelli & Prada: Impossible Conversations, steps outside of the conventional pattern by fabricating long conversations between its two subjects, pre-War design icon Elsa Schiaparelli and contemporary visionary Miuccia Prada, who never actually met. Alongside the clothing on display in the exhibit, beautiful films directed by Baz Luhrmann show the duo engaged in discussions over design, life, and feminism. But what to do about the book]the exhibit catalogue? Curators Harold Koda and Andrew Bolton wanted the show's unusual style to carry through to the publication. They invited Pentagram's Abbott Miller to reimagine the catalogue, hoping that the dense volume of fabricated conversations would give the designers a lot to work with.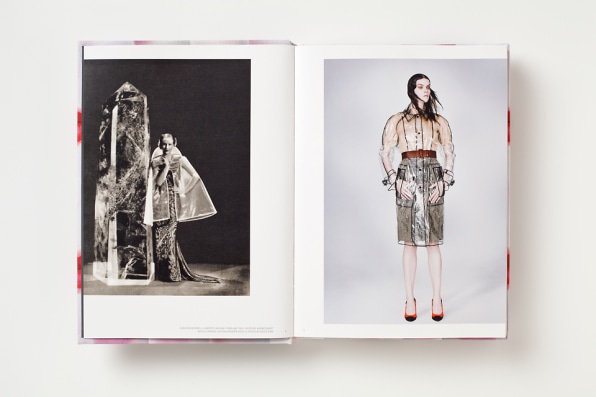 Abbott's team designed an unusual "book within a book," which at first glance, reveals little about its dual life. But open up the Prada print-bound volume, and you'll find two differently-sized book bound together. One is a conventional 300-page portfolio of vivid fashion photography, contrasting designs from Schiaparelli and Prada in each spread. Nested within each page, though, is a smaller booklet that contains text from the duo's imaginary conversations. "Each spread stages its own dialogue, between the facing images and the inner book, which presents a running commentary and narrative by Schiaparelli and Prada," the team explains. "In some spreads, all three frames are engaged––the two facing pages and the inner little book––in a 'triangle' of conversation."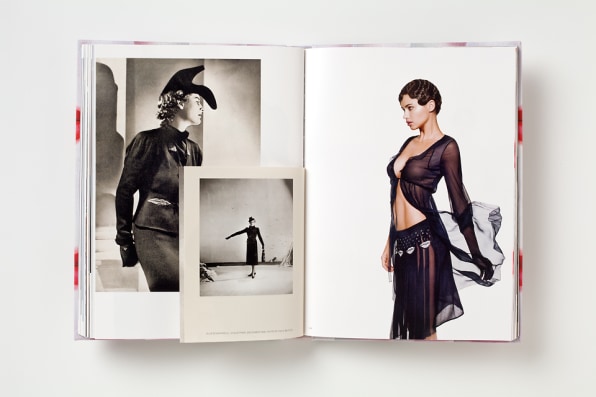 The book feels like a textile (it's "almost like a clutch," says Pentagram), weaving together images, prints, and conversations into a single "garment." It's an appropriately surreal, cloth-bound glimpse at the women's shared love for irreverence, surprise, and subversive design. Impossible Conversations is on view until August 19.