In a recent issue of The New Yorker, Adam Gopnik wondered if there's a "sweet spot" for retro-nostalgia. He calls it the Golden Forty Year Rule: whatever was popular around the time you were born is what you'll end up mimicking later in life. Gopnik's rule holds up for a ton of cultural phenomena, including Mad Men, Fleet Foxes, and this ridiculous hair salon by Slovenian architects Kitsch Nitsch.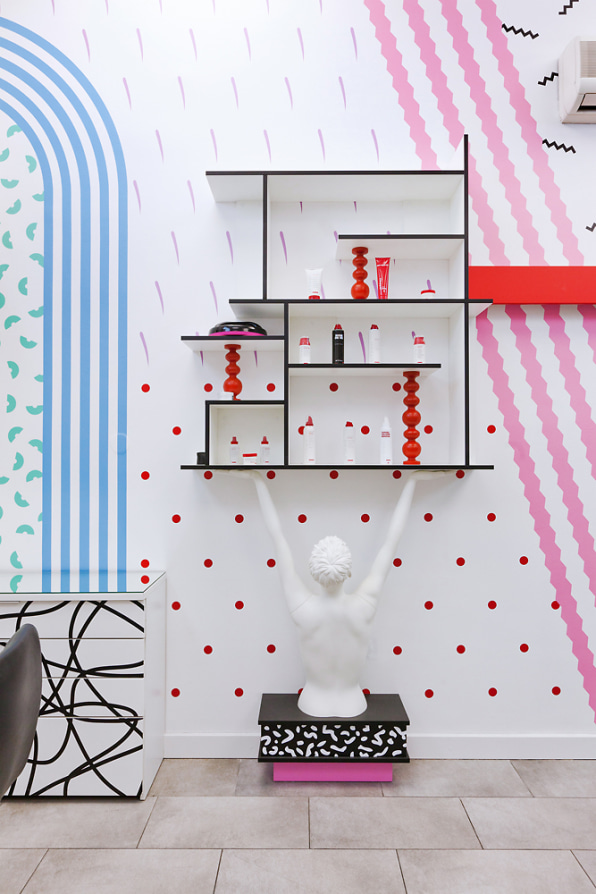 The architects, who self-identify as "aspiring commercial sluts," were asked by a Slovenian salon chain to design the interior of their newest shop, Young Mič Styling (or YMS), which targets a younger clientele. Kitsch Nitsch responded by skewing really young–like, back to the time when the intended customers were still in diapers.
"We believe design is taken too seriously, life is taken too seriously and styling is not taken seriously enough," say the designers, who have crafted the space into a veritable encyclopedia of 80s visual ephemera. Every surface is covered in a different pattern, collapsing space into an Atari-esque flatness. Some of these patterns look like MTV's old logo, some look like David Hockney paintings, and still others are reminiscent of the sassy model decals you still find in older nail salons. Custom-fabricated mirrors seem referential to a lost era of clip art, where squiggles and zig-zags were it. Pastel supergraphics and furniture that only Charles Moore could love round out the space, which ultimately ends up looking like a three-dimensional GIF.
Speaking as a child of the '80s, Kitsch Nitsch succeeds in doing a pretty dead-on caricature of the era. I can't look at these images without feeling déjà vu. And true to their generation, the duo have this to add about their work: "We dabble in recent retro, which is still a hell of a lot better than the present. And we are genuinely afraid of the future."
Read more about YMS Salon here.