Evelin Kasikov is an Estonian-born, London-based artist who draws on the aesthetics of graphic design, typography, and other design disciplines to, in her own words, "challenge the preconceptions of embroidery." That's a gentle way of saying she makes stitching look a hell of a lot cooler than your granny ever could.
For her Portrait Project, she reproduced photographs of friends by hand-sewing thread through 34-unit-by-42-unit grids. Squint hard, and the resulting portraits look like silkscreen prints that came straight out of The Factory.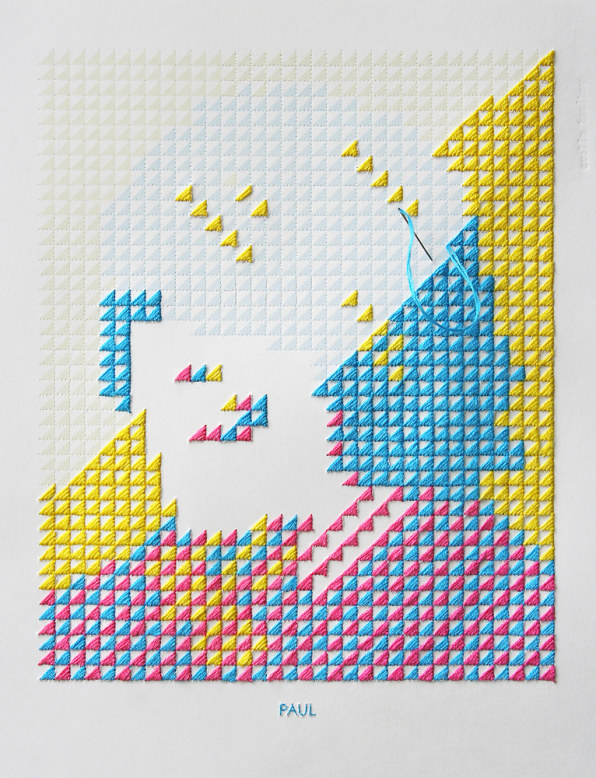 "It is essentially based on the idea of pointillism," Kasikov tells Co.Design. "Each image is made from tiny elements. I turned this into graphic pointillism where the individual elements are not dots but squares, crosses, lines of different weights and so on. For all portraits I use photos as a starting point and I look at contrast and try to establish what is the most essential part of that image (could be hair, could be a big smile). Then I decide on the most appropriate method for stitching: diagonal lines, squares, heavier or lighter stitching. Then I construct the image using these elements in InDesign, mark stitches on paper, and start stitching."
Each portrait requires some 10 to 15 feet of Anchor cotton thread and takes two days to a week to complete. For more art made out of yarn, go here and here.
[Images courtesy of Evelin Kasikov]