Visit the High Line, a public park on a decommissioned elevated railroad, and you might see trains, after all. Art star Jeff Koons wants to suspend a full-sized replica of a 1943 Baldwin 2900 steam locomotive over the park's final stretch, set to open in 2014.
The installation is only in the "very beginning of the exploratory stage," the park advocacy group Friends of the High Line writes on its blog, "and it would require a thorough review by diverse stakeholders should the project move forward."
But if realized, Train would dangle off a crane, clear over visitors' heads, on 30th Street at 10th Avenue in Manhattan–a "potent symbol of the area's industrial past," Friends of the High Line cofounder Robert Hammond says.
It'd also be a potent symbol of the area's big-money future. The cost of fabricating the train is estimated at a whopping $25 million and would require private support. To attract donors, Friends of the High Line has mounted an economic argument, insisting that Train will pay for itself, and then some, by increasing business at local hotels, restaurants, and other attractions. Not bad logic. It worked for the The Gates, the monumental art installation by Christo and Jeanne-Claude. And it worked for the High Line itself, which is spurring an estimated $2 billion in private development, according to Friends of the High Line.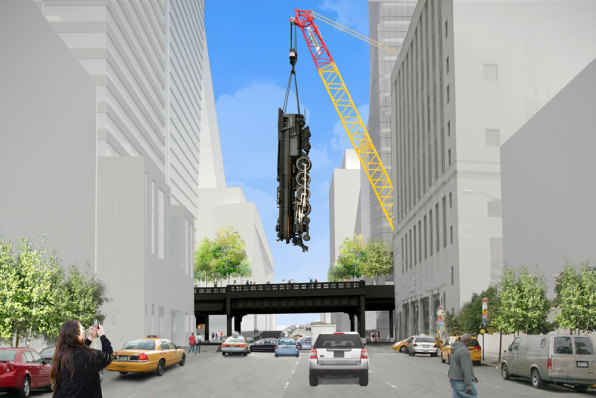 Personally, though, after gazing up at a however-many-ton-train dangling in the air, I'd feel a bit too queasy to splurge on a nice lunch.
[Image by James Corner Field Operations, Diller Scofidio + Renfro, and Jeff Koons. Courtesy Friends of the High Line]