There are a lot of sketch apps. I mean a lot. Layers, Brushes, iDraw, SketchBook Pro, SketchPad HD, SketchyPad, Draft, and Penultimate, to name a few. If you build in the concept of ideating, the list only grows longer, with apps like Evernote, MindNode, Adobe Ideas … well, I think we all get the point. It's a saturated market.
But a new app called Paper, by a promising new company named FiftyThree, is jumping right in.
"There are many note taking applications which are useful, but boring," FiftyThree co-founder Georg Petschnigg tells Co.Design. "Then there are paint programs, that require a lot of skill to make something beautiful. Paper is where productivity and beauty come together."
In this saturated marketplace, Paper stands out in a few ways. It's free to download. It's extraordinarily simple to use. It's beautiful. And FiftyThree itself was co-founded by two of the incubation leads on the late Microsoft Courier project, Georg Petschnigg and Jon Harris (together, the entire FiftyThree team has developed Xbox controllers and laptops, created short films, and designed graphics for TED talks).
In other words, Paper is, at its heart, a small taste of what the Courier could have been. Well, the small taste that isn't from the iPad's other Courier-team-developed app, which also just released, called Taposé.
"It was that humbling realization that when people 'need to get creative,' they'll reach for a legal pad, whiteboard, or sticky note," Petschnigg tells Co.Design. "That's pretty humbling for a team that made laptops, mobile devices, and Microsoft Office for a living! We realized that we use pen and paper like everyone else, because it is simple, beautiful, and lets you express your ideas freely. So we set out to bring some of that simplicity and beauty to software. We wanted a tool that works more like we think."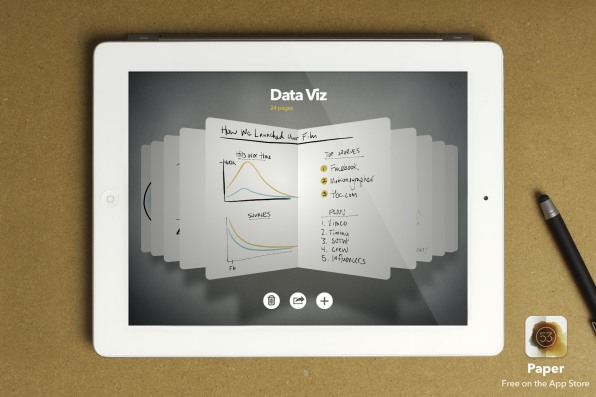 I know what he means. The first thing I think about when loading Paper is actually 37signals' competing product, Draft. Draft's approach was to create a scribble app with extreme limitations–black pages, red and white inks–to free the user's mind to focus on the idea. The result was easy to use but far too clinical. There's nothing less satisfying than looking back at an ugly idea. I paid $5 for Draft and used it once.
Paper defines itself by restraint, too, but it doesn't suck your creative soul to do so. By paring down options, it sneaks in a niche that's simpler and more satisfying to use than the heavy dashboards of both art and note-taking apps. You start with a page in a Moleskine journal. Rather than choose any color in the world, Paper offers just nine that coordinate. Then they use a metaphor that we all understand–it's "paper" of course–to build out their pen (and pencil and watercolor tools, which are each unlocked through a $1.99 in-app purchase) that allow you to sketch in varying texture and intensity. And to undo any action, you simply circle back with two fingers, like a jog wheel.
The resulting app pulls out the wishy washy creative decisions behind sketching a quick flowchart. It's like shopping for furniture within a single matching collection–maybe your living room will resemble someone else's next door, but at least it will look good on its own.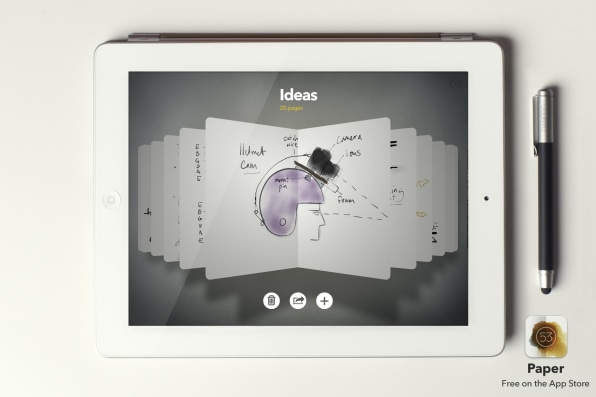 You can also create new notebooks, skinable with photos and patterns (a simple effect that looks fantastic on screen). And you can share sketches on your Tumblr, Facebook and Twitter accounts. But that's about it. You can't zoom into sketches, you can't create layers, and the app's home screen isn't designed to support portrait mode, which is a bit ironic, as you're supposed to be drawing in a portrait-based Moleskine. (But there's nothing stopping you from just turning your iPad while sketching, as you would a piece of paper.)
It's interesting that, despite the rising ubiquity of the iPad and Android tablets, none is driven by that elusive killer content creation app. Paper isn't that app. Rather, it seems like a warm-up lap from a team destined to do more. That said, it's a pretty darn good warm-up lap.