Pentagram has named a new partner: Emily Oberman, co-founder of the small multidisciplinary design studio Number 17 and a protégé of graphic-design legend Tibor Kalman.
Oberman, 49, is the first new partner since Pentagram hired Eddie Opara in 2010. A native New Yorker, she specializes in savvy, humor-infused design treatments that span all cultural corners and mediums. She has done logos for "Saturday Night Live," "Late Night With Jimmy Fallon," and "30 Rock"; web design for "This American Life"; identity work for Andre Balázs hotels; graphics for JoJo, Spice Market, and several other Jean-Georges restaurants; soup-to-nuts branding and content strategizing for Lucky magazine; and a music video for the Talking Heads. In short, her hand has touched everything from the media we soak up to the places where we eat and sleep.
"Many of the Pentagram partners are formalists or create visual analogies based on logic and form," says Pentagram partner Paula Scher, who has been friends with Oberman for years. "Emily's best work is rooted in the understanding of contemporary cultural. She taps into the feelings of today's audiences with work that is funny, emotional, knowing, and sometimes even appropriately acerbic."
Oberman also has a penchant for advertising–she has worked on campaigns for everyone from Air America to Benetton–making her an obvious addition to the Pentagram family, Scher says: "So much of her best work is promotional, an area that is lacking in our portfolio."
Pentagram partner Michael Bierut agrees. "She can move effortlessly from identity and print to motion graphics and advertising, some disciplines that have long interested us but which have been underrepresented here," he says, adding: "And she is just a joy to be around."
Born in Yonkers, Oberman was surrounded by design from day one. Her father Marvin was a graphic designer. Her mother Arline Simon was a painter and an illustrator. Together, they made children's books and would enlist their daughter to help out (for which she always got an honorarium). "They would say, if I'm an illustrator, I have to get paid for my work," she says. "That whet my appetite for design, and it never left me. In a way, I went into the family business."
In college, at Cooper Union, she studied design and filmmaking. After graduating, her dream was to work at Kalman's multidisciplinary design studio M&Company. Some years and a few jobs later, she did. "It was almost like graduate school for me," she says.
Under Kalman's tutelage, she tackled a slew of big clients including Knoll, Wieden & Kennedy, the iconic New York restaurant Florent, and Benetton. At M&Co, she learned the art of crossing disciplines–or as she calls it, "just doing a lot of different things"–something that's figured prominently in her career since. "One day David Byrne walked in and said he wanted to do a video with type," she says. "Tibor [Kalman] came out into the office and said, 'Does anyone know anything about filmmaking?' My hand shot up, and I said, 'I do! I do!'" The video that resulted, for "(Nothing But) Flowers," used typography to illuminate the nuances of the song's lyrics, like unusually expressive subtitles. "Working on that video was the beginning of my understanding that I could blend disciplines, like typography and motion graphics, in some way," she says. Oberman stayed at M&Co six years, from 1987 to 1993. No other designer worked there longer.
The year she left M&Co, she founded Number 17 with her best friend Bonnie Siegler. The studio was set up "in the M&Co model," which is to say that it set its sights on, well, doing a lot different things. Siegler had worked at MTV and VH1, so they started out with a menu of TV gigs (including SNL, for whom they've been devising title sequences and parody commercials off and on for 17 years). Then they moved into print, motion graphics and, more recently, the web.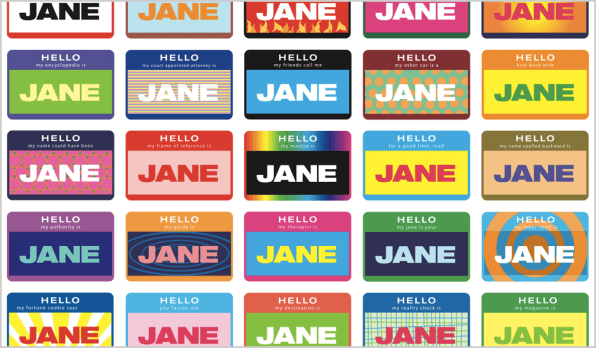 Number 17 quickly garnered a reputation for its quirky sensibility and keen understanding of the urban zeitgeist. In the late '90s, they developed the launch campaign for Jane—the magazine for smart, sassy ladies–with a simple, clever idea: a bunch of name badges all called Jane. "The utilization of the mundane, ubiquitous, conventional name badge saying, 'Hello, my name is Jane' ironically spoke to the identity of its audience by making a knowing observation about the silliness of tags and labels," Scher says. "The promotional campaign put this magazine on the map."
In the early aughts, Number 17 did an ad campaign for Air America that similarly revealed both Oberman's wit and her sharp ear for the audience at hand. It showed portraits of George Bush and his hawkish colleagues, with their faces stamped out by playful typographic maps of America. Dick Cheney's map said, "FIGHTING THE AXIS OF ENRON." Rumsfeld's said, "THE WAR ON ERROR." "The absurd visual combination of the typography, the shape of the United States and the pompous, rather asinine image of George Bush perfectly communicated the spirit of this new irreverent, liberal radio station," Scher says.
Oberman (who is married to the graphic designer Paul Sahre) says that some of her favorite projects are the ones in which she gets to control all aspects of the experience. Designing a hotel or a restaurant, for example, or a new condo, where you help name the place, create the website, design the logos, invent an ad campaign, and plan the design of the sales office. "One of the things I always like to do in my work is make an emotional connection to the audience," she says. "It's all about making somebody feel something and telling a story and being able to do all that across different media."
That's precisely what endeared her to Pentagram, after nearly two decades running a boutique firm. "The beauty of Pentagram is that you get to do a lot of different kinds of work, but at a large scale," she says. "There's nobody pigeon-holing you when you're working. The horizon is so wide, it's just incredibly appealing and exciting and creatively enriching."
As for what kind of projects she plans to take on at her new job: "Honestly, when I think about what else I'd like to do now that I am joining Pentagram, the best answer I can come up with is EVERYTHING."