"Whenever I find myself growing grim about the mouth . . . then, I account it high time to get to sea as soon as I can. –Herman Melville, [i]Moby Dick[/i]
The urban waterfront is that special place where the city opens up. Almost universally, it is the locus of enormous energy and magnetic attraction: where commerce and public life intersect, where the vertical city meets the flat blue plane of water and the seemingly infinite horizon. In the past, waterways functioned as a city's front door and service yard. They served as pathways that made vital connections possible for commerce, travel, energy, fishing, as well as communication, interaction, and discovery.
Today, these postindustrial, post-military city edges have taken on new and wonderful meanings. Here, at the seam between land and water, some of the country's most exciting, innovative, environmentally sustainable design is taking place, bringing vibrant public life to regenerated waterfront brownfield sites.
As a city's iconic front yard, a reinvented waterfront–richer for their contrast with its past–can reshape a city's identity: Seam and barrier, play land and profit center, civic stage and common ground for young and old, cultural landscape and contemporary expression of place and time. It is at these transitional edges that both habitat and human experience can be richest and most interdependent.
Two contemporary American waterfront parks that exemplify this spirit of place are located in a couple of our country's most iconic waterfront cities: New York and San Francisco. Both were designed within the past 15 years by leading American landscape architects. Each has continued to evolve, generally for the better, as its patterns of use and surroundings change. Both occur in amazing physical settings that include world-famous historical infrastructure and landmarks. They are also brilliant examples of sustainable site- and climate-specific design inextricably linked to the places where they have been built.
Opened in May 2001, Crissy Field is at the northern edge of the San Francisco Presidio, a historically significant decommissioned army base now part of the Golden Gate National Recreation Area. Designed by Hargreaves Associates, this 100-acre park stretches for a mile along the city's northern edge, just east of the Golden Gate Bridge. The park reinvents what was a ramshackle military installation (wooden barracks, warehouses, a rail line, and acres of asphalt) and now includes a 17-acre tidal lagoon and inlet, an education center, several beaches, dunes, an amphitheater, a fishing pier and a huge lawn–a palimpsest of the West Coast's first urban grass airstrip. To the south of Crissy Field, beyond the dramatic bluffs of the Golden Gate and Doyle Drive–an elevated New Deal WPA highway that provides vehicular access to the Golden Gate Bridge–the city rises. Today, Doyle Drive is being totally reengineered, yielding positive changes at Crissy Field.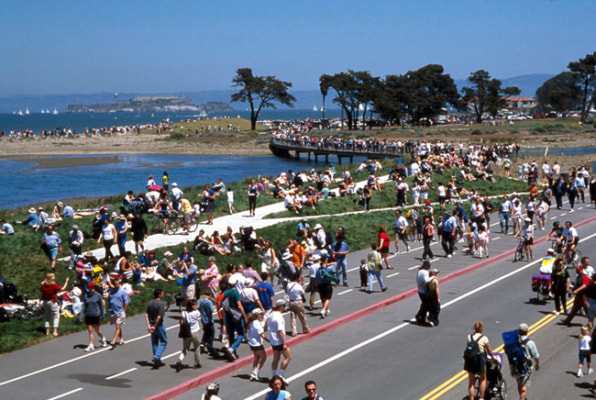 New York's Brooklyn Bridge Park, the competition-winning design by Michael Van Valkenburgh, reinvents what was a 1950s 85-acre shipping complex that was decommissioned in 1983. Dedicated in the spring of 2010 and still very much a work in progress, the new park is located just south of the Brooklyn Bridge. It extends below Brooklyn Heights, with its famed promenade, and a tiered eight-block-long section of Robert Moses's Brooklyn Queens Expressway, which definitively divorced the neighborhood and the water when it opened in 1954. The 1.3-mile-long park follows the historic Brooklyn shoreline and consists of six reinvented old piers, originally used for shipping, and the seawall lots behind them. In addition to the piers, which will be used for a variety of recreational purposes, the park includes a tidal spiral, an amphitheater, "swing valley" and water playgrounds, the historic Tobacco Warehouse, beaches, coves, a boat launch, and restored wetlands.
I am fascinated by the contrast between these two great new waterfront parks. While BBP opens its view to the New York Harbor and its highly built islands (Manhattan, Governors, Liberty, and Staten), Crissy faces the Golden Gate, the open Marin Headlands landscape, Alcatraz, and Angel Islands. Two magnificent bridges stand as powerful bookends, giving character, scale, and dimension. Though the two sites are relatively flat (compared with the vertical topography defining the inland boundary of both), there are topographical nuances that at BBP include hills, valleys, and a recycled stone amphitheater, and at Crissy, mounds, dunes, bluffs, and a minimalist concrete amphitheater.
Materially, both parks are purposefully tough, modest, and inventive: BBP features repurposed granite, pine, and industrial landscape fencing; Crissy uses concrete, decomposed granite, and industrial fencing. Plantings in both cases are coastal, seasonal, and indigenous. BBP has rugosa roses, hydrangeas, oak, catalpa and beetlebung (or tupelo) trees. Crissy boasts Monterey cypress, Canary Island palms, beach strawberry and primrose, monkey flower, cow parsnip, and bush lupine, to name just a few of the park's more than 110 species of native beach and marsh plants. While BBP, with its six piers, reaches out perpendicularly into the New York Harbor, Crissy's tidal lagoon, set behind the beach and dunes, penetrates the site perpendicularly–each intervention providing a tidal registry and habitat for unexpected wildlife.
While BBP is intimate in places, Crissy is wide-open. What is so compelling about these two parks is their near-perfect pitch in capturing the vigor and energy of each city and its watery edge. Each is a metaphor for place and community–the layered cultural landscape of the Atlantic and the wild and windy Pacific Rim. Providing a variety of settings for activities in sites recently off limits to public use, Hargreaves and Van Valkenburgh have revealed the very spirit of these two places in time–past, present, and future. By definitively bringing the city to the water and offering to all a generous invitation to experience that special land- and seascape, they each have created a new paradigm about building on the waterfront. In their design choices, environmental aspirations, and brilliant invention, these two new public parks offer inspiring lessons to cities all over the world as they bring life to these fascinating watery edges.
What do these two exemplary waterfront parks suggest to other cities as they contemplate their own underutilized, derelict, or obsolete urban waterfront infrastructure? First and foremost, they must summon the extraordinary vision, immense political will, and civic creativity necessary to realize transformations of this magnitude, and the patience and fortitude needed to bring to fruition innovative long-term projects of such scale and importance. They must be passionately committed to the notion that precious urban waterfronts should be developed so as to ensure access and create places for the greatest number of people–residents and visitors alike–to experience the settings that embody the very identity of that city and its edge. Great site-specific design, profound environmental sensitivity and invention, attention to human scale and materiality, variety and coherence, harmony and contrast–all these are values demonstrated brilliantly in Brooklyn Bridge Park and Crissy Field. The careful reading of the grammar of these beautiful parks, the narratives they weave, and the stages they set can inspire other cities to attend to their own waterfronts while extending the public realm, an essential ingredient of healthy civic life.
A design principal in Perkins + Will's San Francisco office and a leader of the firm's Preservation and Reuse practice, Cathy Simon FAIA is an architect and urbanist internationally recognized for her design work. Throughout her career she has worked extensively on landmark urban waterfront initiatives and award-winning buildings in the public realm, leading the design of such projects as San Francisco's Ferry Building. She is an acclaimed teacher and writer, and a sought-after lecturer about design.