New York City architecture firm Rogers Marvel Architects has won a landscape design competition to sex up a stretch of high-surveillance land near the White House, the National Capital Planning Commission (NCPC) announced yesterday.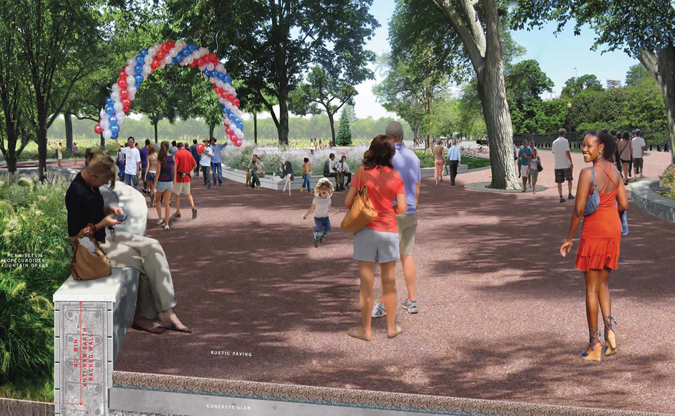 And by landscape design competition, we mean, actually, a security design competition with some landscape design on the side. The contest asked architects to "beautify the security components and improve the visitor experience" at President's Park South, between the White House grounds and Constitution Ave NW, which, as we pointed out before, makes about as much sense as slipping a dress on a doberman.
This is a security design competition with some landscape on the side.
Rogers Marvel beat out some of the top landscape architects in the business — including Sasaki Associates, Michael Van Valkenburgh Associates (MVVA), and Hood Design Studio, the firm of 2010 Fast Company Master of Design Walter Hood — because, well, apparently they made the prettiest dress. "Rogers Marvel's design stood out, offering the most dramatic approach for integrating security and public space design," NCPC Chairman L. Preston Bryant, Jr. said in a press release.
Still, they're a curious choice. Of the five finalists, Rogers Marvel are the only ones that don't identify primarily as landscape architects. Though they employ landscape architects and practice landscape architecture, they also build buildings. They've designed museums, private residences, and a plethora of Kate Spade shops. (We'll assume they got lots of cool points for their side business, a firm called Rock12 that makes chic "security architecture" products — bollards, for instance).
As for the design: It'll fold safety features stealthily into the Ellipse, the public park where people hold protests and the White House holds events like the annual Christmas tree-lighting ceremony, with a seating wall that doubles as a barricade and lighting. The architects will remove concrete barriers and rusted fencing, temporary security measures installed along E Street after 9/ 11, and add a new public promenade that'll overlook the south lawn of the White House. The idea here is to create a ?President's Park South that will physically and conceptually connect the President and the people," principal Robert Rogers says.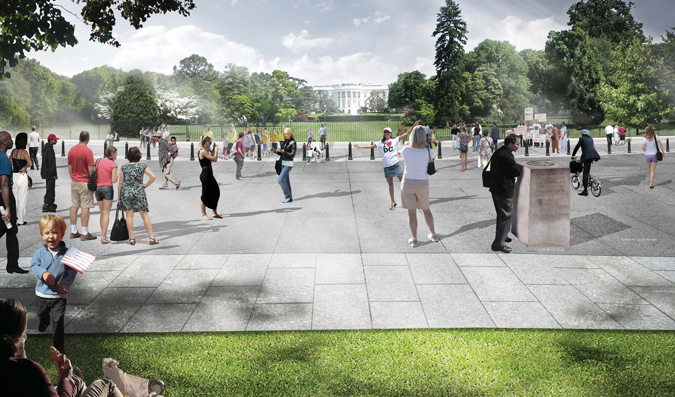 Sounds nice enough. But we'll see what actually gets built. Like we said before, we worry that government mucky mucks will be tempted to swoop in and screw around with the design, which never ends well. We all remember what happened with the Capitol Visitors Center. Maybe we're just being paranoid? "NCPC's design competition is not the end," Alex Krieger, the NCPC's design competition advisor, said, "but rather the start of a thoughtful process, where ideas for this iconic location will be further tested and translated."
"Further tested and translated?" Uh-oh.