Souto de Moura is a Portugeuse architect, who has worked primarily in his native country, most notably designing a cone-shaped museum made out of bright red concrete in Cascais and a football stadium carved into a quarry in Braga. Never heard of either building? Surely, you're not alone. Unlike most of his Pritzker predecessors, Souto de Moura is a virtual nobody outside the rarefied world of haute architecture.
We shouldn't be terribly surprised; this is just how the Pritzker committee rolls. They'll spend several years saluting the most famous (and obvious) characters in architecture (Renzo Piano, 1998; Norman Foster, 1999; Rem Koolhaas, 2000), then they'll go and hand the Pritzker over to someone "avant-garde" (Paulo Mendes da Rocha, 2006). Not that we're calling Souto de Moura avant-garde — his style has more of a homegrown, regional flavor — it's just that he's a curious choice given the megawatt names that haven't won architecture's top honor, like Steven Holl, Toyo Ito, and Shigeru Ban (and don't even mention how Denise Scott Brown was slighted).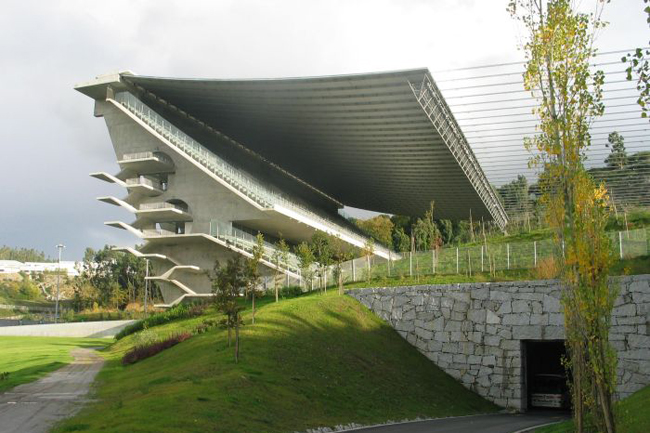 [One of Souto de Moura's signature buildings, a sports stadium in Braga with a giant cantilevered roof]
Still, Souto de Moura has been plenty prolific over there in Portugal, with a few detours into Spain, Italy, Germany, the UK, and Switzerland. He has completed more than 60 buildings since opening his own office in 1980. (Before that, he worked for fellow Pritzker winner Alvaro Siza.) "During the past three decades, Eduardo Souto de Moura has produced a body of work that is of our time but also carries echoes of architectural traditions," says Pritzker jury chair Lord Peter Palumbo in a prepared statement. "His buildings have a unique ability to convey seemingly conflicting characteristics " power and modesty, bravado and subtlety, bold public authority and a sense of intimacy "at the same time."
Judge for yourself at ArchDaily, which has a couple more examples of Souto de Moura's work.
[Top image via Designboom; middle image via ArchDaily; bottom image via Pushpullbar]