Metropolis magazine Executive Editor Martin Pedersen has a great little story about the remaking of design demigod Buckminster Fuller's '30s-era Dymaxion, a three-wheeled car that was spectacularly futuristic for its time — and spectacularly ill-fated. Its recent revival, at the hands of British starchitect and Bucky acolyte Norman Foster, is no less extraordinary.
Unveiled in the 1930s and resembling what one writer described perfectly as a "VW camper van crossed with a pinball flipper," the Dymaxion was Fuller's grand experiment in transportation design, a quirky, clunky thing he hoped would drive, fly, and otherwise thoroughly revolutionize the way people traveled.
Fuller's vision didn't go far. Just three cars were built. One was turned into scrap; another went up in flames — but only after it was involved in a massive crash that took the driver's life. The only surviving car — Dymaxion No. 2 — sits in a museum in Nevada.
Still, the Dymaxion was something to behold. It reached speeds up to 120 mph and was freakishly efficient for the day, getting a whopping 35 miles to the gallon. Plus it looked pretty damned cool — with its streamlined body reminiscent of a Zeppelin, it was a picture-perfect vehicle for the techno-optimism of the Machine Age.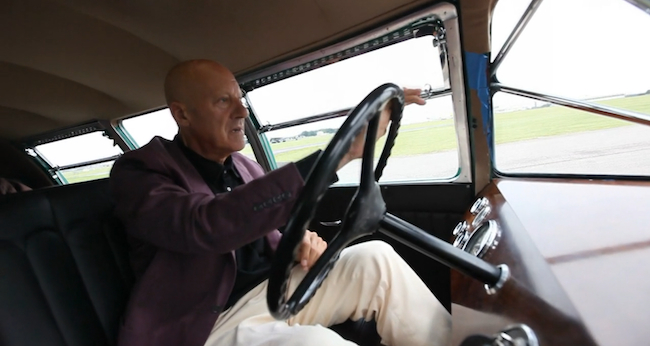 Foster decided to recreate the car as an homage to his mentor (and, we suspect, for the sheer joy of it; Foster is a confessed transportation design fiend). With the help of the vintage race-car specialists Crosthwaite & Gardiner and other collaborators, he tracked down as many details on the original design as he could. Per Pedersen:
They had access to two principal sources: the Dymaxion Chronofile at Stanford University, where Foster + Partners had done work and had extensive contacts; and the National Automobile Museum, in Reno, Nevada, home to the only surviving Dymaxion. Phil King, the leader of the C & G [vintage-race-car specialists] effort, took more than 2,000 photographs of the car. The design team attempted to track down many of the original off-the-shelf components, but for the most part the factories that made them had long since disappeared. In these cases, replicas were built from scratch at the C & G shop.
Alas, the car doesn't fly. But it does drive, as Foster demonstrates like a little boy with his Tonka trucks in the film above. We could watch him tool around in that thing all day.
For lots more on the recreation process, mosey on over to Metropolis's full interview with Foster here.