With re-branding happening everyday, it's becoming impossible to tell retailers apart.
In an attempt to be more relevant to a younger customer, America's department stores and retailers are quickly becoming, well, irrelevant to everyone. I know, I've been on my high horse for some time about the dumbing down of brand identities, but after seeing the continued simplification of JCPenney's, (or rather, jcpenney's*) logo, it dawned on me: There must be a conspiracy. If retail brand identities continue in the same visual direction, there will be exactly one retailer in charge in just a few years. (*The new jcpenney identity was the work of a third-year design student, but that is another discussion.)
Seriously, what is going on? Will this be the year of the generic brand 2.0? Let's review:
First Belk (or belk, as it were) department stores announced a $70 million dollar makeover to make an "emotional connection" with younger customers. Okay. Then Gap did the thing that Gap did. But undid it quickly. Oy. Then Sears became sears just in time for an Arial-dominated Christmas. And now jcpenney.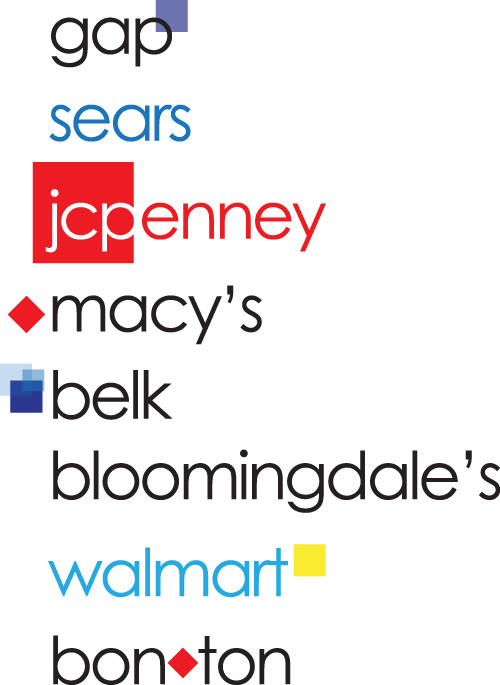 As a graphic designer and brand strategist, I realize that there are subtle, yet significant differences between each identity. But as Joe or Joanne Consumer, you just have to squint yours eyes a little, and all the logos look like siblings. Or at least first cousins. To illustrate my point, I took a single font (one that I wouldn't normally use for anything) and a square. No kerning. Just dropped it on the page.
Now squint.
If the brand foundation, positioning, and personality of these brands are all the same, then forgive me. I retract my rant, and leave with soapbox in hand. But I don't think so. Each one of these retailers has a unique value to its consumer. But are their identities a reflection of these unique qualities? I'm not seeing it. Perhaps those unique qualities are gone.
I know there is a population out there that believes a brand's identity is meaningless to begin with. That it's all about the product. Or the experience. I couldn't disagree more. A customer's experience typically begins with the logo. We have a mental image of the promise of the brand and the logo helps us visualize and realize that promise. And don't we want retailers telling us how they are different? I'm afraid that in an attempt to become relevant to everyone, our retailers are becoming relevant to no one. Perhaps it's as it should be. Be sure to turn the lights off when you leave.
[Top image is, of course, Diane Arbus's immortal Identical Twins, Roselle, New Jersey, 1967]