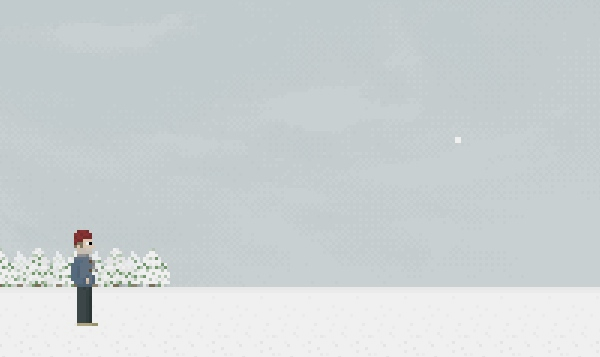 The game is simple: left and right arrows move a be-scarfed avatar through a quiet rural landscape, complete with slate-grey skies and a breeze that echoes in that particularly wintry way. Snowflakes start to tumble down: standing under them and hitting the "up" arrow makes the avatar stick out his tongue, emitting a plaintive musical tone if he "catches" it.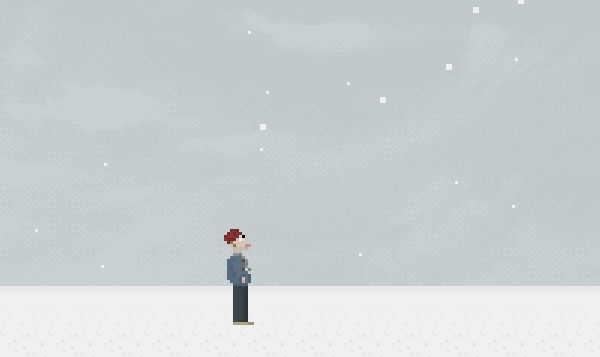 The more snowflakes you catch, the more music gets made. And that's pretty much it. Clearly this is not meant to appeal to the Gears of War crowd: there's no "mission," no conflict… just an artfully conjured sense of time and place — impressive, given that "January" is Vreeland's first game. He calls it "an experiment in algorithmic music generation [which] uses a set of predefined musical rules to make choices about what the next note (or notes) will be, while also giving the player the freedom to choose when notes will be played and the ability to make distinctions between different types."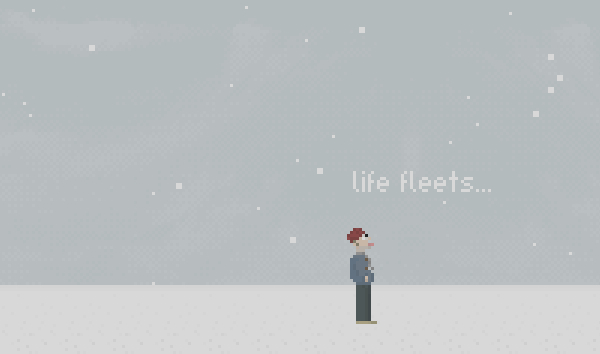 But the game still is an actual game, with structure, levels, beginnings and endings. Every so often, a snowflake will cause a bit of "lyrics" to appear, providing a subtle momentum to the scene as the user-created ambient music slowly unveils a stream-of-consciousness story. Just like what happens in your head in real life, if you've ever taken a quiet winter stroll through an empty park.
Or maybe that's just me. But even if the game doesn't transport you, madeleine-like, into a nostalgic childhood reverie, "January" is still an example of subtle, artful interactive design at its best. You should give it a try, Roger!
[See more at Colorcave and, if you still want more 8-bit stuff, check out this Great Gatsby game.]