Everyone has fired at least one regrettably bitchy email over the transom, even people who should know better. Wouldn't it be nice if you could somehow auto-correct before hitting "send"? Lucky you, (we mean you, Jobs!): There's a plug-in for that.
Though we've covered the app before, the video above, fresh from the office of Pentagram, goes a long way to making its appeal intuitive. It also goes a long way towards showing why the product ultimately falls short.
ToneCheck is a sort of e-superego to your e-id. By scouring email for name-calling, profanity, nasty wordplay — whatever — it helps turn epistolary venom into sugar. So instead of, "God, you suck at your job," you might say, "Nice effort," or instead of "I want to punch you in the face," maybe, "Sorry!" To be clear: ToneCheck doesn't actually replace what you say; it just redflags inappropriate language and suggests alternatives, leaving you to decide whether you want to sound nicer than you really are.
The plug-in was created by Lymbix, a Canadian company (natch), and it's featured in the New York Times Magazine's Year In Ideas, which prints on Sunday. To accompany the story, the Times commissioned Pentagram's Michael Bierut and Christina Nizar to animate the short film, Emotional Spell-Check, shown above, for the magazine's web edition.
The video is great, right? That icon, oscillating between apologetic smiles and scowls, is such a perfect way to communicate the concept. In fact, it pretty much blows away the UI and design of the actual plug-in. Here, we took a screenshot of ToneCheck's online demo: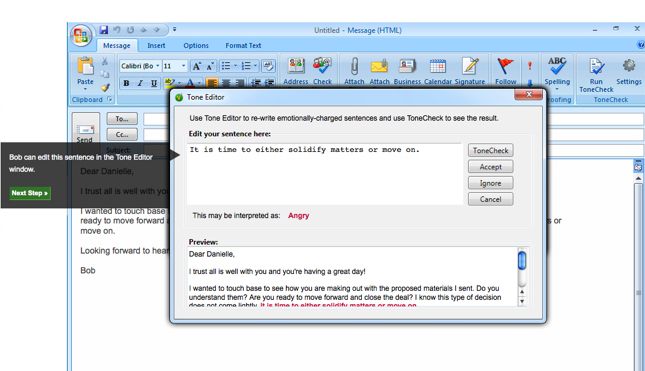 Note how ToneCheck looks just like spell-check. But it works like spell-check, too, in the sense that you have to turn it on to make it work. After that, it all gets enormously clunky, turning a simple email into a series of new windows requiring revisions. Therein lies a paradox: Will you really put up with it when you're steaming mad? Of course not. Would people with serious problems with passive aggressiveness or anger management download it in the first place? Would it ever become so invisible that it doesn't feel like an annoying chore on an already horrible day?
In this sense, Pentagram's film could actually be more effective at checking tempers than the plug-in (though obviously, it wasn't intended for that). We picture it running in the background of our email client, subtly color-coding the words that we type, giving us better control of our language — a sort of ambient appeal to our better angels.
Moral of the story: Lymbix needs to get rid of its design team and hire Pentagram, stat! Or, in ToneCheck speak: They might want to perhaps consider maybe enlisting the expertise of an alternative design firm. Possibly.