Sir Norman Foster, the British starchitect behind London's iconic Gherkin tower and the master plan of Abu Dhabi's mega-green Masdar City, reportedly has been selected to design Apple's new campus in Cupertino.
That's according to El Economista. Citing anonymous sources, the Mexican newspaper reports that Apple and Foster + Partners "have spent months working closely in the design of future U.S. giant city." Details are murky, but El Economista paints a picture of a sprawling eco-utopia, with renewable-energy resources, green materials, and a tunnel-bound transportation network. They're calling it "City of Apple."
The story comes less than a month after news broke that Apple purchased a 98-acre property about a mile from its existing main offices at 1 Infinite Loop. The site is directly across the street from 50 acres the company bought a few years ago and announced as the location of a second campus.
Clearly, Apple is moving at a mad clip to expand, which should surprise precisely no one; in the past year alone, the company has fattened its roster by more than 12,000 employees.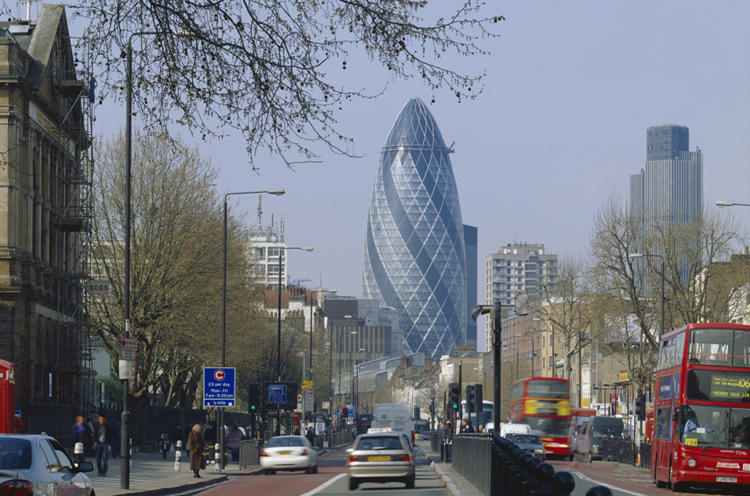 If the latest news is true, Foster is a good match for Apple. Foster built his celebrity by marrying big gestures to technological wizardry. And, unlike some starchitects, he has glommed onto the environmental revolution — something Apple has made a point of embracing, too. The Gherkin consumes half the energy of a comparable building, making it something of a decorous corporate tower with a hippie's soul. Masdar City goes a a few steps further; the place is designed to be both carbon neutral and car-free. (City of Apple apparently will incorporate features from Masdar.)
Which is a long way of saying that hiring Foster is a smart move. Not only will Apple get sexy, magazine-ready architecture out of it, the company will also create a massive billboard for its green ambitions.
Foster spokeswoman Katy Harris declined to comment; Apple didn't respond to a request for comment.
[Images via Foster + Partners]