Every day, in your tweets and Facebook updates, you're giving testament to all the things that you love–whether it's hungover owls, terrifying Asian Ronald McDonalds, or drinking Four Loko. Usually, only your friends can decipher all that, and generate a profile of who you are, and what you care about.
Now imagine instead that a web app could do all that. And imagine again that this web app could map all that information, along with that of your friends. Got it? Then you understand Gravity, a new startup founded by MySpace vets. "Gravity's Interest Graph is an online representation of a person's real-world interests, derived from public conversation and profile data on the social web," Gravity's lead software architect, Kunal Anand, tells us.
And here's what it looks like: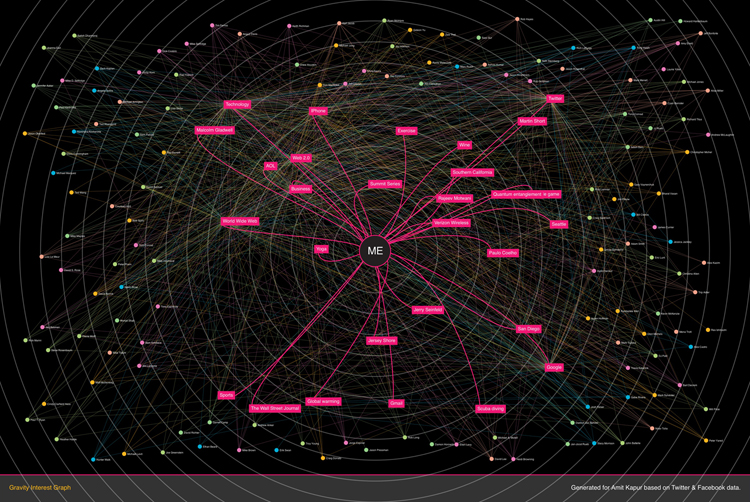 Visualization is only one piece of what Gravity can do. The data that Gravity draws also contains weighted measures of how much you like something and how sustained your interest levels are, but these were left off the chart for the sake of visual clarity.
The company's ultimate aim is twofold. For users, they can see who, in any given network, actually shares their interests. "For example, if a user tweets about an Interpol concert, the band would show up in their visualization, allowing them to connect to others that share that interest," says Anand. (Just imagine the possibilities for a dating site.)
But the killer app is probably behind the scenes: This sort of AI has obvious appeal to advertisers, who could, for example, use your love of Interpol to produce highly targeted ads for skinny jeans. moustache combs, and microbrews.
Anand believes that Gravity really points the way to a new breed of start-ups, powered by infographics. "Big data analysis is a huge challenge and opportunity for startups today," he says. "Visualizations help demonstrate incredibly complex data and knowledge sets in ways that make it easier for our minds to process and lead to better product."