The space on the Via del Pellegrino, Rome's famed street of artisans, is minuscule: 10 feet x 10 feet. Barely room for a salesperson, let alone a cash register. But it's big enough for American designer Kevin Walz to curate a revolving show of the best of Italian craftsmanship.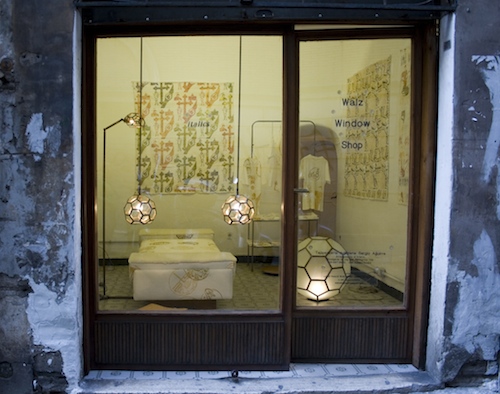 WalzWindowShop, which opened with its first exhibit, "Italics," this month is Walz's homage to the craftspeople he's met while practicing in Rome. "I'm asking traditional artisans to rethink things," Walz tells us.
The location of the shop on this particular street mandates a strict attention to artistry. "You can't introduce things here that aren't art," Walz says, noting that Italian enforcers actually roam the district checking out the wares. "Even the T-shirts had to be hand made."
Walz's first show is an homage to the five pillars of Italian life: church, fashion, art, food, and soccer. "They sound better in Italian though," he says. That would be la chiesa, la mood, la cucina, la storia dell'arte, and calcio.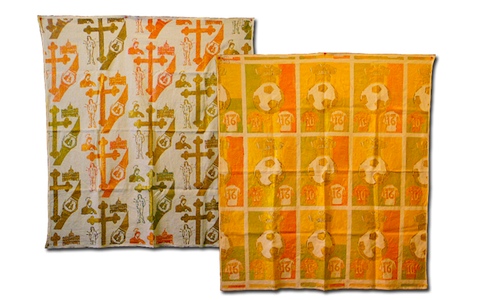 Walz created art panels illustrating the themes by silk-screening iconic images of each onto vintage Italian military linen. Among the other products on sale are a daybed covered in the same linen, and printed with images of medallions that are symbolic of 2000 years of Roman history — from the Colosseum to the Fiat. The show also features a selection of lighting fixtures made via a traditional Roman folded brass sheeting and glass lantern process.
The series of limited edition T-shirts feature are made from Japanese-made cotton and feature the same motifs. Susan Saradon recently stopped by to snag one, a process that's harder than it sounds since the store is only open one hour a day, from 6 to 7pm. (There is, however, a sign on the door instructing determined shoppers to go a few doors down and find another local merchant who's been deputized to sell goods to those who can't wait for the official hour of business.) Walz hopes to expand eventually to a rigorous 3 hour opening, from 5 to 8 pm.
Walz, who's been named a Hall of Fame honoree by Interior Design magazine, decamped to Rome seven years ago when he won the prestigious Prix de Rome fellowship from the American Academy. Settling in Trastevere with his two daughters, he was so taken with the city he decided to remain long after the fellowship year was over.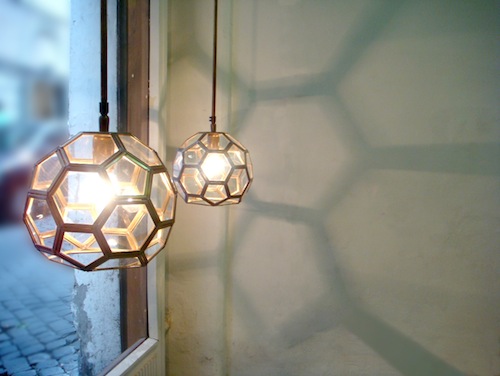 Trained at Pratt, Walz studied painting with Philip Guston and Esteban Vincente before turning to interior design. He currently designs furniture collections for Ralph Pucci International, luxury carpets for Tufenkian (keep an eye out for his latest line in cashmere, a collection that promises to be gorgeous but priced for hedge fund moguls only), and a variety of fabrics, architectural lighting and bath fixtures.