The biggest buzz around Yves Behar's sexy new Sayl chair for Herman Miller is its price. At $399, it can compete with chairs you'd find at Staples or Office Depot. How did he do it? Partly by reducing the number of parts. But fewer parts doesn't mean less design work. In many cases, it means more.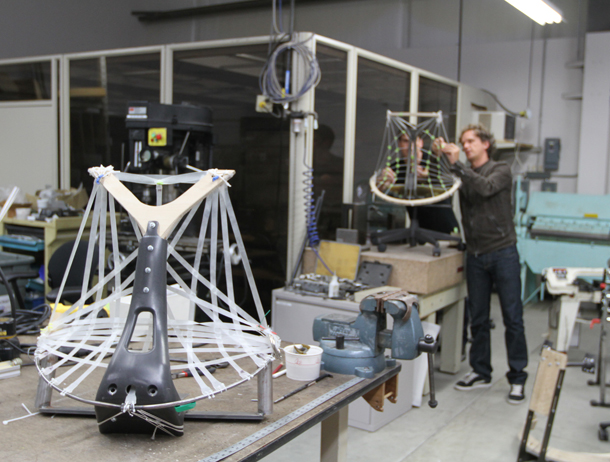 To see just how much thinking went into this project — from a sketch of the bridge that inspired the suspension back to dozens of iterations of the smallest knob — check out this exclusive video of the sketch wall in fuseproject's studio.
The most unique feature of the chair is its back, which uses an elastomer rather than mesh or hard plastic. It took 70 prototypes to get it right. "We created a patented process to stretch it and string it that creates a response like a trampoline," Behar says. "We can decide exactly where tension goes."
That means things like lumbar support can be controlled via the material, versus the levers common to task chairs. "That's a fundamental 'aha'" Jack Schreur, Herman Miller's vice president for North American Seating, told us at a sneak preview of the chair last summer. "It's the first time we've been able to dial in different properties throughout the back."
The Sayl chair, which Behar calls "the most important project of my career," will have its official debut next week at Orgatech, Cologne's big office furniture fair.
The chair's price is a profound shift for Herman Miller, Schreur says. The company had wanted to do a lower-cost chair (its basic Aeron sells for about $630; the more recent Embody for about $1100, making them a stretch for most consumers' home office needs) for a long time, but there was a problem. "We hadn't found a way to do it and be Herman Miller."
With fewer parts, "every molecule had to work harder," he says. Plus, despite its price, it also had to adhere to certain sacrosanct Herman Miller standards for sustainability, durability, and design, since it comes with the company's standard 12 year warranty. It had, for example, to be able to endure the company's brutal "test kitchen," a product testing lab so draconian that designers have dubbed it "the place where dreams go to die." That's where chairs have to survive having a 350 pound sacks dropped onto their seats — multiple times. Herman Miller engineers predicted Sayl would never survive. (check out the video above.)
"Sometimes testing can be your friend," Behar says.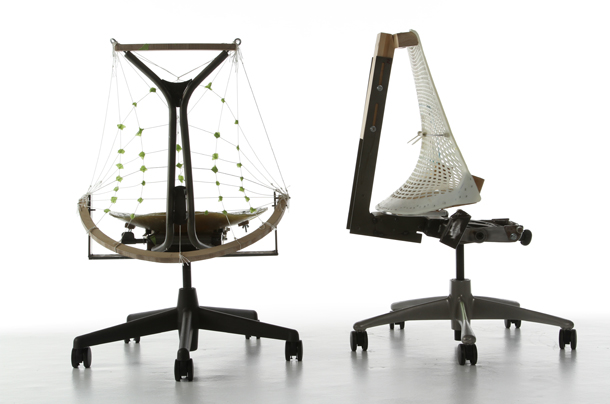 While the chair won't be available for order until Dec. 6, some of Herman Miller's online retailers are already taking pre-orders. And Herman Miller itself just announced the the launch of a direct-to-consumer eCommerce store through the Herman Miller website. Sayl will be the first Herman Miller chair to launch on that site.