We apologize for being a couple days late on this one, but we'd be remiss if we didn't show it to you anyway.
For the MTA VMAs, the data-viz gurus at Stamen concocted a living catalog of all the Twitter activity surrounding the event. Which means that you can bring up a Twitter profile for literally every artist that was there, and look at what was tweeted about them every hour since the VMAs commenced — and continuing to this minute.
So for each artist, clicking on them in the slider up front brings up a page like this: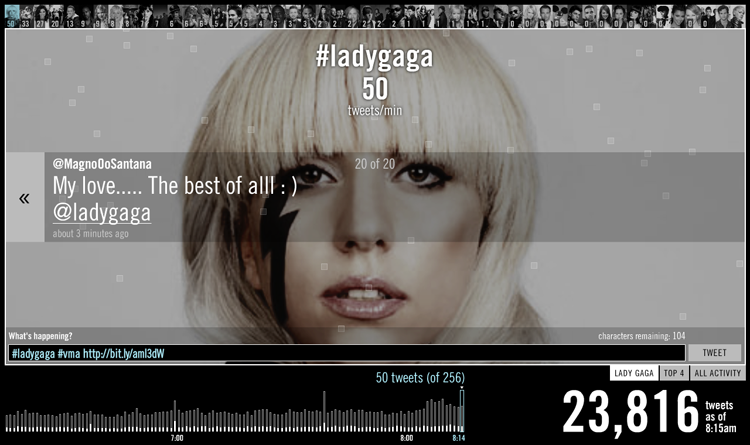 Then, you can click on the timeline below, to see tweets that were send in that little slice of time. Finally, you can read these simply by clicking through above, on the overlay atop the artists face.
To be fair, your average teenie bopper probably won't want to relive the VMAs this way — tweets being what they are, it's hard to draw much of a narrative flow from reading them over time, which is why it makes a bit more sense to follow a tool like this live.
But I can guarantee you that there's a market for tools like this one. Imagine: What PR flack at a major corporation wouldn't want a Twitter dashboard for their company, so that they could track what was being said about them in real time — while also allowed them to peek back at how public perceptions changed over time, and responded to current events?
Stamen, I just made you millions of dollars! Check please.