Now, a Kickstarter.com campaign is underway to raise money so that the artist, Tony Quan — aka TEMPT1 — can design original art and merchandise using the EyeWriter technology.
The campaign works like a sort of online auction. Pledge $5, and you get a TEMPT1 screen saver; pledge $35, and you get a TEMPT1 T-shirt; pledge $1,000, and you get one of his tags printed with an awesome robotic arm (below). (Unfortunately, the robot's not included.)
TEMPT1 was a prolific graffiti artist in California, when he was diagnosed with Lou Gehrig's Disease seven years ago. He's paralyzed head to toe, and can't speak, eat, or breathe on his own. His mind's alert, though, and he's still got plenty of creative energy to unload.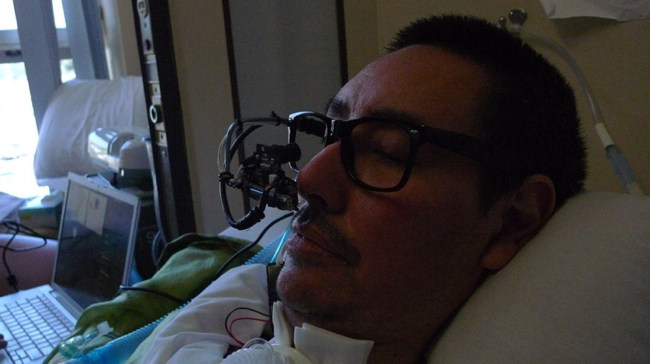 His saving grace: The EyeWriter (above), which combines eye-tracking and drawing software with robotic hardware to let TEMPT1 draw by flashing his eyes. The technology is a joint effort of Free Art and Technology, openFrameworks, and Graffiti Research Lab, and though it was designed explicitly for TEMPT1, the EyeWriter team tell us they're developing a cheaper version that works for anyone and includes non-tagging features, like Internet browsing. More deets here:
TEMPT1's friends and collaborators are hoping to raise $15,000 by October 19. For info or to donate, go here.