The machine, sitting on a train platform in Tokyo, seems normal enough: You insert coins or pay with your commuter card and choose your drink. But this is no ordinary vending machine.
From afar, the vending machine looks like a digital billboard, flashing ads on a large screen. When you get close that three rows of drinks suddenly appear. Before you know it, the machine has guessed your age and sex and recommended a few things that you might like. You touch the image of the drink you want, and once you've paid, your choice drops into the dispenser below.
In early August, JR East Water Business unveiled the vending machine at Shinagawa station, in Tokyo. So far there are just two machines. By October, the company, a subsidiary of train operator East Japan Railway, expects to add eight more to train stations. The real test will come over the next two years, as the company rolls out 500 machines — about 5% of the company's 9,400 vending machines — in the busiest stations in Tokyo and nearby cities. It's a first experiment, which might eventually yield vending machines that know you and your habits — and craft their sales pitch to what you like.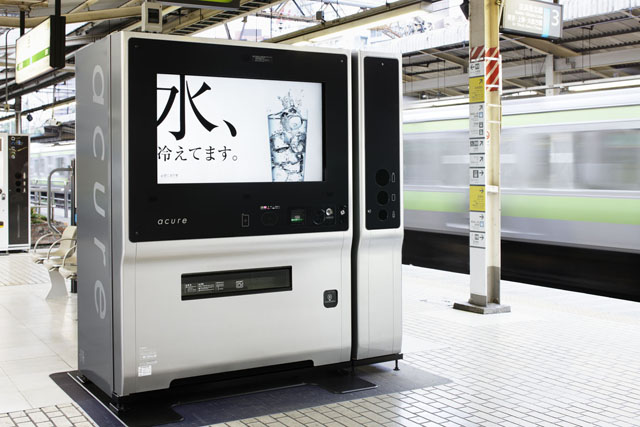 Japan would seem the perfect place for it. The country has more than 5.2 million vending machines — one for every 24 people. Half of them sell drinks but the remainder hawk anything from books to ramen noodles to bananas. Last year, the machines took in more than $62 billion in revenues, according to the Japan Vending Machine Manufacturers? Association.
And yet most vending machines remain disconnected, stuck in the 20th century. That should change with JR East Water's machine. The machine's three motion sensors detect when someone is near. A tiny camera just above the 47-inch touch screen estimates a buyer's sex and age. IC-chip readers below the display respond to the swipe of a commuter card or cellphone filled with electronic cash. At the end of the transaction, the data is transmitted over a citywide WiMAX wireless network to the company's central computer servers. Worried that you're being monitored? Don't, says JR East Water's Toshinari Sasagawa, who heads the sales division. "The machine doesn't record video."
The machine was two years in the making. JR East Water officials? top priority was to boost sales, but they also wanted to collect real-time data on popular drinks and the consumers who were buying them. "Eventually, we want to offer customized recommendations to every person," says Sasagawa. (It also doesn't hurt that the behavioral economists have long found that too many choices make consumers unhappy — and your average Japanese vending machine is overflowing with them. The new machines may help deal with that.)
Another design goal: Attract more women, by making the sales transaction more intuitive and friendly. "Internal surveys have shown that men who buy from vending machines in train stations outnumber women 7 to 3," says Sasagawa.
With touch screens now commonplace, JR East Water's vending machine might not seem a huge leap of technology. Nor does it look all that different from conventional machines. That was intentional, says Fumie Shibata, who runs Design Studio S in Tokyo. "We wanted people to instantly recognize it or they might not use it," says Shibata, who was hired to lead the design. The challenge, she says, was to cram in state-of-the-art technology and yet make it simple enough for even a grandmother to use.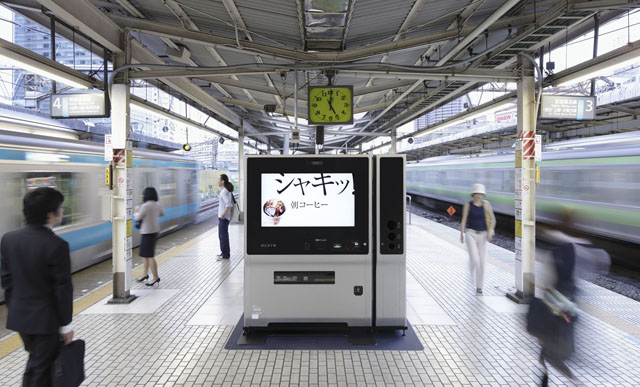 It wasn't cheap, though. JR East Water spent five times what it normally would have spent on a new machine. And the on-screen menu hasn't been intuitive for everyone. Some people were stumped when they touched the price instead of the image of the bottle, and a few tourists gave up because of the lack of an English menu, says Sasagawa. ("Freaking Japan!")
But the advantages of having a network-connected machine could pay off. For instance, after a massive earthquake, the machines can be instructed to give away drinks for free. Over time, the touch screen menu is expected to evolve. "If want to buy coffee, you might be able to rank your options — by calorie, by volume, by the amount of sugar," says Shibata, the designer.
Ads could target a specific age group depending on its location or time of day — trendy new carbonated drinks targeting the fashion-conscious teenagers at Harajuku station, in Tokyo. The machines might also remember a person's commuter card or cellphone, and recommend drinks, much like Amazon's website does with books or Apple's iTunes with music. "That would come in later phase," says Shibata.